GanttProject – A Review of the Online Project Management Software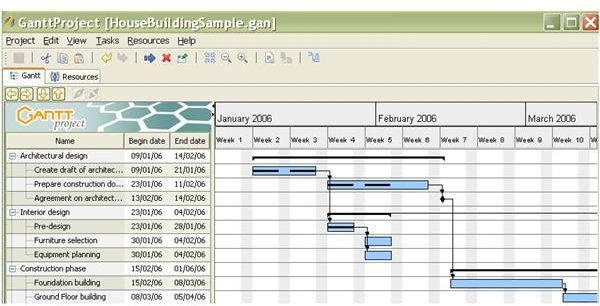 Depending on your level of expertise and understanding of Project Management theory, GanttProject may be overwhelming when compared to other online project management software. GanttProject offers a wide variety of task building, project charting, and milestone implementation, however if you are not used to using bars, graphs, and charts, you may feel a little lost. GanttProject has been compared to Microsoft Project and has capabilities to export and import functions between the two programs.
In Figure 1 (left), you can see a sample Gantt chart from GanttProject. While this program is free, there is a considerable learning curve and the demo did not work as described when I downloaded it. While there are several other online project management software programs available (for a look at the best under $100, click here), it bears repeating that GanttProject is free. For that reason, it may be worth the time to learn.
In GanttProject, you can break down your project into categories or "tree of tasks" (as it is called in GanttProject) and assign various tasks to members on your team. GanttProject allows you to set up dependencies for your tasks (much like Mi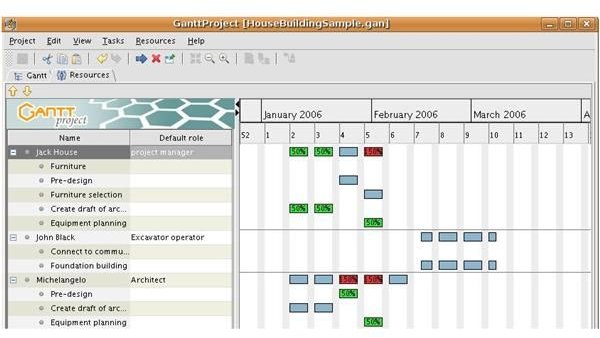 crosoft Project). Your projects are rendered using two charts; Gantt chart for tasks and Resource Load chart for resources. A sample Resource Load chart is shown in Figure 2 (right).
These charts can be printed, generated as PDF or HTML reports or export/import with Microsoft Project and other applications. GanttProject is a Java application and runs on Windows, Linux, MAC OSX and other operating systems supporting Java. For the experienced user of project management programs, this program may come easy to you. However, to the new user, GanttProject may be somewhat difficult to understand and implement. One positive note, the program is translated in numerous different languages.
More Software Reviews
On Bright Hub's Project Management channel, our authors have reviewed several software programs that may suit your unique project management needs. Here are just a few:
To see a list of all active reviews, click here