Configuraton and Change Management: What is Configuration Management?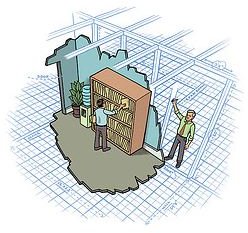 What Is Configuration Management?
In conjunction with change control management, there is configuration management. Project managers interested in utilizing configuration management know that it is about identifying and establishing a plan before change is needed. It opens up the opportunity for change control through documentation, accountability and the regular auditing of the project.
Configuration management comes after a project baseline is set. Once the project has been defined, configuration management does the following:
Evaluates each system, resource, and component of the project.
Coordinates who will approve or disapprove change and what processes will be utilized to configure change.
Coordinates who will ensure changes are realized along with accountability.
Coordinates who will implement or request the change.
Provides documentation, or a library of sorts, specific to your project on how controls were set, defined, implemented and documented.
The Change Control Board
To be effective, configuration management includes a change control board. A change control board is informed of every aspect of the project from the beginning. The change control board is presented with changes or requests for changes and must not only approve or disapprove, but issue directives on how change will be implemented. The change control board may be a group focused on the entire project or work groups that report to the head of the change control board.
A configuration management plan should contain the following:
Identify - What is the project?
Change control process - How will changes be reported, resolved and if needed, initiated. This part of configuration management also includes change control forms. Change control forms should clearly identify if a change is needed or an acceptable risk that won't affect a project's outcome.
Process tracking log - This document is necessary to describe how through configuring change, it was controlled. A process tracking log can also measure how changes implemented succeeded or failed.
Accountability - Who is accountable for ensuring changes and controls were properly administered.
Library - In configuration management, the whole process must be documented in a library of sorts. A team member should be assigned to documenting every aspect from identification to changes to tracking to accountability.
Release - The project manager, along with any and all stakeholders, should meet to discuss if the documentation prepared from the configuration library was successful and should be released to utilize in future projects.
Audits - Arguably, the most prudent stakeholder in the audit process is the project manager. He or she must set audits that cover early stages of the project, mid-stages, and completion of the project. The final audit should be a document that describes how configuration management, along with change management, kept the project under control.
Settig Up Configuration Management
To help aid project managers with configuration management, visit our Project Management Media Gallery for a great Configuration Management Plan template.
Seek help from peers and networking to define roles, responsibility and how to determine the best personnel for the job. Identify configuration management standards that are specific to your industry before you begin, along with which methods to utilize to measure standards. Include in your configuration management plan a way you can analyze and report the success of your plan.
Many experts argue that configuration and change management are the same thing. The difference is being able to first configure the possibility of change and then control it.