Popular ITIL Change Management Tools - Making Change Go More Smoothly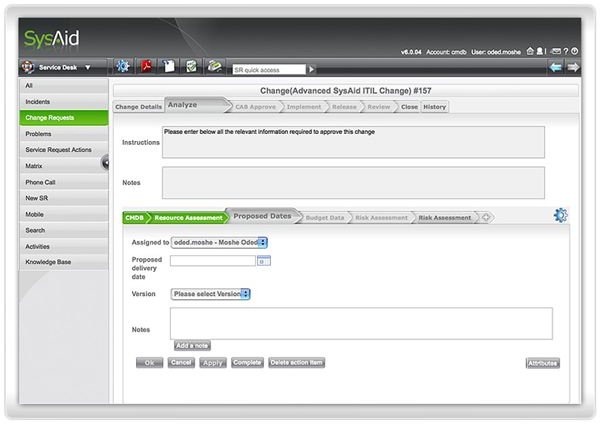 Change Management
ITIL's official definition of change is "The addition, modification or removal of an authorized, planned or supported service or service component and its associated documentation". So why do we want to manage change? There are several reasons:
1. Consistency – We need to make sure changes that occur frequently are made in a consistent manner.
2. Minimize risk – The great majority of IT service outages are caused by change – whether it's a bad patch, human error or hardware failure.
3. Make sure the change is successful – Some changes are complex enough that there should be substantial thought that goes into planning the change. For example, if you need to deploy a new service pack to all workstations – this isn't something that can just be deployed without proper planning.
Changes can be anything from simple password changes to something more complex like a service pack deployment or a full-blown project that affects large areas of your services – such as network infrastructure upgrades. In order to manage these changes, you need to have a tool in place to make sure changes are properly reviewed and approved.
Two main types of tools exist to help manage change – tools that help you manage change requests and the process around changes and tools that help monitor change. Typically, tools that help manage the change process are integrated with other service functions such as problem and incident management.
Tools That Help Manage the Change Process
Ilient SysAid
Ilient's SysAid is a comprehensive service desk solution that includes ITIL compliant features and modules. SysAid's base package includes modules for standard service desk operations – ranging from incident management, end-user portal, knowledge base and remote control. Additional modules are available that add automated availability monitoring, project and task management and ITIL components such as problem management, change management and a CMDB.
SysAid is shooting for helping you manage your change management process – it will not stop anyone from performing a change on your network, but it does offer flexibility so you can build your existing process into SysAid.
The Change Management module supports basic or advanced templates for you to set up commonly requested changes. You can also build workflows based on your templates to seek approvals from your Change Advisory Board (CAB).
Numara Software FootPrints
Much like SysAid, Numara FootPrints is a comprehensive IT service management offering many of the standard features you'd come to expect from such a system. FootPrints includes automated workflow with alerts so you can easily track where in the change management process a change request is. More information on FootPrints can be found here.
Several other tools that provide 360-degree coverage of your IT service desk can be evaluated against your needs. Below is a list of other ITSM (IT Service Management) tools.
Tools That Help Monitor and Audit Change
Two of the biggest change management auditing and compliance tools are Tripwire Enterprise and Solidcore Systems' S3. These tools don't necessarily track change requests or the process of managing change (workflows, approvals, etc.), but they do a fantastic job monitoring change within an environment, reporting on those changes and letting you know if the changes need remediation.
Tripwire has the capability to report on changes detected in the environment and rate the change based on risk to the organization from a stability or security standpoint. Tripwire can also give step-by-step guidance to IT Administrators to remediate the configuration issues detected.
Solidcore's products also provide monitoring and analysis of changes, but can go one step further preventing changes to specified systems from being made. Both tools are aimed squarely at the medium to large enterprise so small shops need not apply.
Information about Tripwire Enterprise can be found here.
More information is available on Solidcore S3 here.