Project Management Tips: All You Need Is LOVE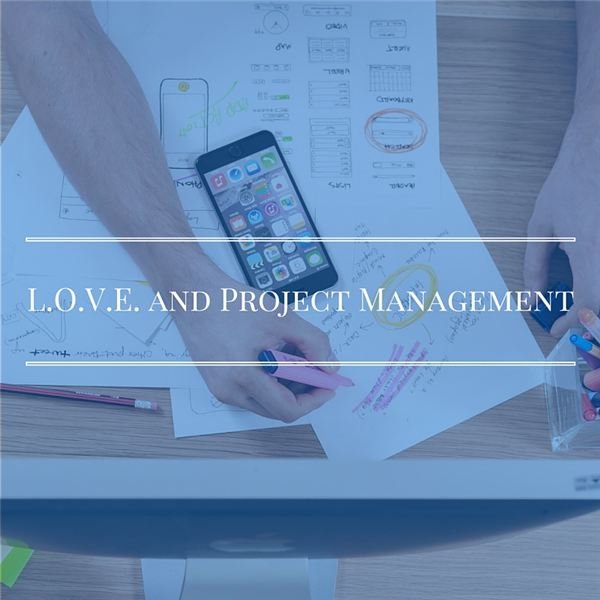 What Is LOVE?
In project management, LOVE means Learn, Offer, Value and Educate. The very foundation of this concept is our ability to interact with other humans on a project. It is the daily interaction that project manager have that affects others.
Let's take each of the letters of LOVE separately and see how they apply to the performance of project management.
Learn
What is learning? Is it when you pass a test? Is it when you sit and listen to someone lecture about the logical fallacy of composition? Is learning something that you do every day? Of course!
The fundamental concept of learn for the purposes of this article is learning from others. Learning as a project manager may take place in childhood when you helped your parent nail a piece of wood, build a birdhouse or fix a toilet (c'mon, don't tell me you never helped fix a toilet?). At that point, you learned something that you would take with you from that person, whether the experience was good or bad. In order to be a better project manager, you have to bring forth those learning events into your current project.
For example, when I was a lot younger I helped my dad fix a toilet. He needed some rubber plugs that would help to fix the toilet tank. We did not have any, so I told him that I had some rubber patching to fix my bicycle tire. Dad used the rubber patching and it worked. My father learned from me in that instance.
Offer
Many project managers offer their skills, knowledge and experience to the project team and to the project sponsor, but it takes much more than that. Offer support and information that helps prevent them from making the same mistakes you made when you were younger. Part of project management is incorporating processes into completing the process and we need to offer those processes to others.
When you offer experience and skills, reciprocation will be natural. More than that, you want people to pass that on and offer their skills to others. If you offer your skills, you are building the future of project management.
Value
When you value someone's talents, you are giving them the greatest compliment in the world. You can determine where a person's value lies by talking with them. Talk with your team to determine their strengths. One person might love to do project planning, another to organize documents, and another might like data analysis. Show them that you value their skills and appreciate their strengths. People whom you respect will respect you and you will see productivity from these individuals.
Educate
Educating people is a challenge that is quite rewarding. As a project manager, you must educate others. In the same way that you make yourself available for others to teach you, you must be available to teach others. However, educating is much more than teaching; it is knowledge transfer or giving the "student" much more than just facts. According to Bloom's Taxonomy, students learn from a knowledge level to a synthesis level, taking straight facts (knowledge) and applying them at a higher level of learning (synthesis).
Project managers can educate during the project using demonstration methods to show the project team processes that work (or don't work). One of the main concepts that project managers should share is that even though a project process may fail, the process is education. Other project managers will know the process may not work in that particular project, but may be beneficial in another project.
Summary
This brief look at the LOVE philosophy behind project management using Learn, Offer, Value and Educate (LOVE) can help enhance your project management skills. The concept can be applied to more than project management and can extend to such areas as parenting or supervision.
Remember that the central figure in all this is the human, the person, the individual. Without people, projects would be impossible, and without project managers passing on the information that is essential to completing projects to other project managers, people will not have the knowledge or skills essential to complete projects.
You can learn more through my book "Using LOVE to Prevent Becoming a Bully Boss" (see References). The LOVE spectrum is attached for your reference, as well.
References