Implementing Total Quality Management (TQM) For Your Small Business
TQM By Definition
Total quality management, or TQM, is utilized as a company-wide process to ensure product or service quality. The goal of this process is complete customer satisfaction, which is achieved through analyzing and improving products and processes within the company.
In larger companies that practice TQM, top managers are assigned to oversee the process ensuring everyone is on board in every department. For TQM to be successful, it's essential that everyone understand the need for quality and that changes and improvement are part of the process.
For Small Businesses
Because the small business owner may not have the dollar resources to hire a total quality manager, how can they utilize this quality improvement process?
Actually, because TQM focuses on customer satisfaction, specifically their needs and wants, perhaps TQM is easier in the small business world. The challenge of TQM for business owners is understanding market share, learning how to listen to customers, and knowing when to make changes.
If TQM is implemented correctly, the small business owner can utilize the process to make changes to a product or service upon customer and market demand.
Using TQM at Small Businesses
In order for small businesses to successfully implement the TQM process, eight items must be considered:
Customer Satisfaction – Think of this as key in TQM; it's what your customers think and feel about your product or service and how happy they feel their buying experience was.
Employee Partic****ipation – The small business owner must encourage or even reward total employee participation, especially in the areas of customer satisfaction.
Evaluating Processes – Everyone in the company from the highest to the lowest employee must learn to evaluate if a process is gaining or losing customer satisfaction.
Using Vision and Mission Stat****ements – TQM works best when combined with a company's vision and mission statement. While the vision may never change, if the mission or the "how" you are delivering your product or service isn't working, you need to change your mission.
Utilizing Various Strategies – This can involve market research, employee surveys, looking at market shares, and realizing when a product is obsolete as far as your customers are concerned.
Be Willing to Improve All the Time – Here again, if the improvement process is not followed, TQM won't work. If something isn't working, you need to change it.
Use Real Data – Through analyzed strategy data, TQM can be implemented and planned effectively but should be constantly analyzed for improvement in weak areas.
Effective Communication – If no communication exists between customers and employees and employees and the business owner on how improving business processes will be implemented, the strategies you've analyzed will be for naught.
Why It's a Top Advantage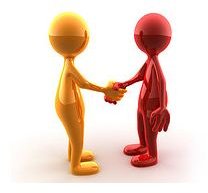 If you're a small business owner, take a look from the inside out at your employees, process, product or services. Pretend you are a customer to obtain the best information. What made you happy and what are you disappointed with? If you start by finding the answers to these two questions, you're well on your way to implementing TQM at your small business.
Total quality management and small businesses can go together if the business owner doesn't just dictate process improvements, but works to achieve a company-wide understanding on why processes need to be changed. Often in the small business world, owners are inundated with ideas on how to be more competitive, how to stay on top in their market, and offered advertising tools which are costly.
The advantage of TQM in the small business world is the way it encourages you to value the tools at hand. You can utilize your customers to help you be different and stay ahead of competitors all while continually implementing total quality practices in service, product, and promotion.