Scrum and Requirements Management - Project Agility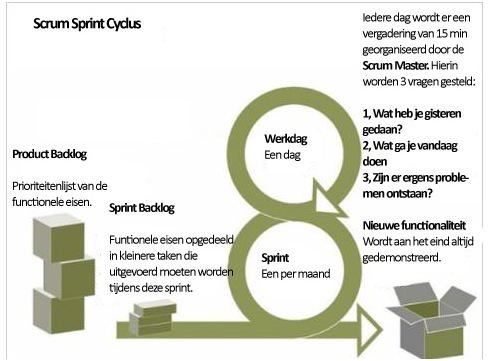 Meaning of Scrum
The term "Scrum" is typically applied to a Rugby game in which three members of each team line up opposite each other with a group of two and three lined behind them with the emerging formation of eight players of each team into three-two-three ratio. The ball then is rolled between the opposing front lines; the players standing with arms around a teammate's waist meet the opponents' shoulder to shoulder and attempt to kick the ball backward to a teammate. The principle behind this is that each team tries to go the distance as a unit while passing the ball back and forth. The term is now used in the business management system which bases its operations on the current platform of scrum and requirements management.
Origin
This principle was applied in 1986 by Hioraka Takeuchi and Ikujiro Nonaka to product development, a holistic approach that would increase the speed and flexibility in such a development process. They further demonstrated its validity in case studies relating to a range of manufacturing operations right from automotive, computer to printer industries. In their book Wicked Problems, Righteous Solutions (1991) DeGrace and Stahl used the term Scrum for the first time after which it had gained its application for Advanced Development Methods with a number of manufacturing organizations. In its initial stages Scrum was basically applied to the software development projects but over a period of time, it has extended its application to general project management. A detailed explanation of the what Scrum is and does can be understood by going through the monumental book written by Schwaber and Mike Beedle (2005), entitled "Agile Software Development with Scrum." In the meanwhile, this article describes briefly about this management practice.
Scrum - Process Requirement as a Fundamental
Scrum is a process that applies methodologies of flexibility, adaptability and productivity derived from industrial process control theory and focuses on a how a team should work together to produce a qualitative output in a dynamic environment. A cohesive group is formed with a Scrum Master who maintains the processes but replaces a traditional project manager, the product owners who represent the stakeholders as well as the business and a team that typically contains 7 members having cross-functional capabilities who carry out the analysis, design, implementation, testing and in short the nifty-gritty work. This group applies main Scrum techniques some of which are the product backlog, sprints, and daily scrums. Each one of these techniques is linked with the other and sprint is the final action that represents the creation of a shippable product increment within a pre-determined period of time.
Scrum and Requirements Management
In a Scrum, requirements management processes come into focus because during the process, there could be unanticipated changes; for instance, customers may change their requirements or unpredictable external risks can disrupt the process. In the context, the objective of "Requirements Management" is to capture, store, disseminate information and includes, but is not limited to, activities that concern themselves with change and version control, status tracking, etc. It is in effect a system to manage changes.
By way of conclusion, it may be observed that while traditional management techniques provide the guidance for doing things right, Scrum and Requirements Management enable the group to do straightaway the right thing. If one leaves out the jargon, it can be realized that it is an easy method for learning and requires minimal efforts to start and use mainly because of its empirical nature.
References
Ken Schwaber, Mike Beedle: (2001): Agile Software Development with Scrum, Prentice Hall
Pekka Abrahamsson, Outi Salo, Jussi Rankainen & Juhani Warsta (2002): Agile software development methods - Review and analysis, VTT Electronics,
Scrum. (n.d.): Dictionary.com Unabridged. Retrieved August 03, 2010, from Dictionary.com website: https://dictionary.reference.com/browse/scrum
Sutherland, Jeff (2004): "Agile Development: Lessons learned from the first Scrum" (PDF) https://www.scrumalliance.org/resources/35, Retrieved, Aug, 3, 2010
Takeuchi, Hirotaka; Nonaka, Ikujiro (1986):"The New New Product Development Game" (PDF). Harvard Business Review. https://hbr.org/product/new-new-product-development-game/an/86116-PDF-ENG, Retrieved Aug, 3, 2010
Image Credit: NL-Scrum: https://commons.wikimedia.org/wiki/File:NL-scrum.jpg