The PMI's Newest Standards: Overview of Program Management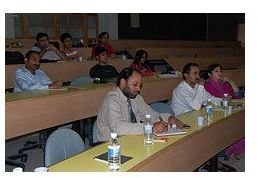 How Is It Defined?
Unlike project management, program management is a term that deals with elements of an entire project that result in a program outcome. For example, if your company needs a new software system, IT equipment, and training to implement the overall system, an umbrella team of managers oversees the entire program of these multiple elements using basic project management elements.
Program Management methodologies have come into practice over the past five years, and knowledge of program management standards will be tested on PgMP exams effective July 2013.
When Is It Needed?
Determining the need to use program management should be your first step. If every element of a project will produce one goal, using program management should be considered. Program management can be used on small projects; however, it is most effective when utilized on larger projects that require many tasks, elements, and achievements to reach a common goal or result.
The Overall Team
The opening of a new factory would require many levels of management. Hierarchy tiers including a steering committee are ways program management would benefit a new factory opening. There are five basic management systems within the process:
Stakeholders
Steering Committee
Program and Planning Managers
Project Facilitators
Risk Managers
While the stakeholders hold the most interest in definition and completion of the project, including the project scope, the steering committee oversees every element in the project. They become the "go to" umbrella of the project.
Program and planning managers report to the steering committee. Both project facilitators and the risk manager report to the program or planning manager.
The Art of Governance
If we take the example of a new factory design, build, and opening as our project, the program management governance of hierarchy might look like this:
Smith's Factory – Stakeholders
Steering Committee – A group of individuals who monitor, assign, oversee, and make decisions regarding the project.
Program and Planning Managers – Usually made up of two individuals who delegate, assign roles, and monitor the project and risk managers.
Project Facilitator #1 - This manager may be responsible for the architectural elements of the project.
Project Facilitator #2 – This manager will handle the construction of the project.
Project Facilitator #3 – A manager here is necessary to handle everything required to open the factory.
Risk Manager – Assigned to identify risks and use risk management to prevent project flaws, changes, or failures.
While this example is program management simplified, the governance is clear. Each hierarchy of governance would consist of teams working on assigned tasks.
For example, Project Facilitator #1 would be expected to oversee a variety of architects, engineers, and the like to ensure the design/build is feasible and correct.
Project Facilitator #2 would be responsible for overseeing and working with contractors, outsourcing and every element needed to build the factory.
Project Facilitator #3 will have numerous tasks to assign including advertising, office assignments, telephone and inter-factory equipment placement as well as anything that will need to be placed inside the factory once it is built in order for it to be a functioning factory.
The Risk Manager would have to work with every facilitator, program manager, planning manager, steering committee and stakeholders to help identify, classify, and deal with risks associate with the project.
Resources
The Project Management Institute (PMI) offers great resources for program management including:
The Handbook of Program Management by James T. Brown.
Program Management: Overcoming Obstacles to Success by Diane Hubner (PMI member only White Paper).
The Standard for Program Management, Third Edition, by PMI
Along with certification programs, PMI offers great tools for both new and existing project managers. Members also receive discounts and access to White Papers.
To determine if program management is right for your project, consider the tasks and elements of a project. Further, consider if the elements and tasks you will be assigning will result in one outcome through a compilation of each element and task.
Program management may be fairly new within the broader overview of project management, but the benefits of an umbrella steering committee and a governance of hierarchy working together when managing a multi-phased project can make it run smoothly.