Interpersonal Communication in Project Management: Common Scenarios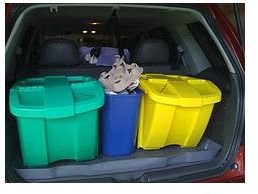 No Interpersonal Communication
The most ineffective use of interpersonal communication is when there is none.
I was on a project several years ago where we took extra care to separate all our recyclable trash. Each of us had two bins under our workstation: a black one for rubbish and a tan one for recyclables. No one minded doing this, but it did take up some of our time, energy and concentration. Guess what? Sharon stayed late enough one night to see the janitor dumping all the different bins into the same large trash can. She asked him, "Don't you recycle the stuff in the tan bins?" He told Sharon he used to, but a few months ago he had received instructions not to bother as the higher ups didn't want to pay him for the extra time it took to go to the recycling center.
Ineffective: The project management hadn't stopped to consider who all would be affected by their decision to no longer recycle.
Effective: Upon making this discovery, Sharon did tell the rest of us, saving us all the trouble of separating our trash.
(Photo from AGeekMom on flickr)
Peer Pressure Negates Effective Communication
Peer pressure can render ineffective even the most crucial interpersonal communication.
NASA links to Jeff Forest's report which calls the Jan. 28, 1986 disaster of the Challenger Space Shuttle "a failure in decision support system and human factors management." Forest posits that had the project team members been allowed to vote anonymously, the team would have avoided the fatal decision to launch the faulty space shuttle that killed its seven crew members.
Ineffective: Because of peer pressure, team members might not reveal their true decisions in a meeting.
Effective: Focus the discussion at meetings on the progress of the project and any new discoveries. Have team members tell or email you any decisions privately. Conduct any vote by secret ballot.
Professional Interpersonal Communication
Most of us know how demoralizing it can be to work under an unprofessional project manager. Don't be that person!
Being professional means treating everyone with respect. Before you speak to people, ask yourself how you would feel, hearing your message. Don't talk down to project team members. Don't minimize their contributions to the project. Don't micromanage; tell team members your big picture vision of the project and then allow them to draft plans for their contributions. Reserve the right to edit these plans, but remember you will likely get better results with their input. In short, treat your team members the way you would want to be treated. For more information, read these Criticisms Levied Against Autocratic Leadership by N Nayab here at Bright Hub.
Ineffective: Only top-down project management communication.
Effective: Encourage team members to take ownership of their portions of the work, and listen to their ideas.