Cost Estimating Sotware for Better Project Planning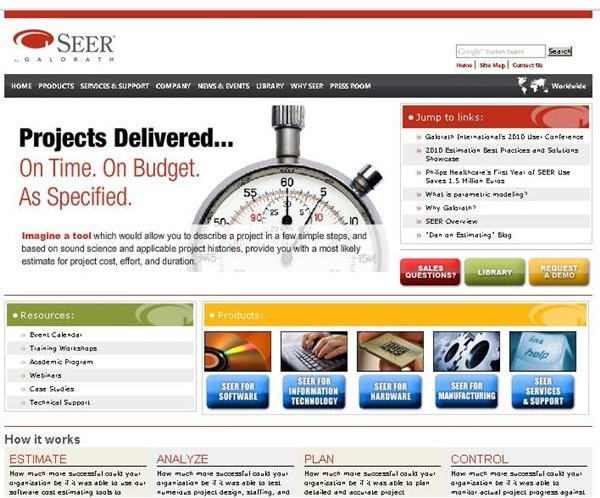 SEER by Galorath
A leading cost estimating software solution, SEER by Galorath, aims to help project managers get their work done on time, within
specifications, and within their budget.
SEER takes the guesswork out of the cost estimation process by formulating projections from concrete data supplied by users, not by "thin air" valuations. The software uses "should cost" models to help managers negotiate with vendors and customers with reference data that helps avoid paying too much or charging too little for elements of the project.
With the support of SEER, users have the ability to gauge fair market value while optimizing important aspects of the project to improve profitability. This allows managers to formulate incredibly and accurate cost estimates that facilitate the overall project management process to get price quotes and additional information.
The job SEER does transcends cost estimation: it also performs project analysis, project planning, project tracking, and other important project management tasks.
SEER comes in several versions to support decisions in different business sectors including software, manufacturing, electronics, and information technology. Those who are interested in the SEER software applications should contact Galorath via the company's website.
TruePlanning by PRICE Systems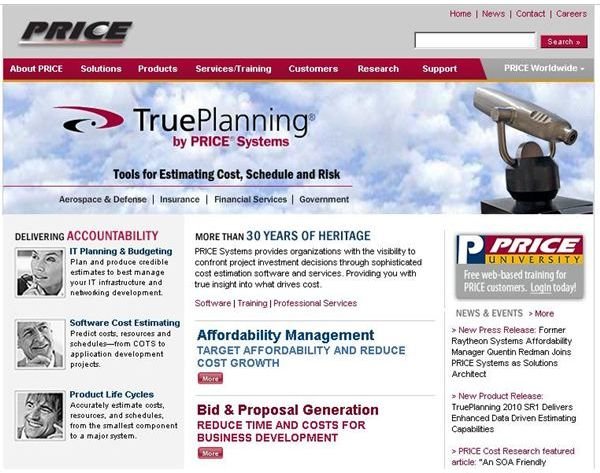 Another example of cost estimating software is the TruePlanning product by PRICE Systems. This software suite is presented as a complete accountability solution that helps develop decision making processes based on accurate cost estimations. The software collects project data from users that helps it present essential perspectives on the cost drivers behind a project so projects can be justified, budgeted and completed without needless fiscal surprises.
Of course, TruePlanning is not limited to estimating project costs. It is a robust tool that allows for budgeting, planning, and product life cycle management, making it a must-have versatile tool for project managers.
Those who are interested in the PRICE Systems TruePlanning software solution should contact the company via its website for more information and quotes.
Goldenseal by Turtle Creek Software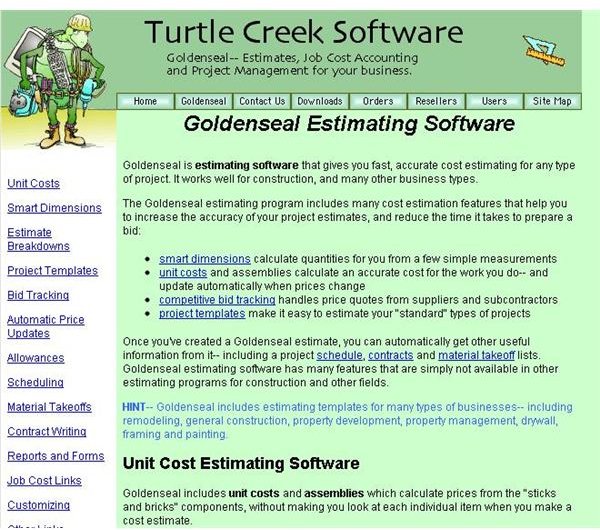 Goldenseal cost estimating software offered by Turtle Creek works well with a variety of different types of projects including construction to formulate accurate cost estimates based on material lists, scheduling, and other metrics using powerful estimating templates that come with the program.
Features such as smart dimensions, unit costs and bid tracking complement others to help managers form accurate representatives of project costs at every level.
The base version of Goldenseal costs $395 for a single user. Scaled pricing for multiple users is also available, so visit the Goldenseal website for details.
Cost Estimating Software
Projects can win budgetary approval for their projects faster with cost estimates made from the cost estimating software solutions listed here. Using technology, projects will be completed more accurately and closer to budget than ever before. Readers should check out these solutions and look for others until they find a package that best fits their needs.
References
Product Information & Screenshots:
"SEER by Galorath" - https://www.galorath.com/
"Trueplanning by PRICE systems" - https://www.pricesystems.com/
"Goldenseal estimating software" - https://www.turtlesoft.com/Estimating-Software.html