Examples of Impact Analysis and Data Presentation for Project Assessments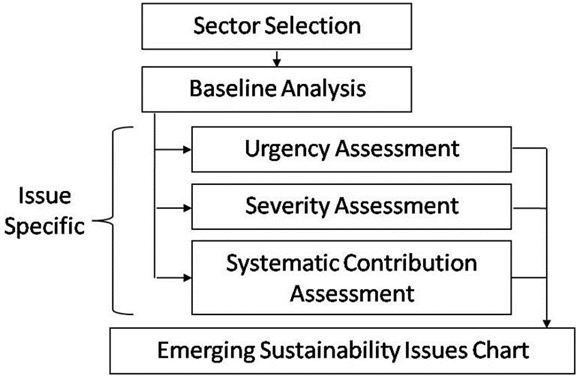 Defining Impact Analysis
In providing examples of an impact analysis for project teams, we must first be clear about the objective of the analysis. The aim is to evaluate the effects of a completed project in a particular setting in which it will exist.
Do not confuse the concept of impact analysis with risk analysis, wherein the latter is about determining the impacts of adverse risks that may affect the completion of the project.
Impact analysis is about evaluating the changes that the completed project will bring, spur or spawn in the surroundings where it will exist, operate, or be implemented. Thus, it is in this context that the examples of impact analyses are furnished.
Different project impacts are addressed not by a specific or universal rule but mostly based on quantitative assessments of the effects in different economic, environmental, commercial, technological, behavioral, educational conditions and physical well-being of the population.
Image Credit: Nasher52 Nick Blandford, André Winter, Timothy Nash for Wikimedia Commons
Impact Analysis as a Tool for Pre-Planning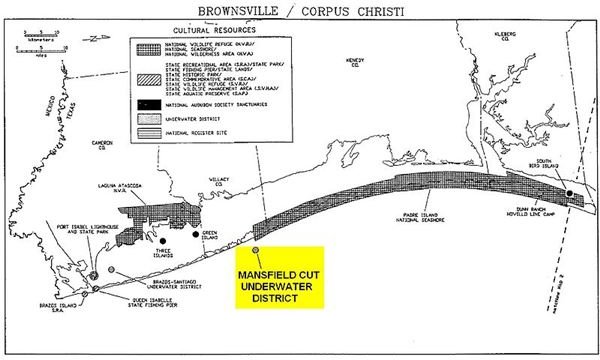 The focus of impact analysis is on the post-project changes that take place, in order to raise the stakeholders' and the project team's awareness about the possible outcomes. The purpose of this is to determine the issues that should be addressed at the project's pre-planning stage. Best practices recommend that issues if any should be approached singly or individually and should be presented by way of comparing pre-project vs. post-project conditions.
However, this may not hold true if the matter at hand is about environmental impact. It has been proved that there could be changes that can affect the symbiotic relationships between environmental elements, which can be triggered by a single factor but could lead to multiple chains of events. In some cases, these events may not take place as a single occurrence but could develop as a result of exposure to chemical elements in the atmosphere, in the soil, the water or from ecological interactions.
Image Credti: w:en:Mansfield Cut Underwater Archeological District from page 24 of the U.S. Dep for Wikimedia Commons
Various Impact Analyses as Bases for Project Assessment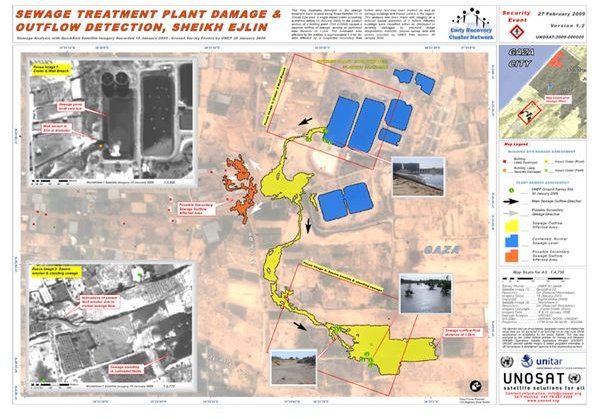 In taking the effects into consideration, the results of impact analysis may serve as a basis for project assessment to determine beforehand if an undertaking is worthwhile. Evaluating trade-offs and their cost-to-benefit analyses could reveal indicators that would prevent the realization of returns on investment or even of the recovery of costs.
All players present in the environment at pre-project stage are considered essential for a project to survive and flourish. The depletion, extinction, degradation or elimination of one element should not be ignored or taken lightly. The negative effects should be carefully analyzed to ensure if the goals and purposes of the project and what it aims to attain or achieve can be met using the resources allocated for that project's purpose.
That way, decisions can be made whether the project should be deferred or relocated to another venue or adjusted in terms of scale or provided with mitigating solutions. Otherwise, and at worst, the venture could be scrapped altogether. At this point, the importance of gathering factual and correct data is given emphasis. Double-counting of statistical data should definitely be avoided.
Hence, our examples of an impact analysis will be about a project's assessment and the post-project effects on certain conditions or settings.
Image Credit: Sean.hoyland via PDF to PNG conversion for Wikimedia Commons
Case Study: Impact Analysis of Building a Shopping Mall in a Suburban Community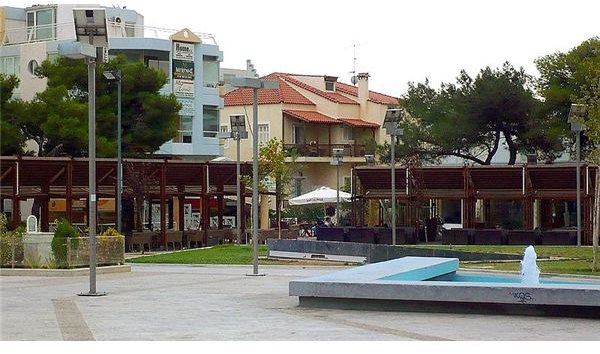 Project's Objective – To build a large edifice that will serve as shopping and recreational center for suburban community dwellers which will shift buying and recreational activities away from the downtown districts to the local community.
Image Credit: Dimorsitanos for Wikimedia Commons
Please proceed to the next page about the examples of impact analysis for the continuation of our case study.
Case Study: Impact Analysis of Building a Shopping Mall in a Suburban Community (continuation)
Pre-project Condition – Consumers' buying activities in downtown shopping centers have noticeably gone down because most consumers find it tedious and expensive to travel just to shop for a piece of clothing item or footwear. Unless they have other important things to attend to in the metropolitan area, they will not go out of their way to shop or watch a movie in the city. Oftentimes, if they are not available locally, products like the latest in clothing, shoes, electronic gadgets, appliances, CDs, computers and computer peripherals are ordered online or from home-TV shopping operators.
Anticipated Outcome – In building a large shopping center in the heart of the suburban area, community dwellers and those coming from nearby towns can shop and recreate more often since less time and money are spent for transport. However, opposition may come from small retailers and sellers at farmer's markets, because there will be an expected shift of buying activities.
Although the project is expected to enhance the status of the municipality, increased vehicular and pedestrian traffic, possible emergence of local factory sites, gasoline stations, increase in energy use, rise in criminality rate, additional distractions to the community's youth sector and a host of other negative impacts could be raised and would need careful evaluations.
Assumption – The shopping center may be well-received by the community and other outlying areas at first, since most consumers will regard it as a welcome novelty at its onset. However, the overall negative impacts of the economic, environmental and socio-economic outcomes are anticipated to create long-term effects that can shorten the success of the shopping center.
Scope or Areas Largely Affected by Post Project Impact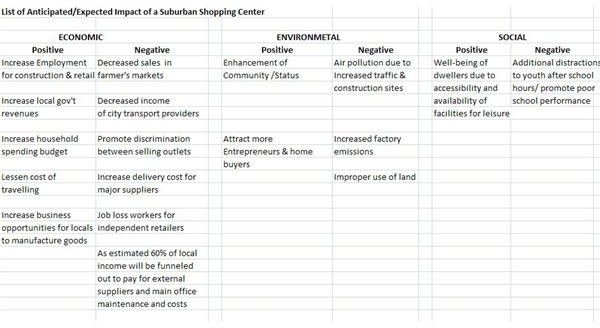 The following have been identified as the affected areas or scope of impact:
Economic – The existing businesses of small retailers may be affected as consumers will shift their buying activities to the shopping center where they can shop, dine and find recreation and other service providers like salons, fitness centers and amusement centers available in a one-stop facility.
Environment – The creation of an unhealthy environment in the community, as a result of increased pollution, generation of more solid wastes and use of agricultural land for purposes other than for food production can create an ecological imbalance.
Socio-Economic – A shopping mall is largely attractive to the younger generation as a place where they can hang out with friends for no particular reason or purpose. Parents who are unable to keep a tight watch over their children are concerned that the commercial center presents a form of distraction to the youth sector, and this could impair their educational performance and improvement.
The rise in criminality is also feared, as felons will prey on shoppers and the youths in the mall area. This, therefore, will create an increased demand for more local law enforcers. If such an increase is not met, it may result in greater concerns for peace and order, which can affect even the tourism sector. Unless provided with counterfactual information, the results of the municipal office's own cost-to-benefit analysis of the shopping center proposal may not be favorable.
Image Credit: List of Impacts Anticipated for Building a Shopping Mall in a Suburban Community – part of the examples of an impact analysis created by the author.
Data Gathering, Analysis and Source
Economic Impact Analysis
Conduct interviews and polls or surveys about products that consumers buy from city retailers and from e-commerce.

Study the packet of municipal forms to be filed when applying for a business permit, as this includes a compliance checklist for the town's local trading rules and policies.

The state's planning office periodically hires a consultant to conduct the municipality's own economic impact analysis. That way, they can formulate and implement requirements for applications to operate a business in their jurisdiction. A consultant from the region who has experience in working for the state planning office can provide the most relevant information. This professional will have first-hand information about the community's spending behaviors, employment needs, taxation policies and products that can affect the businesses of local retailers.
Please proceed to the next page where you can find more on examples of impact analysis for economic concerns.
Data Gathering, Analysis and Source (continuation)
Attend the municipal public hearings conducted by public officials pertaining to the study of the applications currently being processed. This is where citizens can air their concerns for their businesses, their properties, their health conditions, and for the youth's development and education. Applicants and the community members who are opposed to the applications present their own sets of factual evidence, which will be used as a basis by the municipal officials for review and approval.

Establish and quantify the actual retail sales being generated by the retail stores in the sectors. Identify how much of it is retained in the community and how much is spent by the business to suppliers and entities outside of the community.

Study and quantify the retail trade information provided by the US Census Bureau's Economic Census (see link at end of article on page 4) for e-commerce and update the information by employing similar survey methodologies used by the bureau. Consider using other private and proprietary data providers like Caritas for more retail trade information.

Study the geographical area and determine the infrastructures, routes, geographical features and accessibility of the shopping center's location to the outlying districts. Conduct interviews and surveys as to what retailers usually buy from the metropolis for resale in remote communities.

The Economic and Social Research Institute (ESRI) and its Geographic Information System (GIS) (link at end of article) are good sources for acquiring information about relationship patterns that may be found in maps and geographical reports and charts.
Data Presentation for Economic Impact Analysis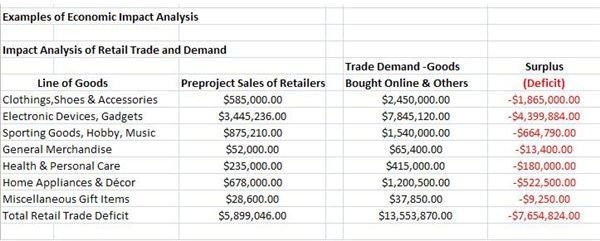 As mentioned earlier, each area of concern should be analyzed individually in order to ascertain the magnitude of their impacts.
The first issue to address is the local retailers' concern about their loss of income from sales. However, our trade and revenue analysis discloses that the bulk of the community's purchases are made by way of online purchases or via electronic-commerce.
In so doing, the community does not retain a large part of the population's income within their commercial circle but is funneled out of the community by way of online payments. In addition, the local government does not realize any tax gains through these transactions. This is strong factual evidence that, if submitted to the municipal officials, could counter the local retailers' opposition .
In addition, our job impact analysis shows that the job opportunities, savings from transports costs and other related businesses would increase household income. Please click on the images to view three examples of impact analysis for our case study's economic issues.
Image Credits: Screenshots of the Impact Analysis of Retail Trade and Demand; Analysis of Job Impact and Impact Analysis of Revenues have been created by the author.
For issues raised about pollution and increase of particulate matters, gather pre-project data on the number of residents with lung problems who present themselves at hospitals and clinics for treatment.
Compare and collect data from similar-sized towns with similar demographics and with a shopping center existing in their midst. Gather medical statistical reports about residents suffering from lung disorders.

Obtain information from the National Institute of Standards and Technology through their online resources for BEES–Building for Environment and Economic Sustainability. This program is supported in part by the Environmental Protection Agency (EPA).
Data Presentation for Environmental Impact Analysis: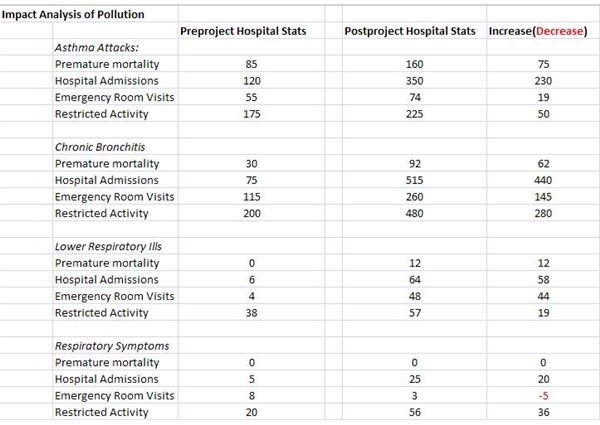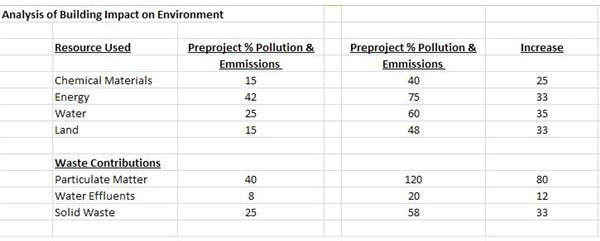 In view of the results of the project team's environmental analysis, emphasis should be stressed regarding the importance of using mostly green construction materials and for instituting best practices to contain emission hazards. This should be taken into account during the project's pre-planning and budgeting stages.
Although green materials present higher construction costs, their use avoids penalties that may later be imposed by the local EPA for violations of the Clean Air Act and Clean Water Act as well as other directives for proper solid waste management.
Image Credit: Screenshot of Impact Analysis of Pollution and Analysis of Building Impact for the Environment have been created by the author.
Please go to the next page for this case study's example of impact analysis for socio-economic factors.
Socio-Economic Impact Analysis
Collect the regional data about the town youth's academic assessments and out-of-school activities at the pre-project state.
Compare data against the same academic assessments for the youth's of municipalities that have shopping and recreational centers that are easily accessible to the younger sectors. Comparisons should be made between municipalities with similar demographics or those similarly lacking in after-school programs.

Note marked differences in grade point averages (GPAs) for math, science, social studies, writing and reading.

Compare statistics about college admission rates' increase or decline via the National Center for Education Statistic's Data Tools (see link below).

To establish a quantitative analysis of crime rate increases, the Federal Bureau of Investigation compiles volume and rates of crime offenses for the nation and the states, for individual agencies that may have need of such information. Obtain the local crime rate statistics at the pre-project state. Compare your data with similar-sized communities that basically have the same costs of living, industries, commercial areas and poverty level. You can get the latter information by using data provided by the US Bureau of Census.
Data Presentation of Socio-Economic Examples of Impact Analysis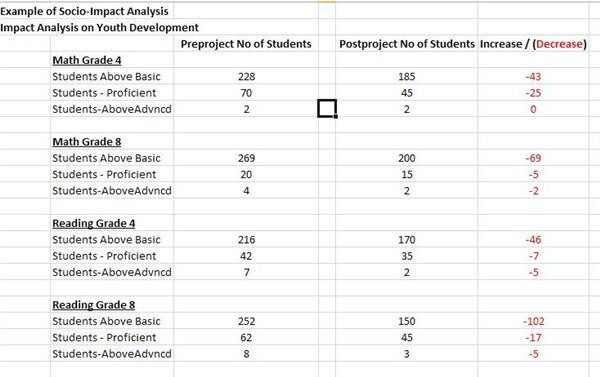 Our analysis of the youths residing in communities where shopping or recreational centers exist show less favorable educational performance than those that do not have such facilities readily accessible to the younger generation.
One of the recommended solutions in order to alleviate parents' anxieties is to implement rigid policies about student truancy – wherein no student will be allowed to enter the shopping center during school hours. In addition, since most of the consumer items to be traded are computer and electronic gadgets, the shopping center's management should coordinate with suppliers to hold basic and latest computer technology seminars as after-school activities for the youth sector.
An impact analysis for crime rates will, of course, affirm the community's concerns because these conditions are true in almost all settings. The important thing, however, is that the proposed shopping mall is expected to generate additional funds for the local government, which would allow the increase in budgetary allotments for more law enforcers in the community.
Results
The different examples of impact analysis show that our case study project could be deemed as worthwhile, for both the stakeholders and the local community. The results further illustrate that additional inputs gathered are to be taken into consideration during project planning. Other applicable plans of actions, on the other hand, can only be implemented at post-project stage.
Image Credit: Screenshot of Impact Analysis for Youth Development was created by the author.
Reference Materials:
Prepared by Civic Economics for and with the Institute for Local Self-Reliance: A Guide to Retail Impact Studies - published February 2008 and lifted from - https://docs.google.com/viewer?a=v&q=cache:J-kaIlNTKQsJ:www.informedgrowthact.com/guide.pdf+examples+of+data+sources+for+economic+impact+analysis+of+shopping+centers+in+suburban+areas&hl=en&gl=ph&pid=bl&srcid=ADGEEShvKDg7TB__vxe3T0ghZrvrmXw5nkQwNgcXJY7aA-L9Y36mSuiN7xxy6jOX55gwYEjGoZNcq_pf-SPyQCLqs-9nPVeMNCZv7m96wSyUR_jBrJz-5VXy1SK3mSJQKot5LKoW7dES&sig=AHIEtbSfvKexJKL3ierPhS7WKdeyMgFNrw
U.S. Census.gov, at https://www.census.gov/econ/census07/www/data_release_schedule/whats_been_released_by_state.html#al
ESRI.com. What is GIS? at https://www.esri.com/what-is-gis/index.html
BEES, at https://ws680.nist.gov/Bees/%28A%28SDsts8USzAEkAAAAODE0N2NiZTAtMTg2NC00Yzg1LTljYzItZTNjZWI2Njc2NDMwz_toc6pCr-HCY7dF6be6U1OJkqI1%29%29/AnalysisParametersBuildingProds.aspx
U.S. Department of Education Institute of Education Sciences. Data Tools, at https://nces.ed.gov/datatools/index.asp?datatoolsectionid=5