Free Checklist for Planning a Conference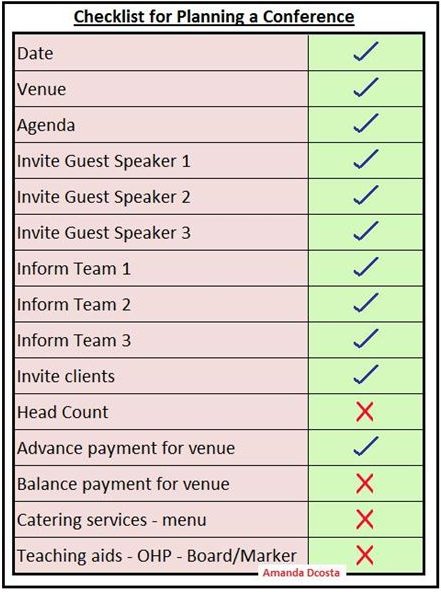 Planning a Conference?
Your business is growing. You have clients to reach out to and teams to instruct. There are many ways that you can achieve all this; in one sitting, or perhaps broken down into many sessions. However, at some point you might decide on planning a conference to address many objectives in view of the business progress. Conferences are held for the purpose of instructing or educating others by one or more specific or pre-planned speakers. Mass instruction of staff or clients is possible through a conference, and for this reason, a conference has to be planned well. In this light, a checklist for planning a conference is essential, which becomes the main tool by which a conference host carries out a conference plan. Conferences may be weekly, monthly, quarterly or annually. They may require attendance of members in person or via media such as telephonic of video conferencing.
Conference checklist
What are the main objectives for hosting a conference? What are the essential activities that have to be carried out in order for a conference to be held? Answers to these questions will highlight the main points of the conference and all tasks to be carried out before a conference commences.
A basic checklist for planning a conference is outlined below. These are but generic details that can be applied to all conferences irrespective of venue or size.
Venue: Is the conference to be held within the organization premises, or is it to be held in an external location?
Budget: Would there be any payment toward the venue or will it be free of expenses? If to be paid, what is the budget allocated for the venue? What are the terms of payment? (e.g., Hourly / Half day / Full day packages)
Time: (From -To) Time management is something that is very important when organizing a conference. This point on the checklist would be the time scheduled for the conference to start while indicating the duration of the conference. It should also indicate the number of days the conference will be held.
Head count: This would be the number of people who will be attending the conference, including the host and/or organizer. At times, invitations will have to be sent out months in advance for prospective members to confirm their attendance. If a fee has to be collected for the same, this will give the organizers time to collect the attendance fee for participation and accommodation for the members.
Agenda: Why is the conference being held? The agenda is based on the objectives of the conference. It highlights the essentials of the main content of the conference. An agenda has to be planned well in advance, with a list of key speakers and time durations, with outlines of topics each will be covering. An agenda requires a checklist in itself and may be considered a checklist within a conference planning checklist.
Conference committee: In case a conference committee is required to oversee tasks or vote in favor of or against a particular mode of action for the conference, a conference committee will have to be set up. It is essential to know which members will form this core conference planning team.
Invitees/ Delegates: Who would be invited to the conference? Will the speakers be from within the organization or will they be invited as guest speakers from outside the business organization? Who are the members that will attend the conference apart from the speakers? Which are the core teams involved with the conference to update with information that has to be shared to the delegates? Will there be customers or consumers or clients attending the conference? Have all listed members been invited or informed about the conference? How will the delegate invites be sent?
Facilities management: This is the management team that will take care of setting up the conference premises, seating arrangement, lights and additional fixtures. If extra facilities are required, like overhead projectors, teaching aids, whiteboards, markers, writing pads, pencil/pens, etc.; this team will have to be informed well in advance.
Catering services: Will there be tea / coffee/ snacks / lunch / dinner / drinks served for all the guests at the conference? If so, this has to be arranged well in advance with a proper head count given to the catering team.
Accommodation facilities: If the conference is being held away from home territory where members have to gather from many locations, would accommodation be arranged for the members? Will the members have to pay for the accommodation or will it be part of the business conference package? If accommodation is to be arranged by the host / organizer, where will the guests be lodged?
Logistics / Travel: Will transport have to be provided for guests? How will this be organized? Will guests also require transport for sightseeing and leisure trips during off-conference hours? What will be the travel package rates be or will this be in coordination with a travel office?
Conclusion
A checklist for planning a conference can be a boon to the organizer(s). It takes away the hassles of confusion that may arise in the course of the conference and checks activities that have to be done, thereby eliminating chances of negligence or repetition of tasks. If used with strategic planning, a checklist can take a conference through with ease from start to finish.
Credit and Reference
Image credit: Amanda Dcosta
_Reference: Entrepreneur, Planning a conference: https://www.entrepreneur.com/tradejournals/article/100012291.html_