Project Management Planning and Scheduling: Use of Presentation Software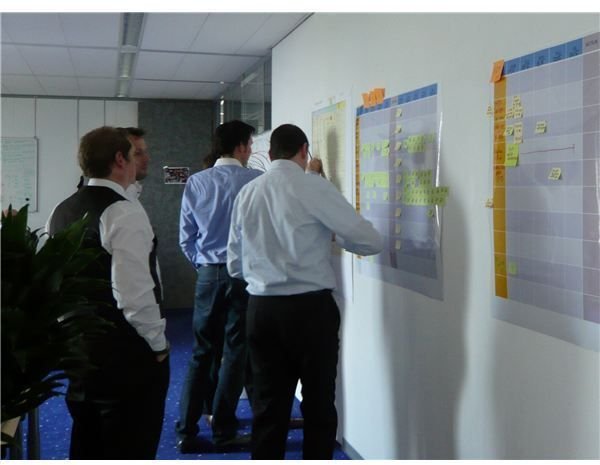 Deciding What to Include
Have you considered ways to communicate planning and scheduling with a presentation-type software? If you use expensive project management software that enables project managers to plan and schedule project work, you'll realize that they work best for large projects. Their complex systems help project managers ensure that resources and materials are available to complete project tasks according to a timetable. These systems also ensure that risks and opportunities are tracked.
For small projects, however, planning by creating a presentation can work just as well. You can use software such as Microsoft PowerPoint or Google Docs. Your presentation should include details about the initiating, planning, executing, monitoring and controlling, and closing processes. Use this information for organizing and scheduling tasks and associated resources. Then, you can use the presentation to communicate planning and scheduling with sponsors, stakeholders and team members as well.
Initiating
During the initiating process used to manage project activities, you establish a temporary effort that has start and end dates in order to produce a product or service. A PowerPoint presentation for planning and scheduling usually starts with a slide that states the ultimate project goal and its timing and relationship to other projects. Using PowerPoint features, such as animation, audio or colorful graphs, you make your slide attractive and compelling to sponsors and stakeholders to get their approval. Using the PowerPoint Insert Table function, you can add a table of information, such as document date and approval names.
Planning
During the planning process, you gather project requirements by interviewing sponsors and stakeholders. You organize the project by defining the objectives and listing your assumptions, risks and dependencies. Use PowerPoint SmartArt graphics to insert information such as a list of scheduled tasks, designated resources and completion dates. By establishing specific, measurable, achievable, relevant and timely objectives, you can align your project with your company's strategic objectives. You can also insert hyperlinks to relevant websites and objects as well, such as Microsoft Excel spreadsheets or Microsoft Office documents, to provide additional details. For example, inserting a completed customer requirements document might be useful.
Executing
By inserting a PowerPoint SmartArt graphic to depict the relationship between resources, you establish clear roles and responsibilities on the project. You can also use a PowerPoint SmartArt graphic to show the process required to complete the project. Using PowerPoint as a planning and scheduling tool enables you to also use your presentation as a status report during the executing process. For example, you can use clip art to depict critical milestones. An attractive, visually appealing presentation make it easier for your sponsors, stakeholders and team members to understand the project's progressing plan and schedule. This also helps them see their role in achieving a successful outcome. By clearly highlighting the issues that impact success, such supplier delays, job safety issues or other details, you help ensure timely resolution. Insert PowerPoint charts to depict the frequency of issues for help analyzing problems, making decisions and implementing recommendations. This information can also be cut and pasted into other documents and incorporated into standard procedural documents.
Monitoring and Controlling
Project managers monitor and control projects by planning tasks, scheduling resources, and identifying and correcting any problems to ensure objectives get met. Using PowerPoint, you can include flow charts of scheduled processes as well as tables of roles and responsiblities. It's useful to insert reports or forms and use SmartArt to show tracking charts. Presentation software provides features and functions that make it easy to create charts depicting the pros and cons related to managing, monitoring and prioritizing work. Then you can manage the schedule according to shifting priorities. Because the files are easily maintained, you can quickly develop a status report to communicate problems as they arise or seize opportunties to take advantage of events, such as newly available resources. For example, create a weekly work schedule in Excel and then use the Insert Object function to include the file in your presentation. When information is easy to maintain, it's easier to use it to identify operational risks, prioritize work, resolve scheduling conflicts and use the presentation to communicate the changes and get approvals for change requests.
Concluding Your Presentation
During the closing process, you will want to ensure the sponsors and stakeholders accept the project outcomes. In a PowerPoint presentation for planning and scheduling, you should include a slide that shows progress against the schedule. Include which areas are on track and which are behind or ahead; and also include details about any unexpected issues or delays. Using PowerPoint functions, you can encrypt your document, restrict permission and add a digital signature to finalize the document before you archive your planning and scheduling presentation.
Presentation Software: Real Innovation
Instead of complex project planning and software, project managers can make effective use of presentation software to communicate planning and scheduling. By using charts, tables and other features, effective project managers create and maintain presentations to communicate and monitor project progress. Because presentation software provides easy-to-use functions familiar to most business professionals, most project managers can use use this tool to plan and schedule resources and tasks to enable project success.
References and Image Credit
Image Credit: Wikimedia Commons: DSP-user
Williams, Todd C., and PMP. " PMI - the World's Leading Professional Association for Project Management." PMI - the World's Leading Professional Association for Project Management. https://www.pmi.org/ (accessed June 7, 2011).