How to Write the Project Considerations Section of a Project Charter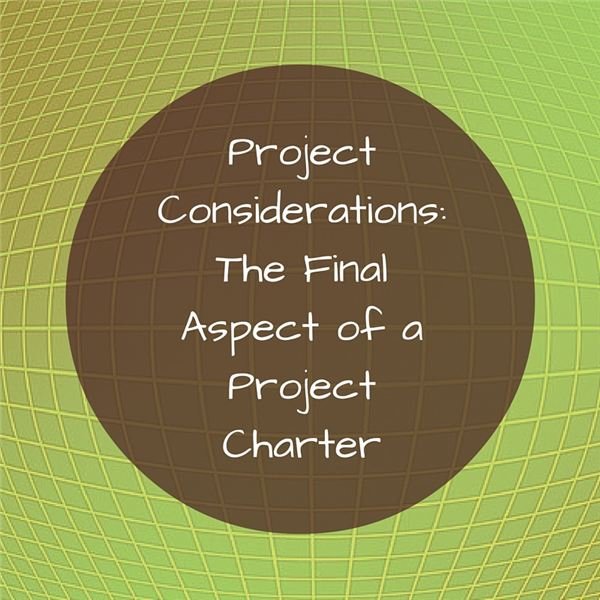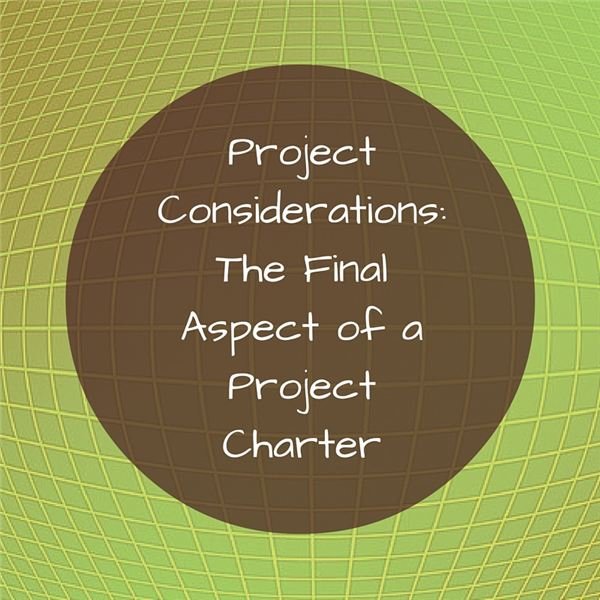 The Project Considerations section of the Project Charter focuses on five key things:
Risks
Issues
Assumptions
Constraints
The key to doing these effectively is to think it through and communicate at the appropriate level of detail. Let's take a look at each of the components of these project considerations.
Risks
List the most apparent risks associated with the project. If you must, do this alone – but try to involve others in one or more brainstorming sessions if possible.
Think of risks as any event that, if it happens, could jeopardize the required deliverables in terms of quality, cost, or timing. There are many categories of risk, so think broadly and err on the side of including.
First identify a description of all risks. As you complete this list and being to think you have everything included, you will need to prioritize the risks. The best and most commonly accepted way is to assess each risk as to its likelihood of occurrence and the seriousness of impact. Likelihood and impact at the highest level could be low, medium, and high, but you can adjust this to accommodate your project.
After prioritizing based on likelihood and impact, think about and document mitigating actions that you might take, should the risk occur. This is one of the biggest added values you can add to the project!
Issues
This is similar to the risks, but the issues are generally seen as more controllable, and not subject to uncertainty. They simply take effort to resolve, and you will need to prioritize. List all of the issues you and your team can identify. Set a priority – high, medium, low is good for starters – and then determine what actions need to be taken to resolve the issues.
Assumptions
List all major assumptions for the project. Peruse the list by yourself and with other team members to make sure you are not assuming something that's just not true. There could be some assumptions that might translate to risks or issues.
Constraints
List any major constraints, and review with the team. Constraints can also potentially be the basis for risks and issues. If you have a risk or issue among the constraints, move it appropriately and address it.
Summary
There are a number of important considerations that you need to think about on any project. Typically they will fall under the categories of risks, issues, assumptions, and constraints. You need to make sure that any issues, assumptions, or constraints are not really risks, and manage them accordingly.
This post is part of the series: How to "Wow" Your Clients with the Project Charter
The Project Charter is a foundational document for managing your project, and on small projects you can add tremendous value and even astound and impress your colleagues with a high impact Project Charter alone.