How Does IBM's Statement of Values Infuence Projects?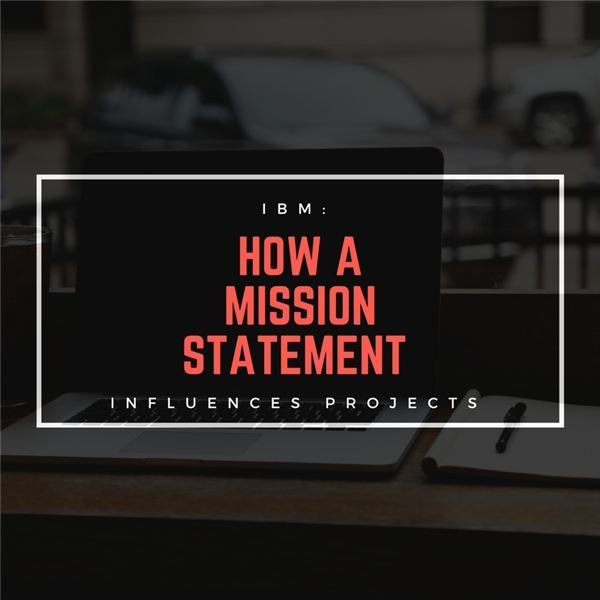 IBM currently does not have an official mission statement and translates company purpose through following values:
"IBMers value:
Dedication to every client's success
Innovation that matters – for our company and for the world
Trust and personal responsibility in all relationships"
Previously IBM had mission statements, with the last official one in effect until 2003. However, IBM, with direct real-time input from employees, created the values statement above collaboratively.
I can see, with the shifting technology and hardware landscape, how IBM's strategic position is shifting. However, I find it difficult to fully perform this exercise of determining good and bad projects without some sort of guidance – the guidance that a mission statement provides. As a result, for our purposes here, I am doing some guessing as to the mission.
Good Projects
IBM will, by virtue of its size and reach, favor large projects as well as projects related to big ideas. As a result, I come up with the following short list:
Projects that involve basic research on "big" breakthrough advances, such as Watson
Projects that involve new/novel applications of existing approaches, such as applying Watson to a wide variety of areas
Projects that might enhance IBM's ability to deliver new solutions reliably and effectively – and on a large scale
Bad Projects
Build software and solutions for small markets
Increasingly, manufacturing of hardware, unless there is a special advantage or market situation
IBM has a very extensive customer base, portfolio of technologies, and broad expertise across the workforce - competitive advantages that they want to emphasize.
What do you think? What kinds of projects do you think align most closely with the IBM's mission statement, and which not?