A Roundup of the Top 10 Project Management Books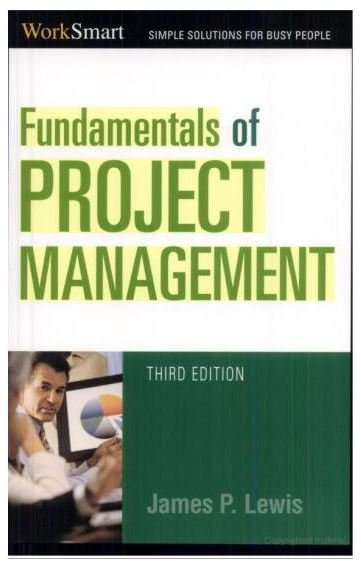 When it comes to Project Management, there's an old saying that goes like this: "…Top managers aren't born…they're TAUGHT." At least, I think it's an old saying. And if it's not, it should be. At any rate, there's a lot to be gained from reading the best-selling project management books. Fortunately for you, I've done all the legwork and scoured Amazon.com for some of the most popular project management books that you may want to consider adding to your permanent collection. So read, enjoy and remember: the more you know, the more you grow.
1. Fundamentals of Project Management
An indispensible project management resource, updated with the newest tools and methods for planning and executing projects – flawlessly. With sales of more than 115,000 copies, Fundamentals of Project Management has helped a lot of business people meet or exceed their project goals. The updated and revised third edition provides an unparalleled introduction to project management, along with new tools and techniques for planning and executing projects on time, on budget, and with maximum efficiency and productivity. James P. Lewis (Vinton, VA) is the founder of The Lewis Institute, Inc., which provides project management and behavioral consulting and training. He has trained more than 20,000 supervisors and managers around the world and is the author of The Project Manager's Desk Reference and Project Scheduling and Control.
Author: James P. Lewis. (ISBN: 9780814408797)
2. A Guide to the Project Management: Body of Knowledge (PMBOK Guide) – 2000 Edition.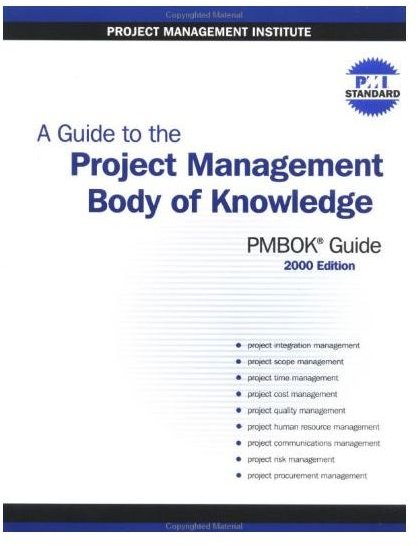 The Project Management Body of Knowledge (PMBOK®) is an inclusive term that describes the sum of knowledge within the profession of project management. The PMBOK® Guide identifies and describes the subset of principles and practices within the PMBOK® that are generally accepted and applicable to most projects most of the time. The guide also provides a common lexicon for talking about project management. Project management is a relatively young profession and while there is substantial commonality around what is done, there is relatively little commonality in the terms used. An extensive glossary further aids in standardizing definitions of the most important concepts, terms, and phrases.
Publisher: Project Management Institute. (ISBN-10: 1880410230I/SBN-13: 978-1880410233)
3. The One-Page Project Manager: Communicate and Manage Any Project With a Single Sheet of Paper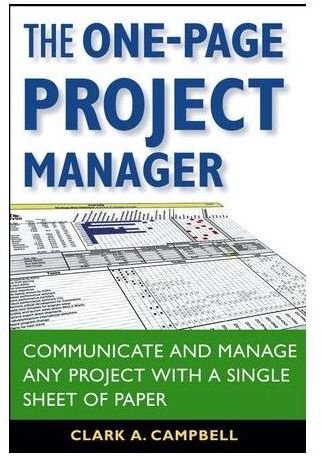 The One-Page Project Manager shows you how to boil down any project into a simple, one-page document that can be used to communicate all essential details to upper management, other departments, suppliers, and audiences. This practical guide will save time and effort, helping you identify the vital parts of a project and communicate those parts and duties to other team members. The One-Page Project Manager is the ultimate tool for beleaguered project managers who understand the value of simplicity.
Author: Clark A. Campbell (ISBN-10: 0470052376/ISBN-13: 978-0470052372)
4. Project Management: A Systems Approach to Planning, Scheduling, and Controlling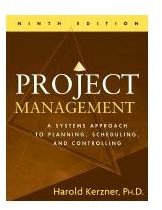 This ninth edition of the industry-leading project management "bible" applies its streamlined approach to new, authoritative coverage aligned with the Project Management Institute's Project Management Body of Knowledge (PMI's PMBOK), the new mandatory source of training for the Project Management Professional (PMP) Certification Exam. Written by one of the best-known authorities on the subject, this extraordinary edition gives a profound understanding of project management. Project Management covers every key component of the subject –from the intricate framework of organizational behavior and structure that can determine project success to the planning, scheduling, and controlling processes vital to effective project management.
Author: Harold, Ph.D. Kerzner. (ISBN-10: 0471741876/ISBN-13: 978-0471741879)
5. Effective Project Management: Traditional, Adaptive, Extreme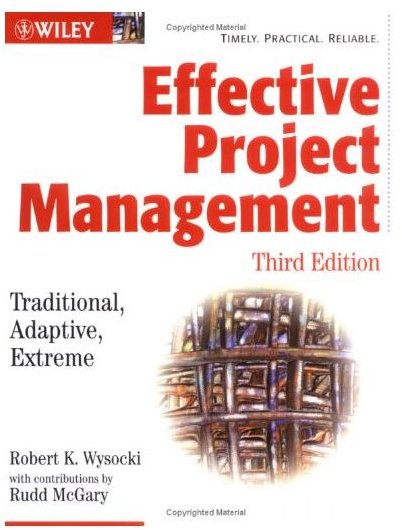 If you're looking for a more robust approach to project management – one that recognizes the project environment and adapts accordingly – then this is the perfect resource. It not only guides you through the traditional methods, but also covers the adaptive and extreme approaches as well. You'll gain an in-depth understanding of each one and know exactly when and how to use them. You'll also be introduced to the Adaptive Project Framework, which arms you with a new project management methodology. And with the help of two new case studies, you'll be able to put these ideas into practice and experience some of the contemporary nuances of projects. This definitive guide to project management shows you how to:
Take advantage of new variations on traditional project management methods, including risk assessment and control.
Decide the best method for managing specific types of projects by analyzing all of the pros and cons. Apply the Adaptive Project Framework to the world of fast-paced, high-change, and complex projects. Create a war room to successfully manage multiple team projects. Determine how project portfolio management approaches can help companies achieve a greater return on investment.
Author: Robert K. Wysocki (ISBN-10: 0470042613/ISBN-13: 978-0470042618)
6. The Little Black Book of Project Management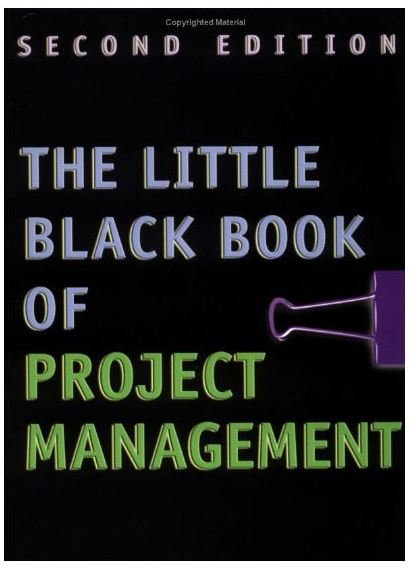 Many books about project management are complex and technical - and on some levels, these books are valuable to project managers and executives. This book, however, is more basic. The book, part of the "Little Black Book" series, is aimed at providing practical advice for project managers, executives, and employees working on a project. The goal here is to make the project successful by keeping everything simple and easy. This is not always possible, of course, but the book does provide guidelines for helping you to survive the corporate project team experience and make it a positive one.Sample contents.
Author: Michael C. Thomsett. (ISBN-10: 0814471374/ISBN-13: 978-0814471371)
7. Everything Project Management Book: Tackle any project with confidence and get it done on time (Everything Series)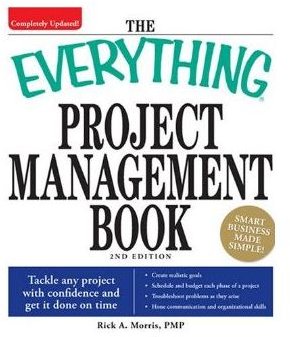 Even for the most organized person, managing a project can be a challenge. The Everything Project Management Book, 2nd Edition is the perfect resource to help you complete any type of job successfully and on time. This book is packed with tips for every stage of project management, from setting goals to evaluating the final results, and provides ways to:
Monitor progress and evaluate results
Shift gears while maintaining flexibility
Cut costs without compromising quality
Use technology to your advantage
Implement sound scheduling and budgeting techniques
This completely revised and updated edition covers the most current information in the field. You'll learn about the Project Management Office (PMO), the latest project management software, and time-management techniques. The Everything Project Management Book, 2nd Edition is the only guide you need to master the tricky art of project management. With it, you'll meet deadlines and come in under budget every time!Sample contents.
Author: Rick A Morris. ( ISBN-10: 1598696351)
8. Real World Project Management: Beyond Conventional Wisdom, Best Practices and Project Methodologies
If you're a project manager, you need this guide to fill in the gaps in the PM cannon. Real-World Project Management fills in these major gaps with irreverence, wit, and wisdom. For any kind of project you're managing, this book presents the high-quality tools and tactics you need to succeed. Real-World Project Management provides the skills and strategies that every project manager needs to successfully complete projects in virtually any field. With a particular focus on service, manufacturing, and IT projects, this thoughtful guide shows you how to become more knowledgeable and efficient in the real world of project management.Sample contents.
Author: Richard Perrin. (ISBN-10: 0470170794/ISBN-13: 978-0470170793)
9. Simplified Project Management For The Quality Professional: Managing Small And Medium-size Projects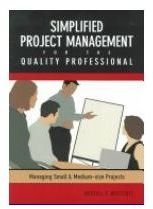 With nearly 200 articles and 15 books to his credit, in addition to being a business consultant for nearly 30 years. Russ Westcott brings his expertise to the forefront in an easy-to-digest manner. Simplified Project Management for the Quality Professional provides basic "how to" information for the quality person who suddenly finds herself or himself confronted with the task of launching and managing a smaller, short-term project . The book is also a guide on how to transform your project improvement idea - sell it - and then implement the project. Even with some previous project experience, you'll find useful insights and helpful guidelines.Sample contents.
Author: Russ Westcott (ISBN-10: 087389636X/ISBN-13: 978-0873896368)
10. The Program Management Office: Establishing, Managing And Growing the Value of a PMO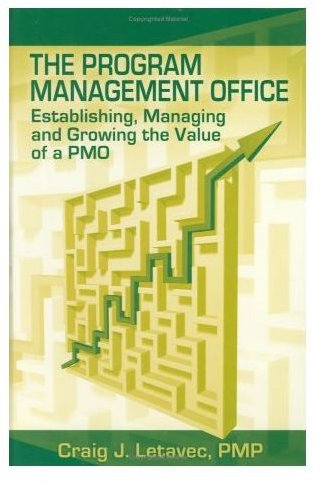 Letavec's goal in writing, The Program Management Office: Establishing, Managing, and Growing the Value of a PMO was to create a practical guide that is useful for both PMO practitioners as well as for those who are just staring out on the road to establishing a PMO. The book includes guidance not only on how to establish and manage a PMO but also touches on a number of important related topics such as analyzing an organization's project management challenges, opportunities, and PMO needs, selling the PMO concept to senior leaders, the role of the PMO in portfolio management and governance, and evolving the role of the PMO over time as a standards, consulting, and knowledge organization.
Author: Craig J. Letavec (ISBN-10: 1932159592/ISBN-13: 978-1932159592)
There are probably enough project management books on the internet that I could compile several lists. But these top ten should at least get you started.