WBS Dictionary Example: How to Create a Work Breakdown Structure Dictionary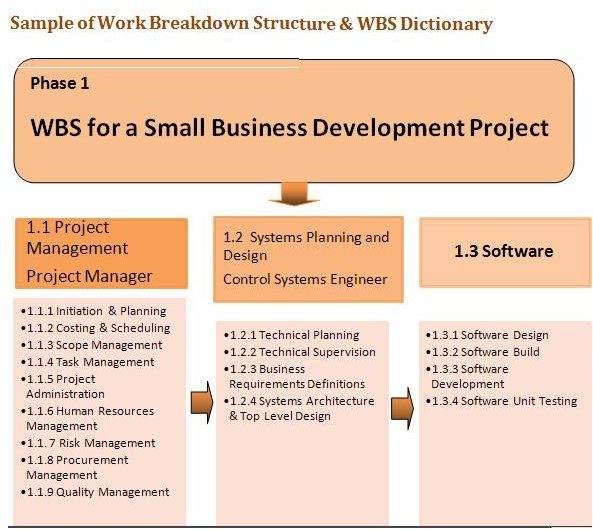 How Does It Function as a Project Management Tool?
A WBS Dictionary is merely a supporting document, which provides the definitions for each component contained in the Work Breakdown Structure.
This type of dictionary is often recommended as a reference resource material for task-oriented projects comprising several work phases. Its origins stem from US Military Defense projects; hence its functionality and effectiveness as a supplementary tool have been largely proven for broad-based and extensive projects.
The process involved in developing this project management tool is nothing complex. It is a purely mental activity of describing the functions to be fulfilled for each task by using proper labels and numeric indices. Its main objective is to furnish every team member with clear task-descriptions as a means to eliminate confusion. As a dictionary, it defines the tasks, the requirements, and the deliverables all in accordance with the function's relevance to the overall objectives of the project.
Providing a Sample of a Work Breakdown Structure
Since a WBS Dictionary accompanies a Work Breakdown Structure, the latter is provided with an image which readers can reference as we proceed with the explanations. Take note, however, that the example provided is only a WBS for Phase 1 of a business development project and is not the entire representation of the project management tool.
The structure is graphically presented by using a tree chart showing a subdivision of tasks that are required to complete Phase 1 of a particular undertaking. The entire project is broken down into successive subcomponents considered as manageable subdivisions based on size, duration and responsibility.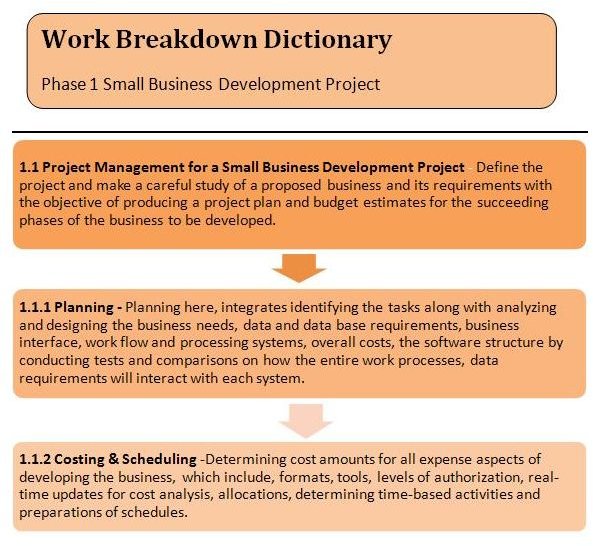 The Work Breakdown Structure Dictionary
Now take a look at the contents of the image on your left, which is the dictionary that accompanies the WBS sample above.
This is usually prepared for large and complex projects that have many tasks and is prepared by the project manager in coordination with the team members, who will contribute by providing work-related inputs.
Both the project manager and the team members should furnish a collective description of each task, which will serve as a set of clear definitions about each assigned activity and project requirement as they are linked to all underlying functions.
The document is useful for maintaining a clear line of communication, since team members would know the owners of a particular project function.
A closer look at this sample will show that each major function is provided with numerical indices that matches each function under each type of functional category. In this example, the WBS is described as Phase 1 while the first major function is stated as Project Management - Project Manager. This particular component was then assigned with the numeric code 1.1. and is owned by the Project Manager. Henceforth, all dictionary entries should have a matching definition for each of these numeric codes.
Where other workplace environments make use of the officers' and staff's initials to identify a related function or concern during meetings, planning and deliberations — the identifying numeric codes may also be used as a form of identification. It is possible for complex and large-scale undertakings to experience turnovers while the project is still incomplete or ongoing; hence, using numeric codes as alternative, dispenses with the need for name recalling.
Although structures and manners of presentations may vary, this project management tool serves as a point of reference for other task-related information, which generally includes the following:
An identifier or label for each individual task
Description
Job owner
Objectives
Functional requirements to be fulfilled
Technical requirements for completing the task
End objective
Each component should end with a statement about the function's main objective.

Implementing Revisions
It is also best to keep in mind that this reference tool may be subject to revisions, since best practices recommend a constant review of the Work Breakdown Structure's content development and distribution. Such revisions should be assigned with indices for the different versions created by the modifications or changes. In line with this, there should be a "version history" section in which the following important information should likewise be indicated:
The version number.of the revised dictionary in conjunction with the revised version of WBS document.
The date of revision.
The author of the revision.
The date the revision was approved.
The approving authority that allowed the implementation of the revision
A brief description of the reason why the dictionary revision was deemed necessary. .
Readers who may be interested in using these samples as future references on how to make a WBS Dictionary, can download the combined WBS and its dictionary from Bright Hub's Project Management Media Gallery.
References