How to Implement the WBS Methodology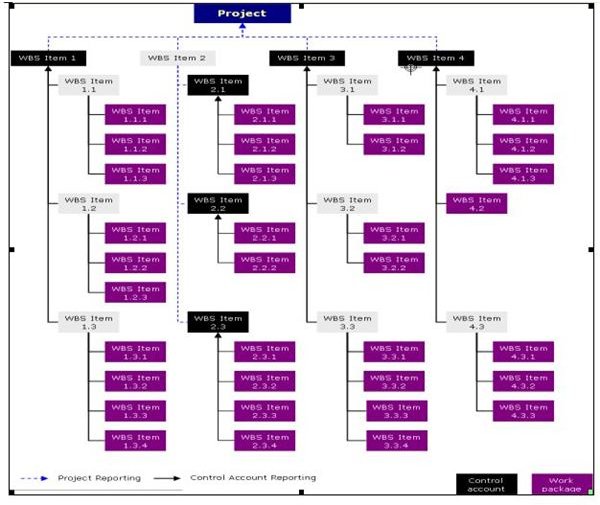 Defining the Work Breakdown Structure
A work breakdown structure (WBS) is a way for project managers to determine processes and tasks that can be worked on independently of one another in a simultaneous fashion. Once the project scope is defined, the use of a WBS makes it easier for tasks to be completed, especially if using a critical path method (CPM). A WBS also helps to delay project timelines and can identify if something within a project's success will be critical if not implemented or need to be completed as required.
You can find a generic work breakdown structure in our Media Gallery. Is it possible, however, to utilize WBS as a methodology in project management?
An Example of a WBS Methodology Project
For readers of mine, you know I love to use my projects or processes at my auto dealership to help define various project management methodologies. In fact, the use of Agile Management has aided me tremendously in shortening task times and getting the job done in my service department. But what about implementing a WBS Methodology?
In this WBS Methodology example, we'll use the project of how to implement the Federal Trade Commission's (FTC) Red Flags Rule. The Red Flags Rule, due to be in place by December of 2010 calls for certain security standards to be met within a dealership regarding customers and their personal information obtained and stored within the facility.
According to the FTC, my Red Flags Rule must have four distinct process to be effective including:
A written policy including materials available on the new rule that can offered to my customers in both English and Spanish. The policy must outline how the dealership will utilize the rules as outlined in its day-to-day operations.
How will my policy identify or detect a problem when a red flag pop us such as a false social security number or a name alias?
What action or policy will I follow once a red flag is identified?
How and when will I re-evaluate my red flag policy?
Using these four required steps, we can now utilize a WBS Methodology to implement my red flag policy.
Image Credit: Screenshot Example WBS by Oliver F. Lehmann PM Training
Using the WBS Methodology
In any work breakdown structure, the project leader breaks down the project in a hierarchy fashion to get the job from point A to point B to conclusion. Some tasks, although just as important, can be worked on or completed independently of the entire goal of the project—developing my red flag policy, for example. Others must be worked on entirely throughout the project. Let's take a look at how creating my red flag policy can be down through using a WBS Methodology.
Task: Write a Red Flag Policy – Through the guidelines set by the FTC and based on my type of business, I must write a policy that must outline every rule the dealership will follow along with material hand-outs for customers in both English and Spanish.

Sub-Task – Define only the guidelines from the FTC rules that pertain to my dealership operations (not all apply), write policy – Group One.
Sub-Task – Obtain required forms as needed by dealerships – Group Two.
Sub-Task – Hand-out materials in English – Group Three
Sub-Task – Hand-out materials in Spanish – Group Four
We can see from this simple WBS example that certainly Groups Three and Four can obtain the required materials in both English and Spanish while the policy is being written. Why? Because the FTC has already identified what the materials must say, Groups Three and Four can work on obtaining those materials from vendors or suppliers that fall within the project's pricing guidelines and cost objectives. The task of writing the policy will affect both Groups One and Two. The first group must read the Red Flags Rule to identify only those policies a dealership must implement while Group Two, on the other hand, during the policy writing process can define from the FTC's Red Flags Rule what forms and documents I will need on hand for customer to sign. These are not the hand out materials but actual documents that any customer who offers personal information will have to sign so they can be assured their information will be kept secure and safe and must be company specific.
Continuing the WBS Project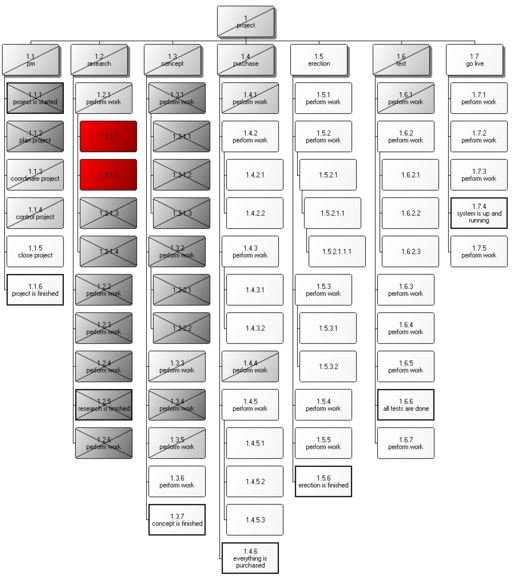 The hierarchy in the WBS continues with others who will determine, based on the laws and rules, what my dealership will do if a red flag is identified
Task: A Red Flag is Identified – What is a red flag and how is it determined? – Group One.

Sub-Task - Does the red flag need to be reported and to whom? – Group Two – This group will determine if the red flag must be reported within or outside of the organization and if outside to what reporting agency.
Sub-Task - Customer Awareness – When are customers informed of any discrepancy or a red flag alert? In what form are they told of a red flag? Will the red flag be kept from the customer and reported to the appropriate agency? – Group Three.

Task: Re-Evaluate Red Flags Policy - This can be an individual or group that will audit the Red Flags process once in place and plan on how the policy will be constantly monitored and improved upon.
Here, you can see that while a group may work on customer awareness and informing, another may be working on the process of how and who the red flag may need to be reported to, if any. Some projects utilizing the WBS Methodology will also include items that identify if they are not complete, will the project still be ready to go or will it be unacceptable unless the task is included. Here, in our example, the entire policy and procedures of creating the Red Flags Rule for a dealership may be completed while the group responsible for obtaining the needed vendor or supplier customer forms will not technically set back the project.
Image Credit: Sample Work Breakdown Structure (Schoder Dietmar) Wikimedia Commons
Summing Up the WBS Method
It's possible to dedicate a project to just a hierarchy tier system by taking a look at what the project entails, deciding upon the steps, and assigning group or individual tasks.
As in my project of the FTC's Red Flags Rule and implementing it into my dealership, the WBS Methodology can work as long as the project at hand is defined first and only then assigning who will work on what as well as when each task or goal is due to make the project a success depending upon its importance.
Again, take a look at the example of a work breakdown structure in our Media Gallery (click on the link on Page 1) and see if you can use this project management methodology on any of your upcoming projects.