Six Sigma Yellow Belt Requirements - What is Needed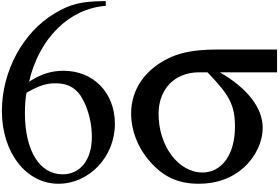 Six Sigma
Six Sigma is a widely used as a business management tool within the industry sectors and for those who are interested in learning about Six Sigma, you may want to get certified. There are several different levels that an individual can obtain to show their mastery of Six Sigma's different applications and methodologies.
In this article learn about the yellow belt requirements that one needs to know in order to obtain the Six Sigma yellow belt certificate.
Six Sigma Requirements
There are several levels within the Six Sigma organization that first trickle down from that of a champion. Champions are leaders within
their business that sponsor projects that are done by Six Sigma and are trained within the methodology of Six Sigma. They also are responsible for choosing and mentoring project leaders, who are known as 'belts'. There are three levels of belts within Six Sigma - black belts are those that have mastered the methodology of Six Sigma and are mentors to other black belts and green belts.
Green belts are knowledgeable within the problem solving model of DMAIC, as well as being a team leader for the project.
Yellow belts are the entry level part of the Six Sigma organization, a beginner though they have some general knowledge about Six Sigma and are looking to further that knowledge by obtaining a Six Sigma yellow belt certificate, putting them on the path (if chosen) to pursue a green belt certification. Yellow belts usually do not lead a project on their own, but may be responsible for running smaller projects that follow the PDCA procedures.
There are no pre-requisites for gaining a yellow belt certification in Six Sigma, however some basic knowledge of Six Sigma may be required for some universities or programs that offer it. These pre-requisites may require the understanding of Six Sigma improvement methodology, the language, the overall concept, with some basic understanding of the DMAIC model. Again, while some training courses may start at the absolute beginning level, it may be helpful to have some general knowledge of Six Sigma in order to obtain a yellow belt.
A variety of universities and learning centers offer the program via online learning, allowing for employees to learn and obtain a certification without needing to stop working. Below is a list of several online programs that offer Six Sigma training for all levels.
VRDS Inc - offers courses for yellow, green, and black belt certificates.
Aveta Business Institute - offers courses for all belts and other Six Sigma training.
Six Sigma.us - also offers courses for all belts and other Six Sigma training
The prices for these and other online or campus type programs may vary, so it is important that research into each program is considered before choosing, ensuring that you receive the best set of courses for the right price in order to achieve certification.
Image content @ Wikimedia Commons