What's Included in a Six Sigma Black Belt Job Description?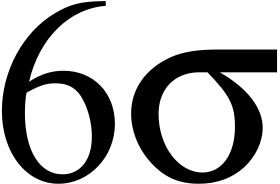 Introduction
A certified Six Sigma Black Belt quality management business professional typically manages process improvement projects. She uses Six Sigma tools and techniques, assigns project team tasks and uses the stages of Six Sigma or DMAIC to complete process improvement projects. By defining the problem, measuring the current process by collecting data, analyzing the relevant data, optimizing the process and controlling the process output, Black Belt personnel help organizations reduce defects and maximize product and service quality. Additionally, they apply Lean Manufacturing principles to remove process steps that provide no value to the customer and reduce waste. So, what's included in a Six Sigma Black Belt job description?
Responsibilities
Black Belt personnel typically set the strategy for a Six Sigma project implementation. Working with executive leadership, they select and prioritize projects to ensure work aligns with strategic goals. They create project plans and guide team members, including personnel certified at the Green and Yellow Belt levels, to complete projects in a timely manner. A certified Black Belt usually trains other team members on how to use Six Sigma tools and techniques, such as control charts, histograms and a root cause analysis.
Skills and Competencies
Black Belt personnel usually have three to five years of experience leading Six Sigma projects. They demonstrate proficiency with statistical and process management software, such as Minitab, and flow charting software or process mapping software, such as Igrafx. Information Technology, business analysis and process initiatives rely on the expertise of Black Belt certified project leaders to produce measurable productivity gains. Black Belt personnel typically demonstrate proven team leadership skills and the ability to influence others at all levels of an organization. In many cases, jobs require extensive travel.
Required Experience and Education
Successful candidates for Six Sigma Black Belt jobs usually have extensive experience in both manufacturing and business environments. They generally have a Bachelor's degree, many have more advanced education such as a Master's degree, and have completed Black Belt training and certification to lead projects, train and coach other personnel and complete problem-solving projects. Black Belt personnel strive to enable organizations to become more self-sufficient and self-sustaining in process improvement endeavors.
Conclusion
A Six Sigma Black Belt job description lists the qualifications required of a quality management professional responsible for process improvement project leadership. Candidates usually have a wide range of experience and demonstrate strong leadership, are decisive and analytical, are persuasive, and have exceptional project management abilities. Black Belt certified professionals usually coach and mentor other team members to complete project tasks and need to be able to work in challenging, global, fast-paced environments. Candidates for Black Belt jobs should be prepared to communicate effectively to executives, clients and team members on a regular basis.
Reference and Image Credit
"Six Sigma Black Belt Certification - SSBB - ASQ." ASQ: The Global Voice of Quality. https://asq.org/certification/six-sigma/ (accessed January 23, 2011).
Image Credit: Wikimedia Commons, Xavax