Use One of These 5 Free Portfolio Analysis Tools to Power Up Your Investments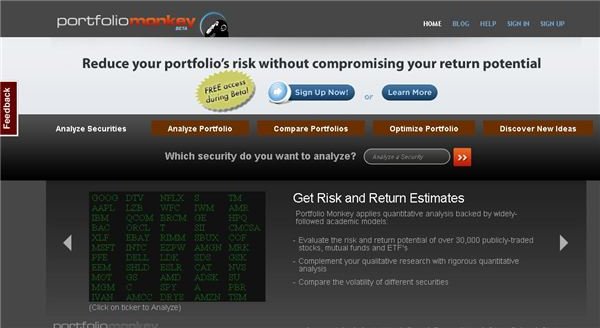 Easier Ways to Track and Analyze
The fact that you have investments does not mean that you have to lay out serious money on managing your assets. In fact, powerful, free portfolio analysis tools are available that will track your net worth, track investment performance, and stay up to date with market trends.
Free portfolio tools like the ones listed here can make a big difference in the way you manage your assets, giving you advantages that you thought you'd never be able to have–and for free!
1. PortfolioMonkey
The PortfolioMonkey website has a free portfolio analysis section that will analyze, compare and optimize portfolios based on user input. Users of the site get to review specific suggestions for improving their strategies and get additional tools that help in security selection.
According to the PortfolioMonkey website, the entire site is in a beta stage, meaning that when the site becomes officially deployed, some of its tools may revert to premium-only status. Because there's no way to know what features may become pay for features or how long free beta access to the site will last, users should sign up right away if the opportunity is still available.
PortfolioMonkey will rate portfolios, determine their expected rate of return, calculate their volatility and efficiency, and provide charts to help guide investors into the decisions that are best for them.
2. Kalengo
Kalengo is an amazing free portfolio analysis tool that adds a social flavor to the investor's prospective. An entire community is available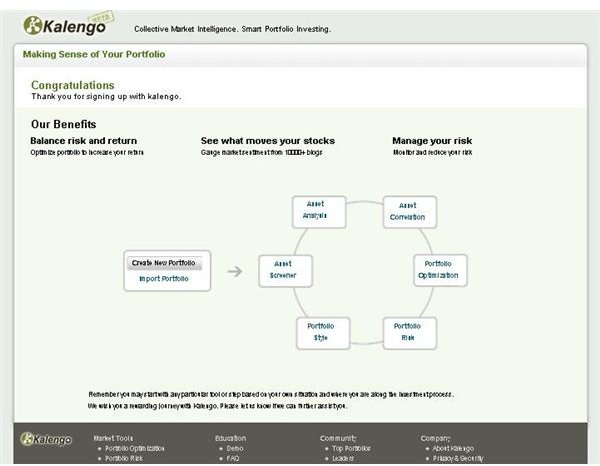 on the site that shares knowledge, tips, and opinions that users can take advantage of according to their desire. This community can be a valuable resource for gauging market sentiment and for developing investment strategies.
The core of Kalengo has users first create their portfolio and all the positions they currently hold. After that, the tool steps through an asset analysis and correlation program and offers suggestions for improvement based on stated goals. After that, the tool helps users optimize their portfolio depending on risk tolerance and investment style.
3. Stockalicious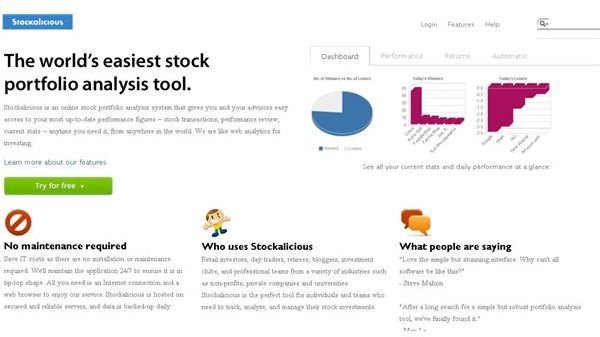 The free portfolio analysis tool listed here is Stockalicious. Behind the curious name and incredibly easy-to-use interface, are some of the most potent-free tools in the industry.
Users can check on portfolio performance; report on weekly, monthly or annual returns; and present an overview of gains, losses, winners vs. losers, and market performance. Best of all, a fully customizable analysis is available automatically with just the click of a button.
4. DhanSutra
DhanSutra is a free portfolio analysis tool offering powerful insights into portfolio diversification, reports on portfolio performance, and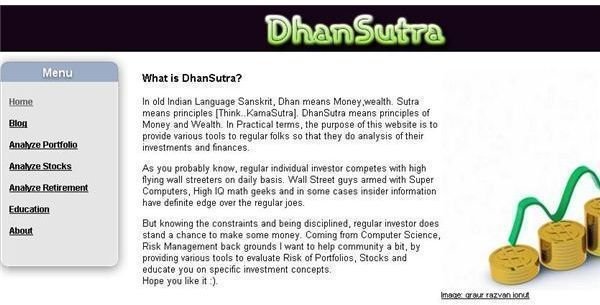 comparisons with market leading stocks. Additionally, DhanSutra offers innovative "prediction" tools (no predictions are guaranteed) and a community that shares stock tips and strategies.
DhanSutra is a good resource for new investors because it features a robust education section, complete with quizzes, to give users a strong start in the market without confusing them with jargon.
Finally, retirement planning tools at DhanSutra are valuable for making sure that users' investments are on par with their long-term objectives.
5. Zignals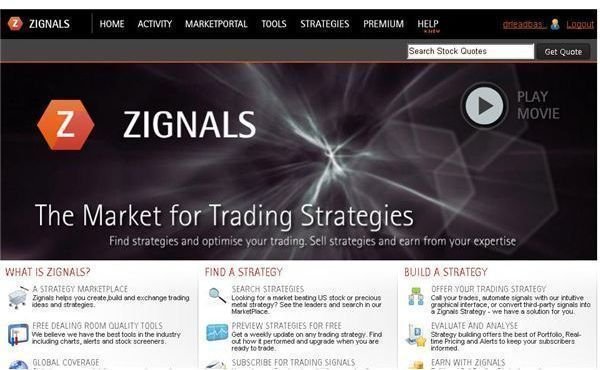 With a free account, users can buy and sell their winning investment strategies, develop new strategies, and learn more about various investments at Zignals. Analysis tools on the site are impressively easy to use, but surprisingly powerful helping users to identify vulnerabilities in their portfolio as well as strengths.
Screeners, charts, news and quotes round out the Zignals experience, making it one of the most potent free portfolio analysis tools currently available.
Free Portfolio Analysis Tools
The examples of free portfolio analysis tools listed here should be enough for readers to discover that a wealth of information, tools, and strategies are available online without any payment required.
These sites and others may have premium options that users can select, but users should thoroughly try out each tool to see which one has the most potential before paying any money.
References & Screenshots Courtesy Of
"PortfolioMonkey" - https://www.portfoliomonkey.com/
"Kalengo" - https://www.kalengo.com/
"Stockalicious" - https://www.stockalicious.com/
"DhanSutra" - https://www.dhansutra.com/
"Zignals" - https://members.zignals.com/main/