Crystal Reports Review: Business Report Generation Software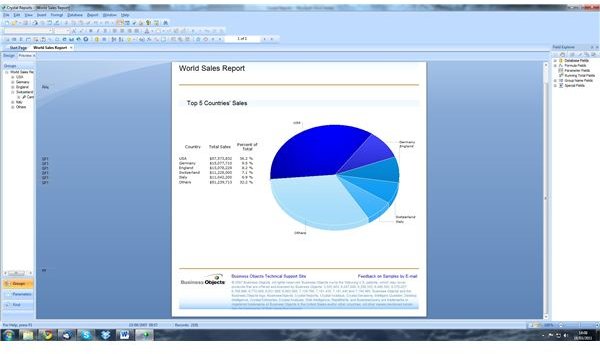 Introducing Crystal Reports
Developer, Business Objects, specialize in producing "business intelligence" software. The idea is to empower companies to streamline their processes and get quick and easy access to the information they need. In simple terms, Crystal Reports can suck in data from various sources and enable you to compile all kinds of reports, from basic bar charts and text, to highly visual animated reports offering some level of interactivity. If you spend a lot of time trawling a database and cross referencing Excel spreadsheets to painstakingly create reports by hand only to have to do the same thing the next month then you'll appreciate the point of Crystal Reports. Let's take a closer look at the features.
Features
Crystal Reports can connect to various sources for data extraction. For most users this will be a database such as MySQL, Sybase, Oracle or Microsoft Access. The software can also pull in information from Excel, text files, Lotus Notes, or even HTML XML files. This isn't an exhaustive list of supported sources but you get the idea, chances are good that however you store your data, Crystal Reports will be able to plug in and retrieve it.
Once you have the data you want you can use, Crystal Reports to create a report. There are a range of visual styles, graphic representations and even animated elements available to you. If you want to incorporate video or cross-reference data then you can do it.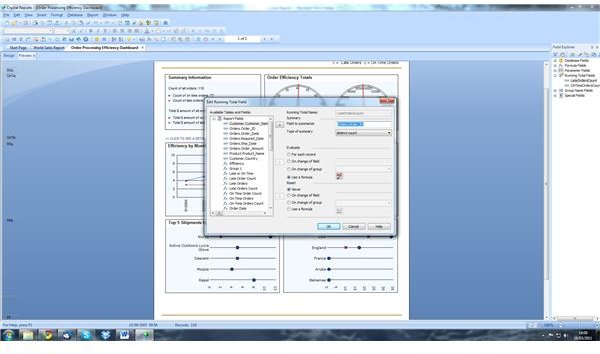 The software is potentially very powerful and if you want to go further than just presenting data you can apply some formulas and enter the realm of analysis. This will allow you to compare data and generate what-if scenarios or sales forecasts.
The final element is delivering your report. You can automate a process for delivery and choose your own method, from e-mail through to web publishing. You may even consider developing applications and embedding Crystal Reports elements within them and there is documentation to help .NET, Java and Eclipse developers do exactly that.
So far, so good, but how does it work in practice?
Using Crystal Reports Is Far From Crystal Clear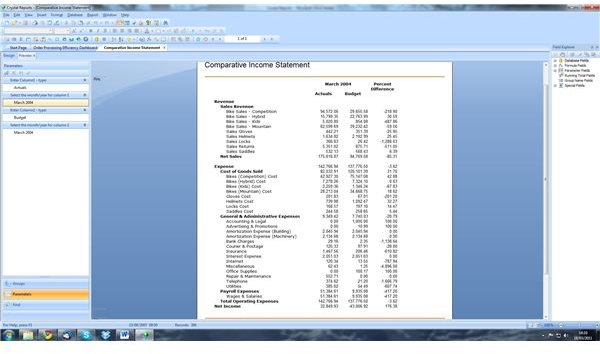 This truly is one of the most complicated software packages I've ever come across. Every Crystal Reports review you read will refer to the steep learning curve. There are weighty textbooks available on how to use Crystal Reports. You won't get anywhere without at least referring to the comprehensive help guide (the YouTube tutorial videos are probably the easiest to follow).
Setting up a simple data extraction from a database and generating a basic report is easy enough with help but if you just end up with a basic report, then Crystal Reports really isn't justifying the price tag. To really unlock the power of this software you'll need to invest some serious time in learning how to use it and integrating it with your current setup.
The user interface is intimidating and not intuitive in the slightest. There are a lot of wizards to help you out with various processes which removes some of the initial panic. Unfortunately when it comes to actually creating a report you are restricted by the template system of the software. It may be technically possible to generate stunning reports here, but it will take you a long time and require a lot of effort to learn the way Crystal Reports likes to do things. There are no simple examples to refer to. Every facet seems to be documented individually which ultimately means a mountain of documentation to study before you can begin to get real value from the software.
The Verdict
If you spend a lot of time generating reports for different audiences and you expect that to be an on-going demand then Crystal Reports might be worth considering. However, the time investment involved here is substantial and the level of complexity is way beyond what most people require. It is not user friendly and it is not going to be a solution that will suit everyone.
References
Crystal Reports, https://crystalreports.com/
All screenshots taken by author.