Using Google Docs for Project Management

What's Up With Google Docs?
No matter whether your favorite software application is Word, Excel, or some other product—even if you use a Linux or Mac operati
ng system—it's time to venture outside the realm of what's comfortable and try out Google Docs. Google Docs has made it easier to share documents with coworkers and friends and simultaneously minimize the work you must do to share them.
Google provides a little video you can watch to show you why you should use this product. It's very straightforward, and requiring your people to watch it is a good idea so that even the technoflunkies will feel reassured about the ease of this option.
Upload a File and Send It
For some, the idea of "sharing documents" sounds ominous and technical. It simply means that you send someone else a copy of a document you've created. Have you typed a task list in Excel and then attached it to an email? Then you've shared documents. Have you inserted data onto a spreadsheet and then uploaded it to another manager? Same thing—but with Google Docs you will do it quicker and easier.
Think about the mechanics of forwarding that list. In order to do something like that, you create an email and then insert the attachment. Or what if you're planning a job fair and you want to create an address list? The people who need to go over that list include you, the HR manager, participating department heads and even agency vendors. With Google Docs, you can create and upload your own document to the Document home page.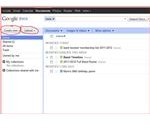 To the left you'll see an image of the home page, with the Create New and the Upload buttons circled. Thinking about that job fair list again, you can let everyone involved have a go at the address list: Each involved person can modify the list, and your original list will reflect all the changes without any updating on your part.
In the image to the right, you can see that I have uploaded an address list, an Excel doc that I want to use as the basis for my contacts. Once it's uploaded, you click on it to open it, and it looks very similar to an Excel document.
I want to send it to several people for their input, so I right click on it. In the dialog box I can add the email addresses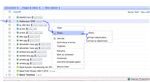 of the people I mentioned. I check off Can Edit because I want their input. If I only want someone to look at the list, I check Can View. When I'm done adding names, I will have the opportunity to add a brief message—"please add people who need to be included."
But here's the real beauty: As each person updates the list, their changes show up on my original document. When your recipient does open a document sent by you, you will be notified. If you need to look at older versions of the list, Google has them saved for you automatically. And, by the way, whether you're uploading a document or viewing one from someone else, the document viewer works with 15 different file types, including Word, Excel, PowerPoint, both Adobe Portable and Adobe Illustrator, and Apple Pages, as well as tagged image files, PostScript and TrueType, XML files, zip files, and more.
Create a Doc on Google Docs - Including a Form or Presentation
Once you become accustomed to this product, you can skip creating forms with your regular desktop application. Instead of opening up multiple programs, you go right to Google and just click on the type of document you need.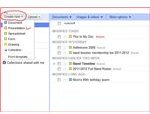 Once you click the Create button you get a drop-down list of document types, which conveniently function similarly to the ubiquitous MS Windows products. From the image to the left, you will note that your options include document (acts like Word), presentation (PowerPoint), spreadsheet (Excel), form, and drawing (loosely similar to Paint), and you can also assemble collections.
You're going to love this feature if you're in the middle of work and the network server goes down. As long as you can access the Internet somehow, you can get to Google Docs, type notes, create forms, lists or whatever, and email them to members of the project team, stakeholders, the client, or whoever you are contacting at that time.
The presentation option functions just like PowerPoint, letting you print slides and apply attractive preset designs to them, or you can browse to use a design on your computer as the backdrop. If you create a form, Docs will collect the answers and display them in an Excel chart. You can revert from the spreadsheet to the form if you click on Form and choose Go To Live Form (or choose Edit Form if you want to apply a new design).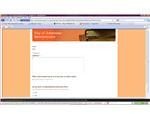 In a Hurry? Grab a Template
Google not only lets you upload or create documents, it also lets you choose from templates. To the right of the search bar at the middle of the top, you can click on Search Templates. They are categorized according to Hottest, Type, Albums, Personal Finance, Cards & Certificates, Resumes, Holidays, and much more. Many templates are for personal use, and you'll also find a huge amount dedicated to business use. If you devise a form that has proven itself to you, why not upload it into the Gallery?
You'll Be in the Clouds!
Another service is the inexpensive cloud storage Google offers, free up to 10GB. Besides the convenience, consider the privacy this offers—you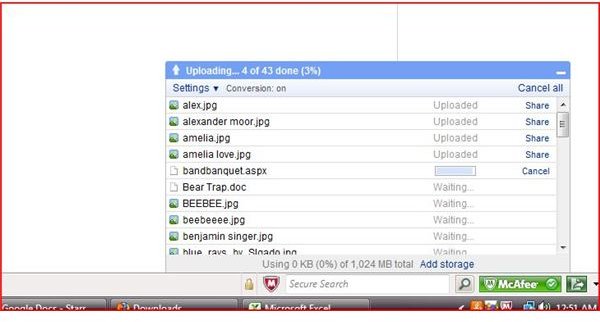 can log in progress status, for example, or upload your budget to your fiscal coordinator, and it will have the same protection as your email. If you need more storage space, you can buy 20 GB for the munificent sum of five dollars per year, and larger amounts of storage are also available. At this writing, I haven't figured out how to sort my documents to my satisfaction; I'll let you know how that goes.
Google Chrome
Give Google Docs a try with the next project you start. If you haven't downloaded Google Chrome, do so now—while you can use Google Docs with any browser, some applications work better with Chrome. You will also want to read my new article about my favorite Google templates for use in project management.
Resources
Based on writer's experience.
Also see: https://docs.google.com/support/bin/answer.py?hl=en&answer=49008&topic=1382883
All images are screenshots by the writers.