Review of Comindware Project: Versatile PM Software That Does the Job

Any project manager out there knows that many of the PM applications on the market today try their best to emulate the Big Daddy
(micro daddy?) of PM software. From the time you log in for your 30-day trial of this brand new product, you'll agree that Comindware Project, with its own unique design, has the look and feel of a winner.
If you're considering the purchase of project management software, you know it's the best way to achieve your project planning, tracking, reporting, and collaboration. Comindware Project facilitates all aspects of those dynamics from the time you create your WBS—identifying your tasks and subtasks—to allocation and management of resources, defining priorities, and viewing tasks pinned to a predictive Gantt chart. You will be able to export reports that can be used for client updates as well as invoicing based on employee time spent.
Easy Download
The trial cloud-based product is easily accessible and appears seamlessly without bugs. Your initial job is to familiarize yourself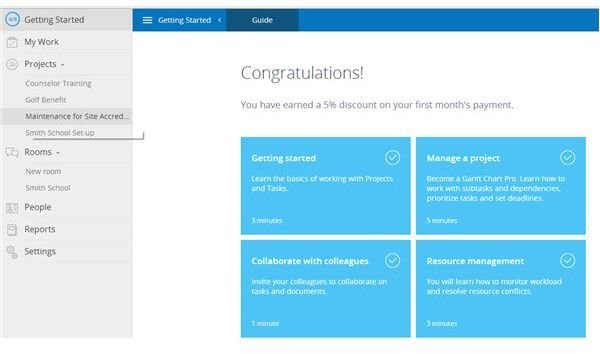 thoroughly via the Get Started tutorials; you'll be rewarded with five percent off your first month's payment or a 10 percent discount on your first year's payment if you decide to buy the product. You must go through each one in turn, and you must follow the directions on the black instruction boxes in order to successfully complete each of the four tutorials.
The first tutorial makes it easy to set up your first project and begin creating tasks. The one I created was the Smith School Set-up. My goal, so you understand the project steps I will demonstrate, involves contracting with a new school for the boys who are clients at our social service agency. I myself will perform the first task, which is confirming deliverables with the new school. Comindware Project took me through the process of setting up an identity for myself as the project manager.
Setup, Demonstrated
What comes next? As I created a second task I wanted to designate a coworker to accomplish it. You can set up as many tasks as you want but whenever you assign it to someone other than yourself, you have to add that person to your list of resources. I created an identity for an Assistant PM named Robert Redford, and Comindware Project automatically sent him an invitation to join the project. On the Task card for each task, you add your resources by selecting Add Follower. Both Sandra Bullock and Tom Hanks happily joined my team. As your list of resources grows, you can create departments and set user levels.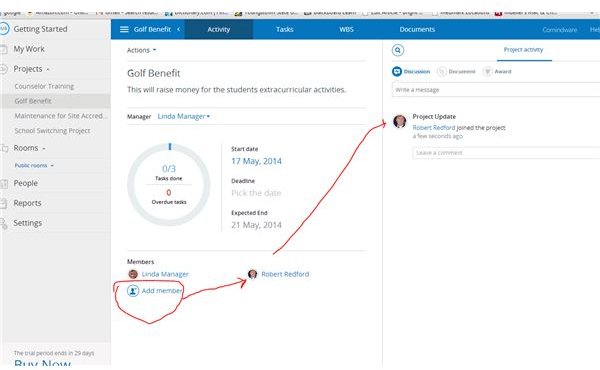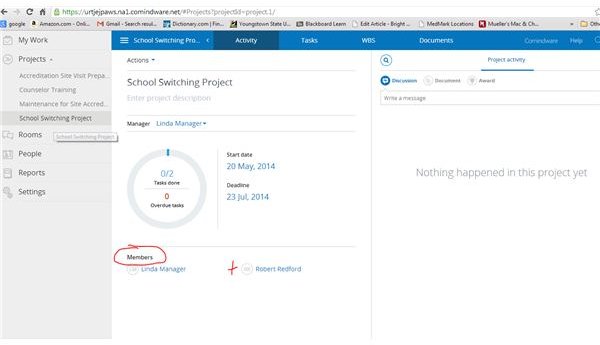 As you create tasks, you can set a deadline, estimate the time you'll need, and assign a person to carry it out. The images below display your view of a project's tasks; choosing a task displays its descriptives on the right-hand side of your screen. In the bottom right image, I have set a task's deadline for a date that corresponds with the Memorial Day holiday. Comindware Project uses a calendar set with our company's holidays and special dates, and it tells me that the task might run 2 days late.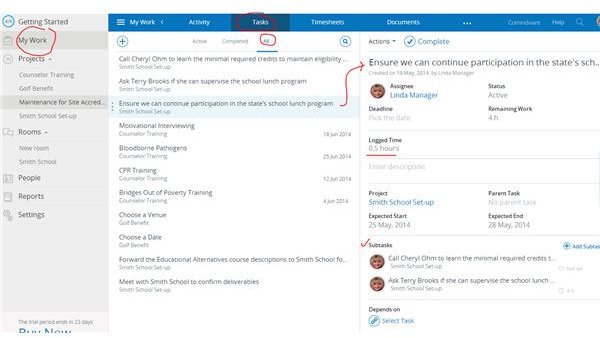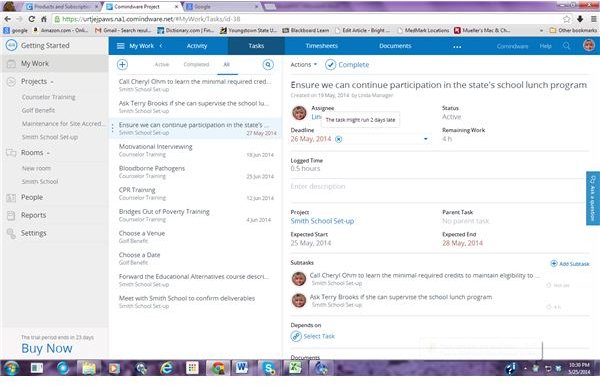 Early in your setup of Comindware Project, you need to decide whether you will utilize the default calendar, or you can create customized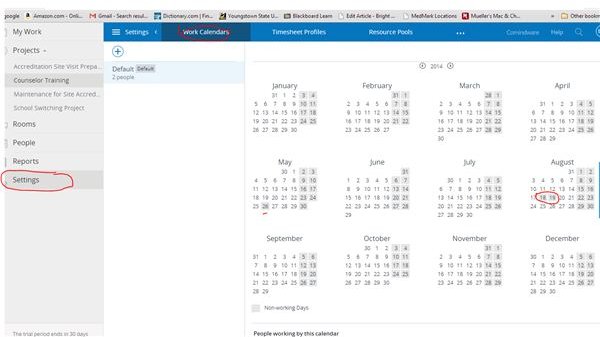 calendars using the Settings tab on the sidebar. If your company has offices located around the world, you can set up a calendar with each country's various holidays marked as nonworking days.
It's About People, People
It's easy to track what your resources are doing by clicking on People on the left-hand menu. Once your team members' names are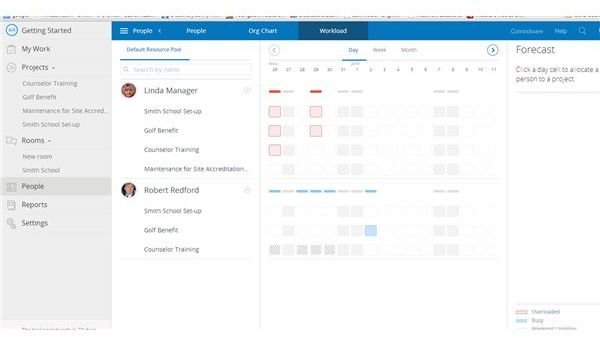 displayed, you can select each one in turn and then choose Workload from the top to see what tasks they are expected to carry out. You can also search your resources skill sets in order to obtain the best person available at the time you need someone.
Comindware Project takes care of allocating your resources so that nobody is overscheduled, and you can't assign a resource if he or she is already committed to another task. To explore this feature I created a couple extra projects. For a project called Golf Benefit, I created a task Prepare Letters for Event Sponsors and assigned Sandra Bullock. However, Comindware Project shows I've already got her assigned to a task for the Smith School project. I can click on the task for the Golf Benefit, click on Sandra's picture and simply choose another person for the task.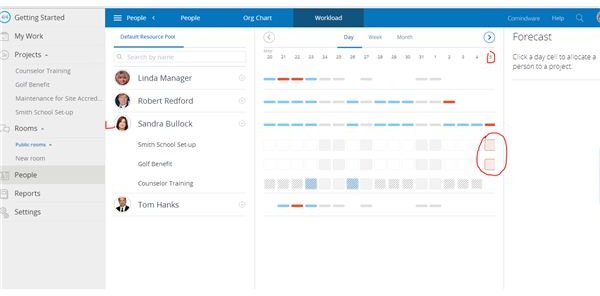 In addition, suppose you want to assign someone to a task who performed it in the past on similar projects. You can search for the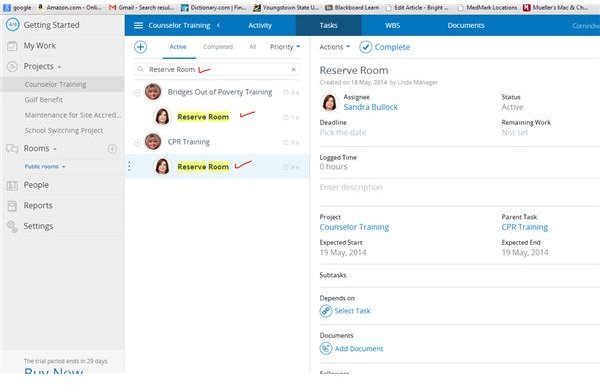 task by name and then see which of your resources is most experienced at this task or search for people according to their skill sets. In my example, I have had Sandra Bullock reserving rooms for our training seminars, so I will continue to utilize her for the other trainings that are scheduled.
Yet another feature is the Organizational Chart. It will display your resources according to the information you entered as you invited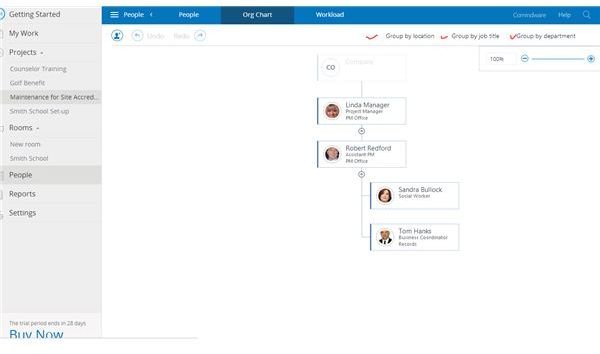 each person to participate on your team. For example, Robert Redford is the designated supervisor for both Sandra and Tom, which is depicted in the image to the right. The Organizational Chart will also group people according to their locations, job titles, or departments.
Charts, Tasks, and Teamwork
No project manager software would be complete without a Gantt chart, and Comindware Project's version appears to the right of a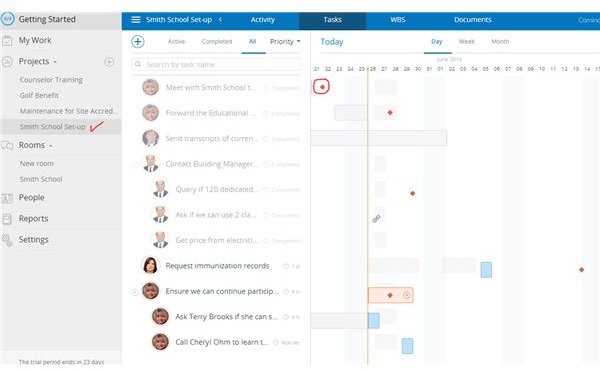 project's tasks when you display Tasks. The red diamonds shown in this image depict the drop-dead dates for the tasks. Areas shaded along the Gantt chart show who is busy and when. We already discussed that Sandra Bullock cannot request the students' immunization records sooner than June 5, so if the task is reassigned to Tom Hanks, it will automatically relocate on the Gantt Chart to May 22. Also, if tasks fall behind, Comindware Project will notify you when you log on and reassign the task completion dates. You can also change the order or priority of tasks by simply dragging and dropping them. Subtasks stay with their parent tasks.
When you're viewing your list of tasks, you can enter data on each task, including descriptives, the deadline, and the estimated amount of time you think it will take. Also, under Logged Time, you can enter how much time on a given day you've spent on this task. Throughout your project, you might want to view the WBS (work breakdown structure) by clicking on a project and then the WBS tab on the top bar. You can also add new tasks from that view.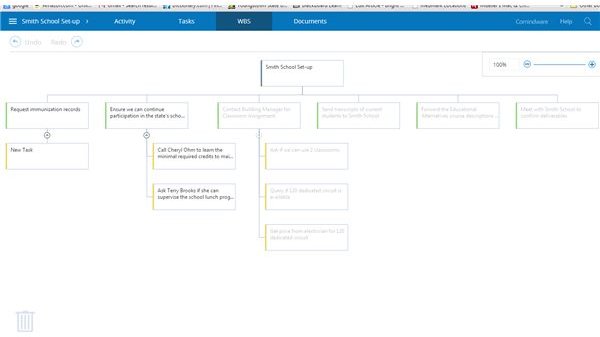 Staff can also prepare Timesheets by clicking along the top tab. When you click on Add Task, you will see the list of tasks assigned to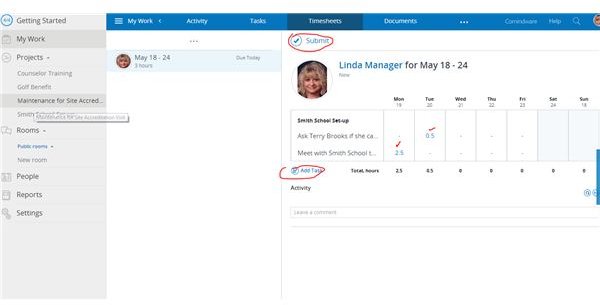 you. After adding it to your timesheet for the appropriate day, you can indicate how much time you spent on each day of the time period. This not only offers documentation for the payroll department, it's also a vital record for invoicing clients.
Team Collaboration
The ability to get your whole team involved is one of the most exciting aspects of this product. By boosting employee engagement you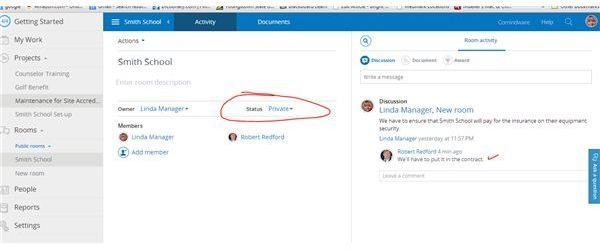 automatically guarantee increased productivity. Everybody who is connected on a project can communicate in a Room by clicking on the sidebar tab. You can also create private rooms in case you and your second-in-command need to exchange private communications. Today's project managers recognize that success comes with optimized team communication, and Comindware Project's collaborative platform keeps everyone aware and focused, with everybody on the same page. If you're on a server, all user information is synced.
Here I've created a Private Room for the Smith School project, and I invited only Robert Redford as a member. I've posted a confidential comment in the room, and only Robert can see it. When he posts a response, it shows up on my screen, too.
Public rooms, on the other hand, offer a great forum for brainstorming or just sharing information about ongoing projects. You can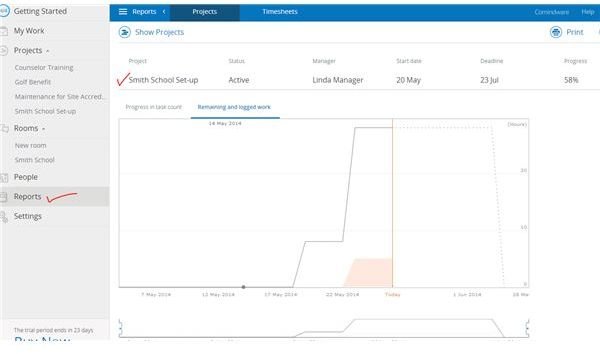 also upload documents required by members of your team for the execution of their various tasks. Also, while I've demonstrated adding team members manually, you can integrate them using Microsoft Active Directory. You can also utilize Outlook's 2013 style interface. Comindware Project is also accessible from your personal electronic devices, although you cannot, of course, take advantage of the Gantt chart or other chart features in such utilizations.
The Reports tab for any project shows you valuable data for invoicing clients or tracking resource time, which you can see in the image above. You can also Export data to Excel to create reports for a client; mine at the left, below, shows that I need to be better at tracking my time spent! You may also want to motivate your team members by creating awards for one person or for the whole team to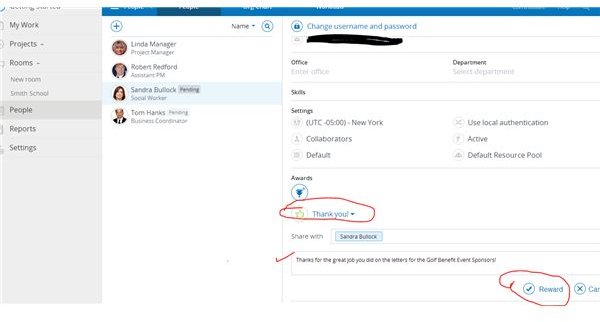 recognize their contributions, shown to the right.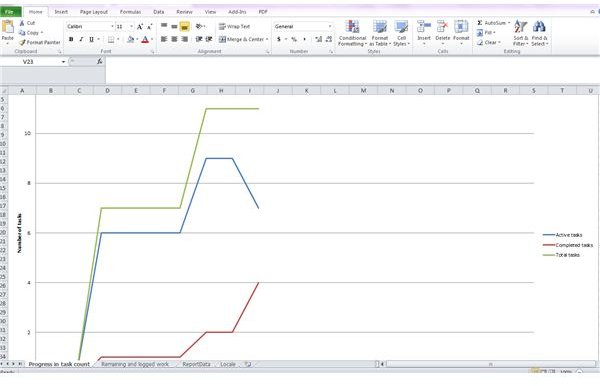 Pricing
The emphasis on collaboration is reflected in the company's pricing of this highly recommended product, and Comindware has a natural feel for the logistical corners of any project manager's map. At this writing, you can purchase cloud service for about $300 a year for one user. The price decreases as you add licenses. The really great thing is that if you buy it for 10 managers, then all of your designated users will also be able to utilize the product. This positions it as an affordable team collaborative project management software. The on-premise software product understandably costs slightly more.
The learning curve is quick and easy; this writer experienced no download hang-ups or software quirks. Unlike many new PM software products that come loaded with bugs, Comindware Project offered a smooth ride and was a pleasure to work with. Why not sign up for the trial version and explore its options for yourself?
You can check out the software here: https://www.comindware.com/project/