Why You Should Try Mavenlink Project Management Software: A Review

What's In a Name?
Mavenlink provides a clean, user-friendly way to put project management efficiency at your fingertips offering a wide variety of functions.
The name of this cloud-based software goes back to the word maven, which means expert or connoisseur; and when you use Mavenlink to organize your projects, you'll truly feel like an expert.
Mavenlink is a SaaSy new software as a service, engineered by project management experts who wanted to create an enterprise-grade software application that would facilitate the creation and assignment of tasks, collaboration among team members, and the automation of some services. Its creators aim to make life easier for the project manager who can only stay on top of all his tasks if he can successfully utilize technology to "connect the dots" for himself and his team. You can visit the website to read about the company's philosophy and access a free ten-day trial, which is what I did.
Putting in Your People
When I requested my 10-day trial, a representative from Mavenlink contacted me to ensure that the product would be a good fit for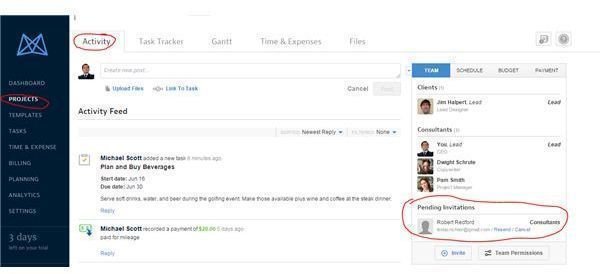 my project needs. So there was no real download; I was simply supplied with a link and a password. It was easy.
Whenever I set up any new software, I like to add my team members first. It's the most efficient way to create a project and start identifying tasks, because I like to type in right away the names of the people on my team who will handle those tasks. With Mavenlink, as soon as you load a project, you can begin inviting people to join you. You will need to identify them as clients or consultants. The consultants, of course, are your team members.
As you add each member of your team by sending them an invitation to join the project, Mavenlink will ask you to set their parameters and costs. For my initial project I decided to manage a golf benefit, and I created a task to plan a beverage menu. I decided to bring Robert Redford onto my team, so I sent him an email invitation.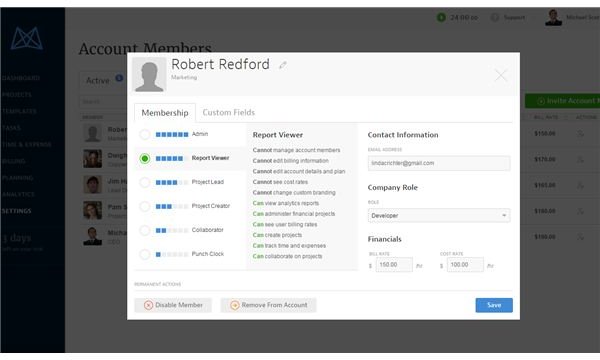 The next step is to enter the financials pertinent to each team member's participation in the project, and you will also want to set the levels of security he or she can access. For example, Robert Redford's cost rate is set at $100.00 per hour, but his bill rate will be $150.00 per hour. I assigned him as a report viewer, which means he can view analytics, administer financial projects, see user billing rates, create projects, track time and expenses, and collaborate on projects. He does not have my permission to manage account members, edit billing information, edit account details and plan, see cost rates, or change custom branding.
Becoming Acclimated
Once I've added him, I return to my dashboard. The dashboard lets you know what projects are current; its visual presentation is like a finger-snap, getting your attention so you remember what needs to be done next. There is also a social media-type display: As members of my team reply to various queries and add comments, those comments appear Facebook-style.
I loved the ability to export my team members' names and parameters to an Excel spreadsheet. Your bean counters will love that, too, for obvious reasons. You can import as well. If you're getting started with Mavenlink and you have a great team saved on an Excel spreadsheet, the import wizard lets you bring them through the looking glass into this wonderful software with a few clicks of the mouse.
On the bottom right of the screen you'll see various tutorial videos, and these will come to your attention throughout the trial. They are thankfully short–because you want to be quick when you're on the move–and very useful in demonstrating the features and capabilities of this software. For example, you can create project groups that let you move your projects into relevant categories, and you can put a project into more than one group. So if you wanted to identify a project by client name, you could do that, and you could also move that project into another group, let's say a group for the regional office handling the nuts and bolts of the account.
Groups can also be used to create analytical reports. If you wanted to see how the Northeast Region was doing as opposed to the Southwest Region, you might very well see that Robert Redford's Golf Fundraiser is the project that's keeping that region afloat.
You can also track your time spent on a task by clicking on a timer in the Time & Expense view, or you can pull up a task and indicate manually how much time you spent on it—and when. There's also a feature to date-stamp entries. Even if you go to another view on Mavenlink, it will keep tracking the time spent until you tell it to stop.
You've Gotta Have a Gantt!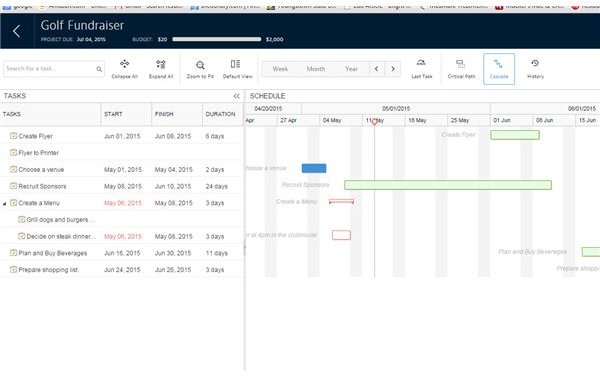 How can any project management software be complete—or at least competitive—without a Gantt chart? Well, don't worry, because Mavenlink has a great one. During my trial I first saw the classic graph just as it's presented in the image to the right, but then I ventured to pull the bar back separating the task list from the Gantt chart. Lo and behold! Besides task name, start and finish dates, and duration, Mavenlink revealed to me the percentage completed for each task, the resources assigned, amount budgeted, and time tracked. I could also look at tags and logged time.
Going to the bar at the top of the chart, you could see the tasks as listed or, if you clicked Expand, their subtasks magically appear. Also, this Gantt chart provides you with a weekly view, a monthly view, or a yearly view. Last Task lets you see what was the…er, last task. And by hovering your cursor over various lines on the Gantt chart, you'll see the specifics of each task. You can also create baselines throughout your project, certainly important if you want to don't want any creepy scope creep.
Take a Template, Please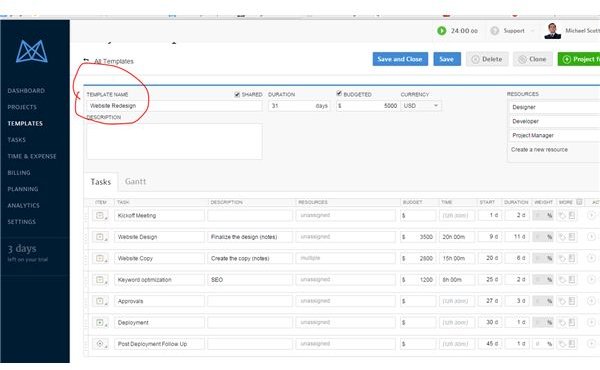 I haven't played with Mavenlink's project templates, but they are there for your use. Presumably this software allows you to save the component tasks of your favorite or most successful projects for implementation when a similar project comes along.
Here you'll see an image of a project to redesign a website, including each of the tasks required, the fiscal budget, and the recommended duration. When you save a template, you can tweak it so that if you required more than a thousand bucks for SEO optimization, you could change that to twelve-hundred in your template.
Timesheet and Billing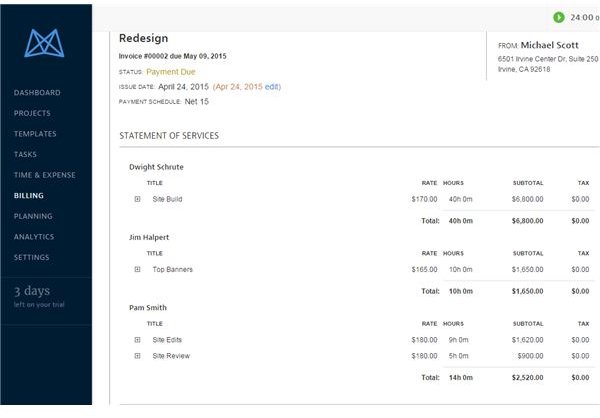 The timesheet function allows you to track how much billable and nonbillable time each team member devotes to his tasks. You can also track expenses and generate billing for your clients. Here you'll see an image of an invoice generated for time spent on website redesign.
I should perhaps insert, at this point, that most of the team members featured throughout these screenshots, aside from myself and Robert Redford, were loaded into my trial courtesy of Mavenlink. Pay no attention to the fact that Michael Scott bears a striking resemblance to Steve Carell.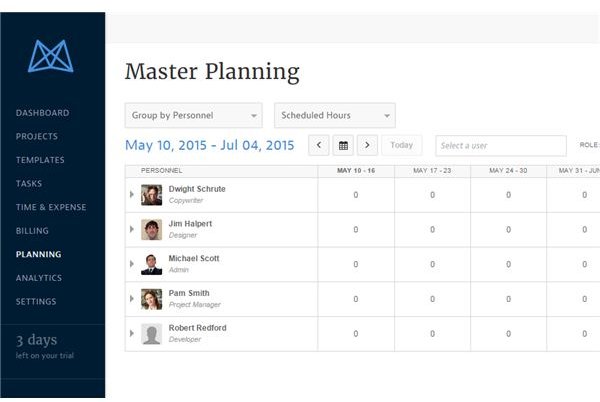 Take a tour of your Planning tab, and you'll find that you can create records according to staff time spent on projects, or allotment of time per week per project, plus more. You can also analyze your data by the groups of projects that you created earlier.
Bells, Whistles, and Baseball Cards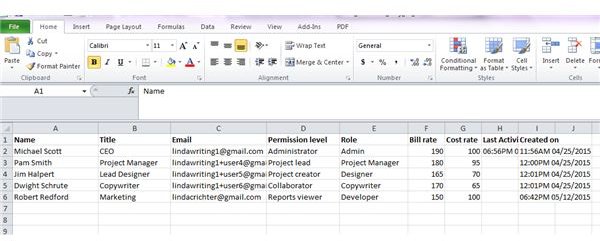 There's so much more that this software offers that it's impossible to capture it all in this humble space. Need to upload files for your team to reference? It's easy. Want to include logos or specific images? Not a problem. Your activity feed keeps you on track with your goings-on as they go on.
You can look at all tasks for all projects, at your own tasks only, or you can sort them according to upcoming or updated tasks. You can view only those completed. This screen is where you create a task, as well—and assign it to a project. This is especially useful if you need to update all your project managers at once on a company-wide issue. You can also export a list of projects to Excel, which could be useful in several iterations—although I much prefer the Gantt views.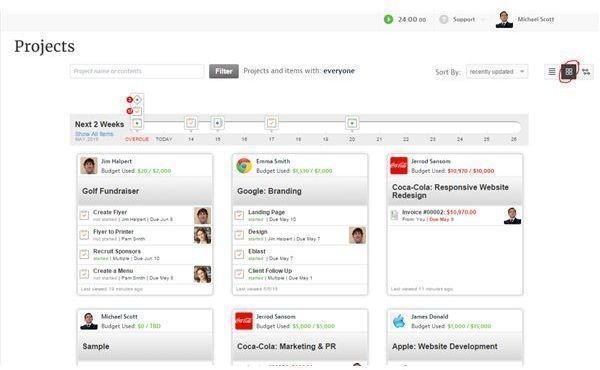 What are really keen, however, are the baseball cards. Simply go to Projects, then All Projects, then click on the little icon on the far right-hand side that has four squares drawn. Those squares signify the images of the baseball cards that you'll see. Each card represents a project, and it lists the team leader, the budtget allotted and budget spent, and the key tasks.
Above the baseball cards you'll see a Filter button. Throughout every function, Mavenlink allows you to filter the data that you've brought to your fingertips.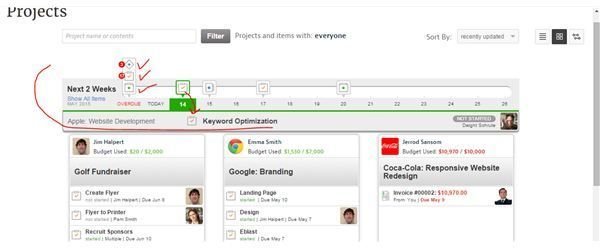 At the top of the Projects view, whether or not you're looking at the baseball cards, you'll see a timeline of your various projects' tasks. Take a look at the timeline from time to time; if it's Wednesday and you see an indication of a task that you don't remember, you'd better click on it. It's your very own string-around-the-finger!
As with the baseball cards, you can filter and sort it to show specific projects or time periods. You've got to play around with it to discover everything it can do. In all my experiences with project management software, I have found that effective Gantt charts and project timelines can be the one-two punch against project obstacles in order to guarantee total project success.
The Bottom Line: Cost and Recommendation
This software earns a high rating on cost-benefit ratio. It allows you to do so many things, and it moves fluidly through the various available views. It's key to note that it is so intuitive and user friendly, your team will pick it up easily. They won't avoid using it because they can't figure it out, and that alone puts it at the head of the class. Because it's cloud-based, your team can use it from their various locations, and even if two people are using it simultaneously at different places, Mavenlink simply handles it.
At this writing the cost is about $55 per license per month, and if you run a 501-c-3 it doesn't hurt to ask the company if you possibly qualify for a discount. For mom-and-pops, there's a Mavenlink Lite version that costs only $29 per user per month, the same thing we're talking about here but without all the analytics. The bottom-line recommendation is to jump right in and give Mavenlink a try. Even if you question whether you're a project manager maven, it'll make you feel like one.