A Review of Microsoft Office OneNote for Project Managers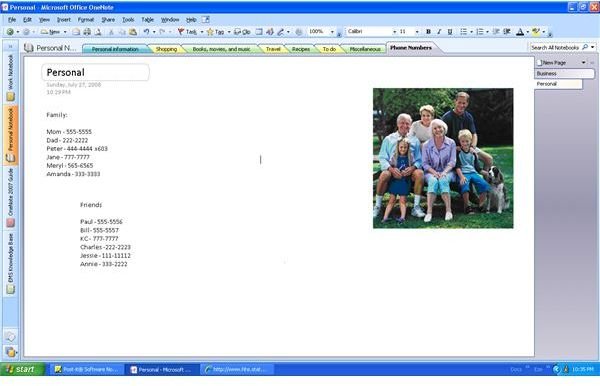 The Product You Never Knew You Always Needed
Programs in the Microsoft Office suite have long been utilized by project managers for the diverse range of functionality, organization, and accessibility they offer. While the praises of Project, Excel, and Word have be sung over the years, a newer member of the product suite, OneNote, is often overlooked and under appreciated for its usability in project management.
Presented in the well-known format of other Microsoft Office programs, OneNote offers to replace your paper notepads, meeting agendas, file cabinets, and email archives with its electronic "notebook" system that can easily organize, search, and share every aspect of your project records from to-do lists to video clips.
While the format of the program takes some time to adjust to, the overall benefits and usability of OneNote make it a welcomed addition to any project manager's desktop as the program you never knew you need.
The Basics
The basic concept of OneNote is that you create a "notebook" for your project that houses and organizes all files associated with your project, including emails, audio clips or video clips. Inside the notebook there are various sections referred to as "pages" that are delineated by labeled tabs. In each of these pages there are "subpages" where you can further breakdown and organize information.
For example, in your notebook "Project A," you could have three pages labeled "Meeting Agendas," "Due Dates," and "Budget Breakdown." In each of these pages, you may have several subpages created to address these topics in greater detail. The tab "Meeting Agendas," for example, may have seven subpages inside it, each for a certain week's agenda.
You can also have unlimited notebooks in your OneNote file, so you could have a specific notebook for each project in your department, or one big notebook where you house all projects together.
The Benefits
The OneNote system truly endeavors to make project management as easy as possible. One of the nicest features of OneNote is the ability to add any file type from other Microsoft Office programs right to OneNote with the click of a button. Another great feature is the fact that OneNote auto saves all your work, so you do not have to be concerned with constantly saving and resaving every five minutes.
Your notebook can also be easily shared between computers and networks and is instantly updated, so coworkers can see the up-to-date information about a project effortlessly without sending email attachments or transferring new versions of old files through an FTP. Conversely, if there are aspects of the project that are for certain eyes only, you can password protect specific pages or notebooks.
The most valuable part of the OneNote system is that all pages, subpages, and notebooks are easily searchable, thus eliminating time spent rummaging through email or papers to locate a specific project duration or client request emails. You can also customize how your organize your data down to the last colored tab so that it becomes very personal to your tastes and thought process - this flexibility makes a big difference over time.
The Challenges
The only down-side to OneNote is that because it is attempting to replace almost every other means you have of file and data organization, it can be hard to get used to. Most offices and managers already have a system in place for the way they handle and organize their information and are reluctant to switch over to a new method.
Also, storing all your information in one place leads to concerns about the program crashing and losing everything. Finally, even though it has a similar feel and iconography of other Microsoft Office programs, OneNote is a very different system and takes time to get used to the feel and finer points.
Final Thoughts
In spite of these concerns, the OneNote program is worth the effort and adjustment. It is easy to become almost addicted to having all your information searchable, sharable, and organized exactly the way you want it, and it is likely that once you start using OneNote for your project management needs you will also start using it for your personal needs, as well.
OneNote is the best of all the other Microsoft Office programs rolled together to create one master program that can do it all, from spreadsheets to word documents to project charts to email archiving. It is the big piece that allows the great functionality of all the other programs to come together and show you why the Microsoft Office suite is really the best tool for your business and personal needs, and you will soon wonder how you were ever able to carry out your business without this great, flexible, do-it-all program.