Review of Redmark: Online Project Management Software for Graphic Designers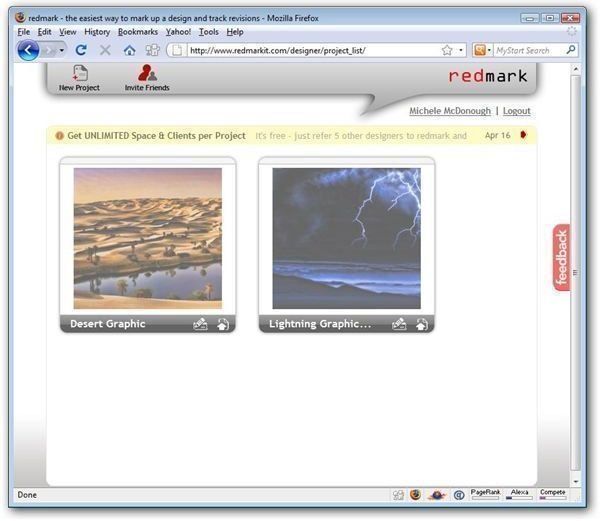 Overview of Redmark
If you've ever been involved in any type of graphic design work, either as a client or a designer, then you know how tough it can be to keep track of revisions and notes on requested changes. Redmark is an online project management software application that lets designers upload and share an image with clients. Both clients and designers have the ability to make comments on the image and track revisions through the browser-based interface.
You can view a full demo of the application at the Redmark web site and you can even sign up to request a free invitation code so you can try the software out for yourself. Now, let's see take a look at the application itself.
Ease of Use (5 out of 5)
The browser-based interface for Redmark is extremely intuitive and very easy to use. There's practically no learning curve for the application, which is especially important if you plan to use the tool with clients. That is, many may choose to use the software solely for internal project management needs since it provides a very nice mechanism for communication amongst designers. However, being able to share these designs directly with clients without having to set up additional accounts or providing usage instructions is a big plus.
Features (4 out of 5)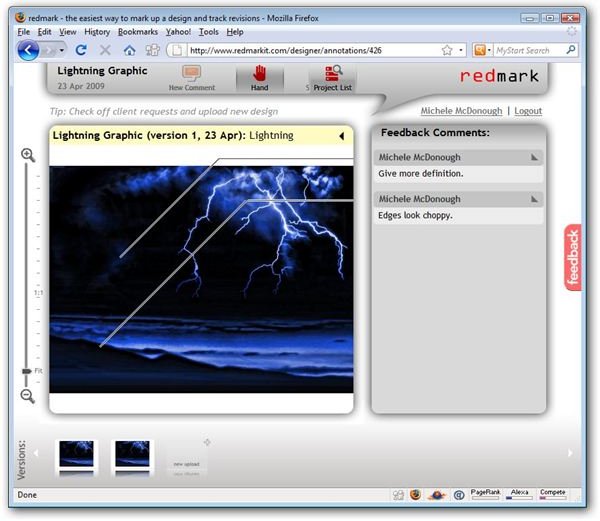 When you create a new project in Redmark, you are first asked to upload the initial image. Here, you are given the chance to make comments on the image after assigning the project name. If you want clients to have immediate access to the file, you can enter their email addresses and they will be sent a link to the project site.
Once the initial image is uploaded, anyone with access to the project can comment on the image. A very nice feature here is that you can select the area of the image that you wish to comment on and the remark will attach itself to that area. For example, if one part of the graphic seems blurred or out of focus, simply click on that area and type in that note. This makes it quite easy to quickly look at the image and know where changes need to be made.
Redmark also provides the functionality of uploading image revisions without overwriting the original image. With this feature, you can easily access designs created before and after implemented changes, see exactly which changes were made at each step, and review the comments at each stage.
Reliability (5 out of 5)
I've found it to be just as reliable and stable as any other major online project management application, including those that charge monthly fees. In addition, file uploads are fast and seem only dependent on the uploader's Internet connection. Automated emails to designers and clients are sent immediately, and I haven't noticed any delay in receipt of these messages.
Price (5 out of 5)
When I first heard that Redmark was free, I assumed that meant that a limited version of the project was free and that more robust accounts with additional features and storage space would require a monthly license fee. Surprisingly, this isn't the case at all, and the developers claim that they hope to keep the product completely free.
Overall Rating (5 out of 5)
So far, I'm quite impressed with Redmark even though I'm only using it for internal projects at the current time. It's certainly worth checking out, especially since there's no financial obligation. The application is so easy to use that you should be able to jump right in and upload initial designs immediately.