Review of Severa 3 – Web-Based Project Management and Invoicing Application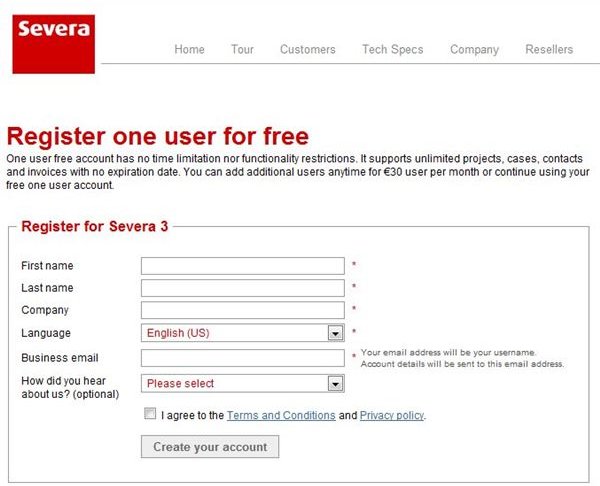 Overview of Severa 3
One of the tough challenges faced by small and independently-owned businesses is finding software capable of handling project management needs while still being affordable and easy to use. Severa 3 is a web-based project management application that includes client management and invoicing tools, making it a very attractive solution for those seeking a single package that can handle all of their project-related and billing needs.
Account Setup (5 out of 5)
Since Severa 3 is completely web-based, there is no software to download and install. However, you do need to set up an account and have it activated before you can begin to use the application. This is a very quick and easy process, though, so it should only take a few moments.
I was pleased to see that only very basic information was requested during the account registration process: Name, Company, Language (UK English, US English, or Finnish), and Email Address. In particular, no credit card information was asked for – so if you just want to give Severa 3 a try, you don't have to worry about any mysterious charges showing up on your statement. Once you've filled out this short form, an automated message will be sent to the email address you supplied with an activation key. I received this message almost immediately after submitting the registration request and was able to log in and start using the software right away.
Performance and Features (4 out of 5)
Although you will probably have to spend a little time with Severa 3 to get acquainted with all of the application's utilities, the user interface itself is very intuitive and highly functional. One very nice feature of the software is the customizable dashboard that can be accessed at any time by clicking on the red Severa tab in the upper left corner of the application. (Click any image in this article for a larger view.)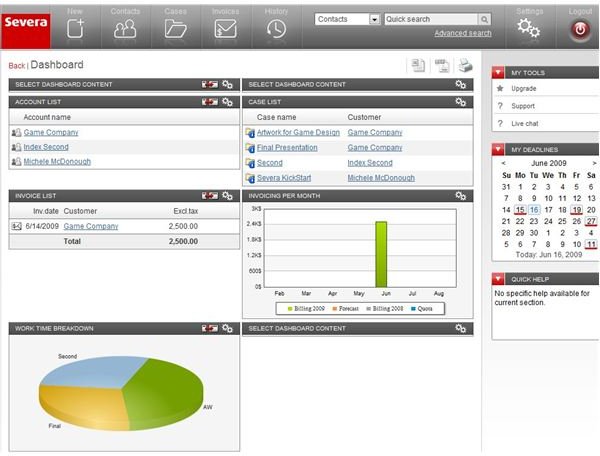 From this dashboard, you can see an overview of all activities that need to be monitored on a regular basis, including upcoming deadlines and outstanding invoices. The other main tabs at the top of the application's user interface allow you to easily jump from one tool to another so that you can go right from inputting a daily work time entry to creating a new case (or project) or editing an invoice draft.
Another feature that I found incredibly useful was the export options available for various lists and reports. With these options, you can choose to export the data to an Excel spreadsheet or PDF file when applicable, or you can print out the information on the screen. This makes it easy to share information from Severa 3 with others without adding them as users to the account.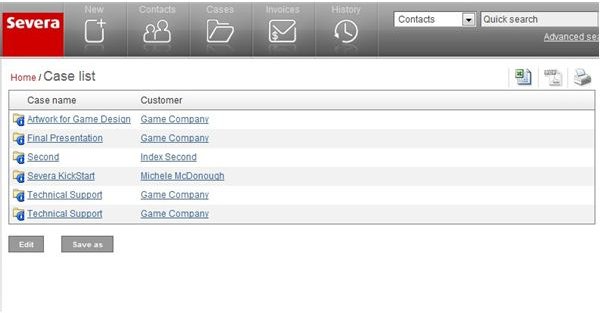 In addition to its nice selection of features, Severa 3 is also a solid performer that is housed on fast, reliable servers. Commands executed quickly and any noticeable slowness was always related to my own system and connection speed.
User Support and Documentation (5 out of 5)
The quantity and variety of user support options offered by Severa 3 is extremely impressive. Not only is there a comprehensive Wiki that includes both text-based and video tutorials, but there is also an extremely helpful community forum that is monitored by Severa staff. If you think that you would benefit more from personalized instruction, Severa has several dedicated training and consultation packages available
Price to Value (4 out of 5)
At the current time, Severa 3 allows you to create an account in which there is no charge for the initial user. So, if you're an independent contractor or if you're the only person in your company that will be using the software, the application is free. Unlike some other services that promise one free user but then only give access to basic tools, Severa 3 has no such restrictions and this account will support unlimited projects, invoices, and so forth. Additional users can be added to the account for the price of $40 per month.
Overall Recommendation (4 out of 5)
Severa 3 is an impressive application that's well worth checking out, especially if you're a freelancer or part of a small to medium sized company in which only a few people share the common tasks of monitoring and scheduling projects, billing, and keeping track of client information. Its easy-to-navigate interface is a huge plus, since it makes it simple to dive right into using the software rather than spending weeks or months trying to learn its basic functionality. Of course, if you want to take full advantage of Severa 3's tools, plan on investing a little bit of time to explore its various capabilities.