Defining the WBS in Project 2007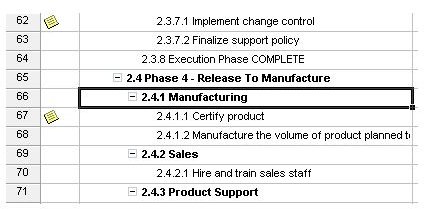 Creating an outline of tasks is the first step in Office Project 2007 in creating a WBS. The next step is to assign the detail level WBS codes. With WBS codes, each level of an assigned number represents summary tasks, subtasks, work packages, and so on. For example, a typical WBS code is 2.4.1, where "2" represents the phase (or summary task), "4" represents the fourth activity of the second phase, and "1" represents the first deliverable of the fourth activity in the second phase of the project. The following figure shows an example.
Use WBS Codes
Typically, you can use Office Project 2007's default outline numbers as your WBS codes. To display the default outline numbers, follow these steps:
Choose Tools, choose Options, and click the View tab.
Under Outline Options For , select the Show Outline Number check box.
Click OK to save your change.
Occasionally, you might need to use customized WBS codes based on your organization's coding scheme. Doing so requires some customization in creating new WBS codes as well as in modifying the displayed table to view the customized codes.
Custom WBS codes can include ordered numbers, upper and lowercase letters, and unordered characters. You can have only one set of WBS codes. To define your own WBS codes, follow these steps:
Choose Project, choose WBS, and choose Define Code.
Enter a Project Code Prefix if required. This will be necessary if you need to distinguish this project's numbering system from other projects in your organization.
In the Sequence drop-down list, select from Numbers (Ordered), Uppercase Letters (Ordered), Lowercase Letters (Ordered), or Characters (Unordered).
In the Length drop-down list for this sequence, select the length limit, if you have one.
In the Separator drop-down list for this sequence, select the separator. The choices include a period, a dash, a plus sign, or a slash.
Select the Sequence field in the second row. Repeat steps 3-5.
Continue in this manner until all codes are input. The following figure shows an example.
Custom WBS Code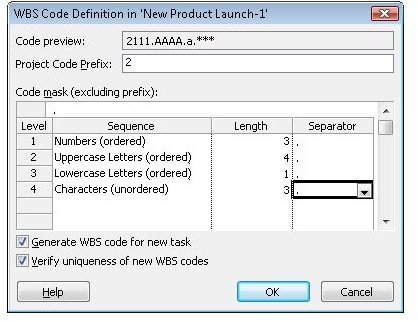 After you have defined your custom WBS numbers, you will need to display those numbers on the project file. To display your custom WBS numbers, follow these steps:
Right-click the Task Name column heading in the Entry table.
From the shortcut menu, choose Insert Column.
In the Field Name drop-down list, select WBS.
Click OK.
Excerpted from…
With permission from Microsoft Press, this article content was excerpted from the book, Managing Projects with Microsoft Office Project 2007 (Self-Paced Training Kit for Exam 70-632).