Tom's Planner Review: Gantt Chart Software for Project Managers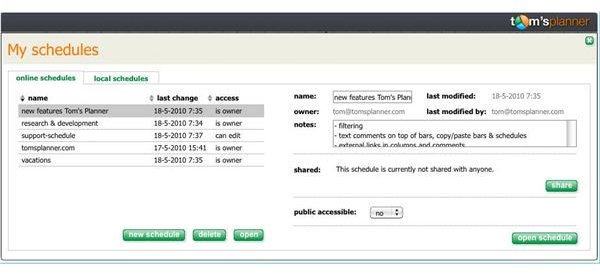 Overview
A project manager who understands the benefits of creating Gantt charts is always looking for better ways to create and manage them. On August 29, 2010, Tom's Planner launched its global commercialized version of a new web-based program that enables users to create highly interactive Gantt charts for schedules. Tom's Planner combines the maneuverability of working in a spreadsheet with the ability to directly create and edit vivid graphic displays.
Universality and Portability (4 out of 5)
Tom's Planner has a universal appeal because it works with almost any browser (Internet Explorer, Safari, Firefox) and on any PC and Mac with a good tolerance for older browser versions and machines. As a web-based program, there is no software so users do not have to be concerned with the usual download security problems or having administrative privileges.
Tom's Planner also has solid portability features in which the schedule can be exported with one click on the toolbar to MS Project or can be saved as an image to share in e-mails. Recently Tom's Planner added collaboration tools to enable multiple real-time users access to schedules online.
The creator of the schedule determines the access privileges and whether a collaborator is also given editing privileges. However, if you give collaborators the view only status, they will not be able to leave comments directly in the schedule. Once a collaborator is added in the schedule's settings, Tom's Planner provides the owner with a web address to send out in an email inviting others to join, which they can after setting up an account.
Features - Simple and Intuitive (5 out of 5)
The features of Tom's Planner are so intuitive that anyone who has worked with an Excel spreadsheet will breeze through the one minute tutorial. With the learning curve at a minimal, the user only has remember two main operations to begin using Tom's Planner immediately:
Right click the mouse to access features
Drag and Drop to move the activities anywhere in the chart and to slide schedules along the timeline continuum.
Creating and Editing Features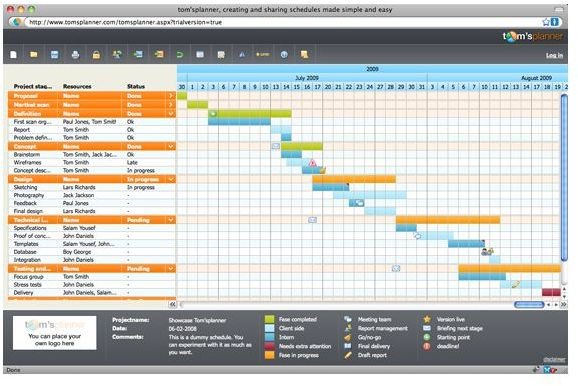 Templates -- Select several project templates, including ones for construction, personnel, conferences, website development, gardening, and wedding planning.

Information input – Key in information on activities, resources, and progress directly onto the chart.

Groups and dependencies – Create and display groups and dependency relationships with the right click of the mouse.

Crashing or compressing project schedules - Click and drag to change graphic representations of schedules and to add additional resources as needed to keep on schedule.

Color enhancement -- Color code individual schedules.

Undo button -- Tap on the toolbar undo button to erase prior edits.
(5 out of 5)
Timeline Options
Schedule type – Choose year, month, week, day, hour, or 15/10/5 minute intervals.

Visible elements – Depending on the schedule type, turn on different elements (year, date, month, weekday, week number, and hour) in the timeline.

Days in a week – Set up the week to display the traditional Monday through Friday schedule or customize it to view weekends, four-day weeks, and other variations.

Working hours -- Available for setting if you have chosen the hour type.
Special Features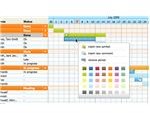 Logo -- Affix your own business logo.

Comments – Leave comments anywhere on the schedule that become visible by hovering over the event.

Schedule symbols – Add symbols to mark milestones, meetings, celebrations, and other reminders for each activity.
Support - Developing and Individualized (4 out of 5)
The support offered by Tom's Planner is personalized and expansive because of the product's infancy. The online user's manual is helpful with plenty of screenshots and step by step instructions. But the real support comes from the commitment of Tom's Planner to conterminously improve the product.
Tom's Planner currently seeks feedback from its users on their experiences and to report any problems or glitches. The company also asks users to send their comments and suggestions for additional features and enhancements. In this respect, Tom's Planner is making every effort to live up to its vision of creating: "A project management tool truly built for and by project managers."
Price (4 out of 5)
Tom's Planner offers its product with a three-tier price structure (Personal, Professional and Unlimited) which is based upon the number of schedules needed by the user. With the Personal package, the registered user can create one free schedule, which is convenient for testing and learning about the product.
The Professional package enables the user to create 20 schedules that can be shared with colleagues for $9 a month or $90 with a one-year subscription that reflects a 15 percent discount. Additional features included in the Professional package are the ability to print and export the schedule as an image, to add a company logo, and to export the schedule to MS Project.
The Unlimited package, just as it names implies, allows the user to create an unlimited number of schedules. This service is priced at $19 per month or $180 annualized that reflects the 15 percent discount and includes premier services such a being able to back up and store project schedules locally and to embed schedules on websites, blogs, and intranets.
For home-based businesses, small businesses, and do-it-yourself project enthusiasts, all trying to control upfront costs, Tom's Planner offers a good choice with its monthly subscriptions. For more details and to experience the dynamics of this program for yourself, go to TomsPlanner.com.
Screenshots taken by Ginny Edwards and provided by Tom's Planner