A Review of Colorhat - A Free Web-Based Time Tracker and Billable Hours Tool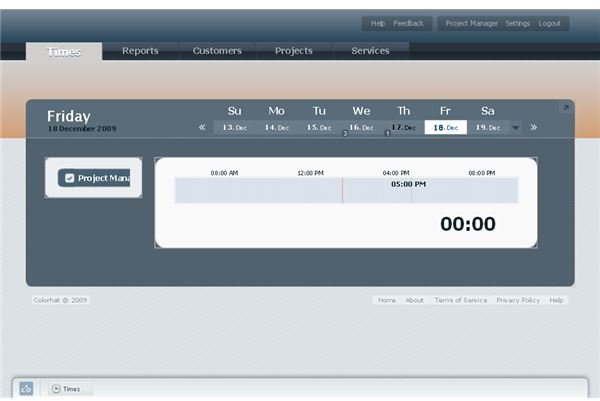 Overview and Setup (4 out of 5)
Colorhat is a web-based software time tracker and optional billable hours manager that can be used by project managers, freelancers, or anyone who wants to know how they are spending their time. Colorhat offers the program for free to anyone who registers at their website with the bonus of their pledge to keep the service free forever. The setup for the Colorhat time tracker is relatively fast and straightforward. After selecting a language, time zone, and currency, the user is prompted to choose the setting for the visual timeline display. The default setting is from 6:00 a.m. to 10:00 p.m. which should satisfy most workaholics and people with non-conventional work schedules.
The next step in the setup process is to determine how you want to organize your records. The user can choose one of the three interface settings (service, period, or department). Each interface setting has three preset categories, e.g., the service-based setting provides categories for keeping track of customers, projects, and services. The only tricky part in the setup sequence is figuring out that you need to coordinate and manage the first and third categories (customers and services) under the second category (projects). If you want to setup and track billable hours, this feature can be turned on and set through the services category. Once you have entered all your client and business information, you can start tracking your time by clicking on the Times icon and then blocking off and designating periods of time to specific projects. There is also a stopwatch mechanism that can be toggled off and on to add a real-time meter to your day.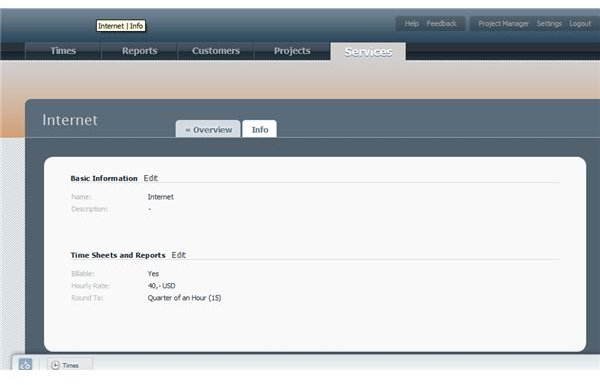 Another icon on the toolbar generates several reports with data tables, bar graphs, and pie charts, to show exactly where the user's time was spent. Colorhat's graphs have preselected colors that can't be customized, but they are professional and provide key statistics for analyzing your time. The billable hours reports are in a simple spreadsheet format which can be printed as invoices and sent to clients.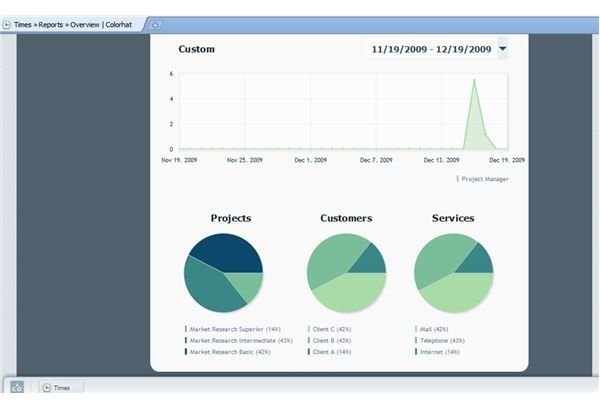 Features (4 out of 5)
The best time tracking features of Colorhat are the navigational calendar tools, including the sliding bar timeline to block off time for the designated projects. There are dozens of ways to enter time with several shortcut notations, including the + sign, which adds a stopwatch to an existing period or starts the clock immediately. Other notable features include:
Customizing the lists of customers, projects, and services using a click and drag feature to rearrange the list.
Pinning the time tracker stopwatch to the taskbar.
Using the stopwatch feature for overlapping projects (an option designed with the multitasker in mind).
Generating pie charts and reports which mix and match the different categories.
Setting up a favorite list for commonly used pairings of categories.
Creating separate lists within each category that can be used to organize a monthly billing system.
The underdeveloped features of Colorhat involve the software's portability and universality functions which are more limited than other time tracker programs. Colorhat does not have export capability, for example to Excel, and you can only import time data from Slim Timer. Also, the program is designed for single users so that time tracking collaborative efforts on the same project is not possible yet.
Support (3 out of 5)
The support from Colorhat is primarily user-driven. The company is very responsive to the comments and troubleshooting questions posed on the website. However, the introduction, FAQ, and help sections could be expanded and a user's manual with screenshots would be helpful for the novices navigating the setup for the first time.
Is Colorhat Right for You?
Colorhat's is a solid basic time tracker and time management tool that offers a lot value because of its free web-based application and the commitment of the Colorhat team to listen to suggestions and to continuously improve this product. Hopefully in the future the company will roll out additions that will include more import and export capabilities and a user's manual or tutorial to help first time users navigate through some of the setup features and options to organize the report presentations. If you can find that extra hour, I recommend that you take a few moments to check out this time tracker at Colorhat's website.