Review of OfficeTime: Time and Income Tracking Software for Mac Computers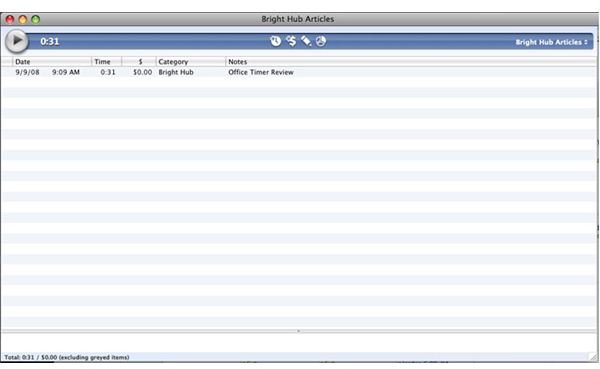 Usability and Functions of OfficeTime (5 out of 5)
OfficeTime offers versions for both Mac and Windows users, but the Mac version is addressed here. It is extremely user friendly, and it does not take long to make its features work for you. To track a new project in OfficeTime, you simply choose New Project from the File menu. Then, you can enter the title of the project either under the notes column or you can type in the text box at the bottom of the window. You can also choose a category to file it under. The options provided are:
No Category
Admin
Client Contact
Design
Other Non-billable
New Category: Where you can type your own custom category
Find their website at OfficeTime.net.
Once you have your information set up, just click on the timer to begin timing your session. You may actually do any of the set up (category, fee, notes) while the timer is running. If you do not use the timer, you may still enter the time you have worked by simply clicking on the time column and recording that time.
To switch to another project, just click on the project name. If working on multiple jobs at once, you can choose to keep a second timer running simultaneously. Under Preferences, go to "When Starting a Timer" to change this option. You can also pause or stop timers automatically when a new one is started.
In the upper right corner, you may choose a group name for the project, listing clients or the name of the overall project. By toggling through these, you can see each timed session under that file. You may input as many projects as you need. The green button will collapse the window so that you only view the time as is runs; clicking the green button again will resize the window to access all of the functions.
To integrate a project with iCal, choose the project and then, under the Edit file, choose Edit This Project. Choose Sync with Apple iCal and the calendar that you want this project to be filed under. After that, everything is taken care of. This will automatically sync projects in Office Timer with iCal, and when you enter new events in iCal, they too will be created in Office Time. On your iCal you will see listings such as "Articles-Office Timer," showing where this has been synced. By right-clicking on this listing and choosing "Get Info" you can see the date and time the project was worked on from your iCal window.
The Reports Menu allows you to check how much time you have spent on multiple projects. You can view the quick report, which gives you a breakdown of each project, the time, and a percentage of total time. It also gives you a circle graph to show each project you have listed–each of which has been assigned a color code_--_and how it is broken down according to time. These can then be broken down further into those you have invoiced, you can check expenses, and see a breakdown of work session totals. You may also choose to run a report for just today, yesterday, or by the week, month, and year.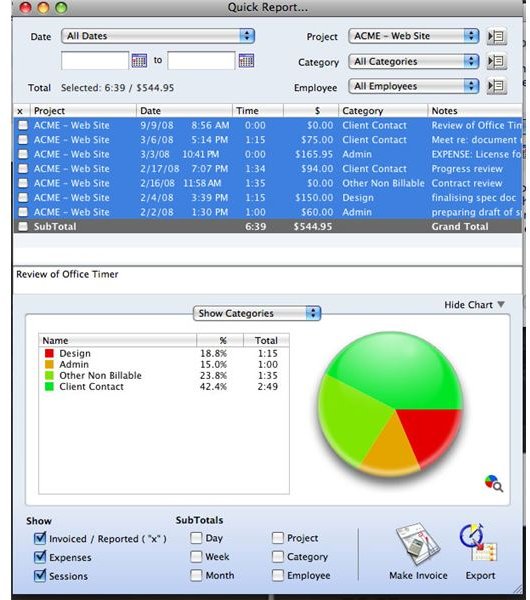 Under Quick Report, there is also an invoice generator, which allows you to select the projects you need to invoice and produces the form. From this window, you can also export your sessions to an Excel file.
Is OfficeTime for You?
The only feature I didn't find was assigning a flat fee to a project instead of an hourly rate. I work on projects that are a set fee, and while I still want to track how much time I spend on them, I wanted to set a flat fee in the column under the $ column. It would only allow an hourly rate. I had to go under File and choose New Expense and list the project again with a flat rate. Not a huge deal, but this will allow me to have the fee to record should I want to run a report. I strongly recommend the Quick Start Tutorial and Tip of the Day under the Help tab. The suggestions are helpful and easy to follow.
Over all, this program is extremely easy to use and has all of the basic time tracking capabilities I need. There is a 21-day free trial and the program sells for $47; a very reasonable price for such a customizable, user-friendly system. When tracking and managing time is essential to you daily routine, OfficeTime is worth every penny.