Review of Entourage's Project Center - Effective Project Management Software?

Taking a Look At Entourage's Project Center
If you are using a Mac and have installed Office, you may not be aware of an extra utility hidden within your email program. Entourage has a built in project management tool that is both useful and effective for many companies. Is this tool right for you? Let's take a look at the pros and cons, and where this software shines.
Pros
1. Usability – It is incredibly easy to set up a project in Entourage. The learning curve is very slight and the built-in Project Wizard walks you through the majority of the steps that you need to take. Most users should be able to easily add projects and maintain them with little effort.
2. Coordination of Emails – This is perhaps the best feature of Entourage's Project Center and allows you to organize all the emails that are related to a specific project. Get started with this is a little difficult, and there is some work involved in order to associate the files at first. However, beyond the initial set-up, it works like a breeze. This is a major factor in Entourage's favor, since most online applications do not have this built in feature. If you are trying to keep track of client emails, this one feature more than pays for itself.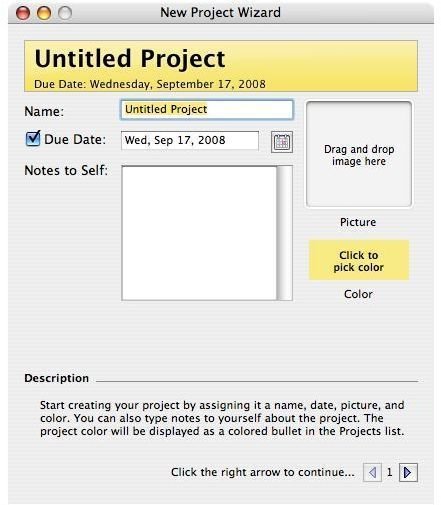 3. Staying on Top of Deadlines – Entourage's Project Center has a built in calendar utility that will notify you when deadlines approach. It also includes a sidebar feature that will let you know how many days are left to complete a project as well as other alerts that are important to the project. For those that have difficulty remembering deadlines, this is a very useful feature.
Cons
1. Only suitable for small projects. Large projects would be difficult to manage with Entourage's Project Center. Although you can extend many of the features and there are no limits on how many files you can associate with each project, the overall feel is that it is meant to handle average projects.
2. Lack of true collaboration. Although each team member can set up their own project, they will need to keep everything updated on their own. You can send out updates among team members, but this is truly a stand alone application that is ideal for one user. We found it perfect for freelancers that need to stay on top of projects, or for companies that have a small amount of employees and can use one central computer to keep track of projects.
Best Points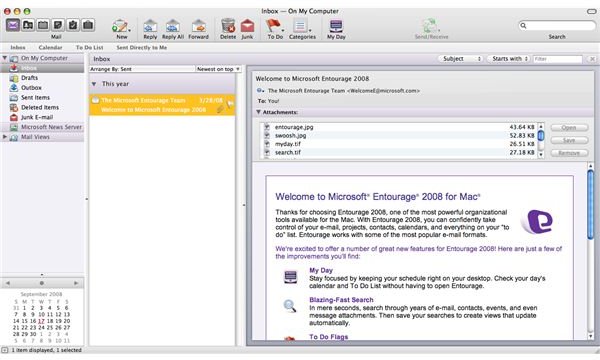 Despite its drawbacks, for those that are just trying to manage their own small projects, Entourage's Project Center is a solid application. The clipping feature is one that should be used heavily and can be very beneficial for research. In addition, we also found that the integration of emails, files and other project notes was very easy to set-up and maintain. Overall, this is a nice application for limited use, but is probably not suitable for large projects or companies.
If your a Mac enthusiast visit Bright Hub's Mac Channel for many more articles and resources.