Example of a Project Cost Control Spreadsheet: Free Download & Instructions for Use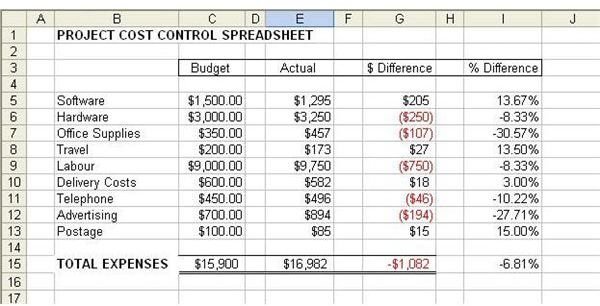 Keeping to the Budget
Project management is a method of planning and monitoring the success and costs of a specific project. The range and scale of projects is huge, and they mostly have to be completed within the boundaries of a fixed budget. Spreadsheets are very useful in recording budgets and expenses, and are an essential tool in monitoring project costs. This article looks at a sample of a spreadsheet used for project cost control when introducing an office computer system.
Download Page: Project Cost Control Spreadsheet
Cost Control Template
This template is a simple cost control spreadsheet. It compares the planned budget for various project elements against actual expenditure. Any budget overspends or under spends are shown against each item, both as a cost and percentage. Budget overspends are highlighted in red. Figures for the "Budget" column would be set at the planning stage of the project, based on quotations and estimates, or previous costs of similar projects. Figures for the "Actual" column would be taken from invoices and receipts of the costs incurred. The "% Difference" column is useful in identifying the significance of any overspends or under spends. For example, "Hardware" is showing an overspend of $250, and a percentage overspend of 8.33%. Whereas "Office Supplies" is showing an overspend of $107 and a percentage overspend of 30.57%. The overall budget shows an overspend of 6.81%. During the implementation of this project, it may be necessary to reduce expenditure on certain items in order to balance overspending on more important items.
Customizing the Cost Control Spreadsheet
In this spreadsheet sample for project cost control, the project elements "hardware", "software" etc may be deleted and replaced with whatever is appropriate. Figures in the "Budget" and "Actual" columns may be replaced without affecting the spreadsheet formulas. If additional rows are required, these may be inserted using the "Insert" menu on the spreadsheet. When additional rows are inserted, the formulas in the "Difference" columns should be copied using the "Edit and "Fill", "Down" menu items.
The $ symbol may be replaced with several currency symbols or codes, including the Euro and UK pound. If a different currency is required, highlight the cells and follow these steps:
Right click and select "Format Cells."
From the "number" menu select "Currency."
In the Symbol drop down menu, select the symbol of your choice.
4. Click "OK."
Planning for Successful Project Cost Control
The most important part of controlling project costs is in the initial planning, organization and budget planning for each element of the project. In a property renovation project, the cost elements might be building materials, planning fees, architects fees and labor costs of electricians, plumbers and builders. In order to set a budget for these elements, quotations should be obtained along with realistic timescales for completion of work. Unforeseen problems can often occur during property renovations, and it is wise to set a contingency budget to cover any unexpected costs. If the project is being financed through a mortgage or loan, any delays would increase interest charges, and this could result in budgets being overspent.
Now you that know how to customize a sample of a project cost control spreadsheet, you can easily make one to fit your own projects.