Free Kaizen Templates to Assist With Training and Implementation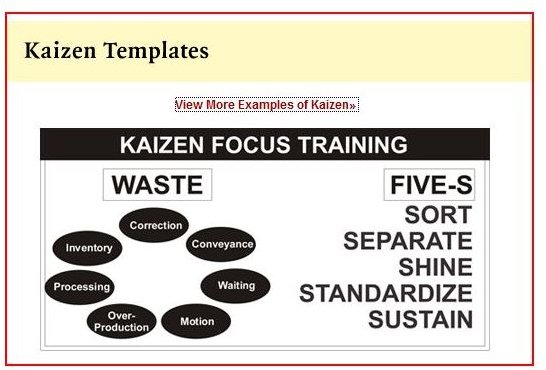 Never-Ending Improvement in Project Management
Free Kaizen templates are helpful resources for use in improving the performance and efficiency within any project or workplace. The Kaizen philosophy was founded on the belief that continuous and never-ending improvement is achievable in any ongoing team project. This system is what made Toyota so renowned in making high-quality automobiles that function well for decades.
Essentially, any member of the team can devise a way to streamline a process to make it more efficient and, if it works, everyone benefits. In fact, many believe that the problems and deficiencies that Toyota has recently encountered with its vehicles is a result of no longer applying this philosophy in some of its manufacturing plants. Avoiding stagnation and disillusionment (when workers do the same monotonous tasks and lose any interest in the bigger pictures) is a goal behind the Kaizen way of work. To learn more about it, read The Kaizen Philosophy.
Where to Find Free Kaizen Templates on the Web
To foster Kaizen team development it will be necessary to have a means of tracking ideas, implementations, and records of success. That is where templates come in handy, because a lot of the variables you'll want for this type of tracking are already on the document which you only need to tweak and customize a bit with your own team's roles and functions. This proactive form of brainstorming and streamlining can be a benefit to organizations of any size, empowering workers on all levels to be valuable, contributing members to the greater good.
Docstoc
You can find a variety of Kaizen-related templates depending upon your needs at Docstoc.com. Docstoc has a massive amount of templates for anything from brochures to agreements. It is a site catering to small business operators, so a lot of the shared documents and templates that have been uploaded there for anyone's use have worked already for other people who needed them. Once you download a template you simply customize it with your company or project details.
Visual Workplace
**
The Visual Workplace Inc. has a few basic templates that focus on training with the Kaizen technique as well as providing workplace awareness. For instance, one of this company's offerings is more like a sign that states "Kaizen in Progress" and then has space to place "before photos" so workers are motivated to work toward making the "after" photos a significant improvement of whatever the project or operation it is that they're involved with.
Systems2win
A company by the name of Systems2win offers a whole lot of tools geared toward continuous improvement. They have some really useful in-depth templates to implement Kaizen principles. The templates are for use in Excel. They offer free trials; otherwise you have to pay for the quality. By the way, if you happen to be leading the charge with these principles, you may want to read What Are the Expectations of a Kaizen Leader to glean a firm grasp on the role you'll play.
gemba panta rei
Many folks interested in the time-tracking aspects of the Kaizen approach have found the Takt template offered on gemba panta rei useful for this purpose. This template is designed for working with in Excel and it tracks work shifts in great detail, factoring in every minute spent working or as the case may be, sloughing off, talking to customers, etc.
Gemba Research
Gemba.com offers several free templates in its Kaizen Tool Kit section which are designed to improve process flow. Visual aids, worksheets, and flowcharts can all be found here. This site is a very helpful resource for project management and for information on how to host a Kaizen workshop.
One of these sites should have the kind of template you're looking for in terms of freebies. If you've come across another good source recently, drop a line in the comment box for us. Congratulations on endeavoring to bring these laudable principles into the work environment!