Learn How to Create a Change Request Template in Microsoft Word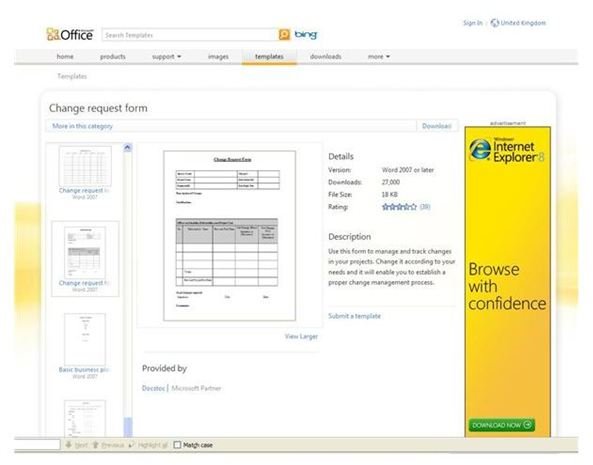 What is a Change Request Form?
Microsoft Office provides streamlined ways to create forms. All of these forms are located online within the Templates section of the Microsoft Office website. These templates are free for current Office users, but you will have to download them first. You can easily learn how to create a change request template in Microsoft Word.
A change request form in project management is a form that must be submitted to project leader before any change is made to the system. A manager must also sign off on the change before it is initiated. This ensures that no unauthorized changes are made to the system.
Parts of a Change Requst Form
A change request form must have certain items to make it effective. These items include the name of product that is going to be changed or the task name and the new end date for the project. It may be wise to also include information about how much more the change will cost and how many additional hours will be required from the team.
At the end of the form, there should be a place for the manager's signature and a place for him to put the current date. This form then should be added the project's file, and project managers should advise the entire team of the changes that were made.
How to Create Your Template
To access the templates in Microsoft Office, first go to the Office website, and then follow the below procedures.
Once the Templates page pulls up, you will see a Search Templates search box at the top of the screen. Type in Change request form.

This will take you to a new page, where you will see a selection of templates. Pick the template that works best for you. Generally, these templates are only for either Excel or Word.

Preview the template. You can do this by selecting the View Larger link before the template.

If you do like the template, then you can download the template by selecting the Download button in the upper right-hand corner of the screen.

You will then have to accept the Microsoft Service Agreement, which means that some cookies will be enabled on your browser. Click Accept.

This will take you to another screen, where you will have to manually download the file. Click Download again.

A pop-up box will appear. You can either choose to save or open the file. Click OK.
Once the file is open, you can either leave the information as is, or customize it to fit your needs. Usually, the website or watermark of the person who created the file will be somewhere on the document. You cannot remove this.
Now, you can either input the change information on the computer, and save it there. Or, print it out, and make additional copies for your team to use whenever they need it.