Free Team Meeting Agenda Template for Managers & Project Teams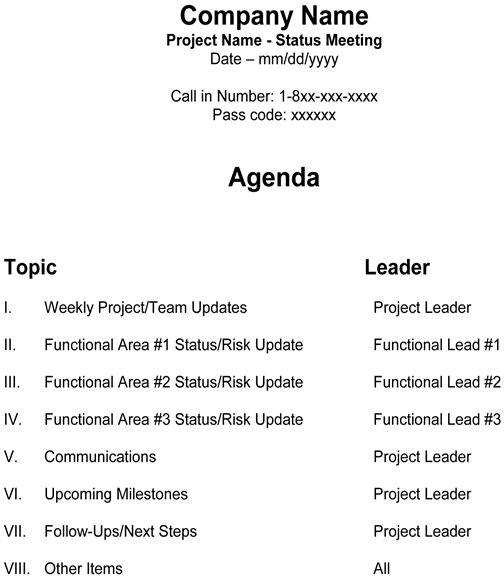 Getting Everyone Focused
As Project Manager, weekly team meetings will be helpful to you and your team to assess project status. The goal of your team meetings is to provide the team with overall project status, obtain updates, discuss barriers and risks, and facilitate interaction between team members.
Why Use a Meeting Agenda Template?
Planning for each meeting lends to the professionalism and creditability of the Project Manager. To facilitate an organized team meeting, prepare a meeting agenda and distributed it to all invitees at least a day prior to the meeting.
There are several reasons to use a formatted team meeting template. Standardization of process and having an easily recognizable document are primary reasons. Create the template in Microsoft Word, a program that most everyone utilizes. Assure your template is uncluttered, easy-to-read and clearly shows the purpose of the document.
Link to a template that you can download and customize: PM Team Meeting Agenda Template
Agenda Header
To standardize the team meeting agenda template, in the document header, include the following:
Required Items:
Meeting Name
Meeting Date
Meeting Time
Meeting Location
Conference Call Number and Login information
Optional header items:
Keep these items consistent and in the same location on each subsequent agenda. Your team will become acclimated to looking at the top portion of the template to locate this useful information. Often, the only information that will change each week is the meeting date.
Agenda Topics
The meat of your agenda is the topics. Though topics may change from meeting to meeting, for the meeting agenda template, most of your topics will be standing items. Always solicit agenda topics from your team and add as necessary. Considering that the goal of the meeting is to provide and obtain updates, this will be the heart of your agenda topics. Listing the agenda topics will help guide the meeting discussions and allow your team to prepare for the meeting.
On the template, list each agenda item by number on the left and the name person responsible for leading the discussion to the right of the topic (see Image).
Example of standing team meeting agenda topics include:
Weekly Project Update – Project Manager
Functional Area #1 Status/Risk Update - Functional Lead #1
Functional Area #2 Status/Risk Update - Functional Lead #2
Functional Area #3 Status/Risk Update - Functional Lead #3
Next Steps - Project Manager
Other Items - ALL
The Project Manager should plan to give an overall status update on the project timeline, budget and resources (Weekly Project Update). Then, the leader of each functional project's area should plan to provide an update on the status of their tasks and state any barriers or risk that could prevent meeting targets (Functional Area Status). The Project Manager should wrap up the meeting with a review of next steps and allow the team to bring up topics and ask questions as necessary (Next Steps and Other Items).
Sample Project Manager Team Meeting Agenda
Image Credit
Image Credit: Author