Using Project Management Skills to Become an Entrepreneur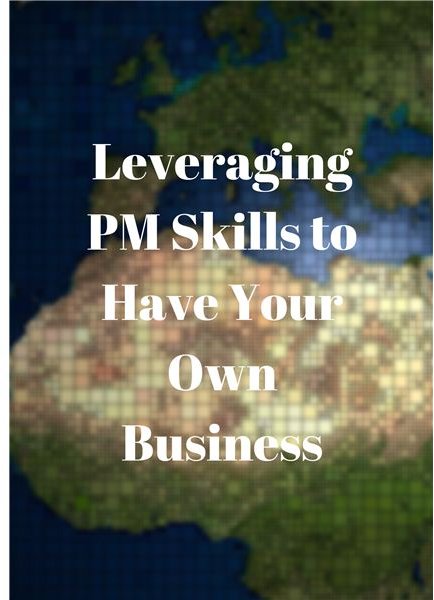 Owning a business – and particularly getting from where you are now to being a business owner – is a big project. Project management skills are essential and very valuable. Let's start exploring by looking into becoming an entrepreneur.
Starting a Business
If you have an idea, it might be viable for you to start a business from scratch. Even if you do not have an idea now, you can generate ideas.
If you have some specialized knowledge in a particular niche, this might be a good option for you. You will surely leverage all of your PM skills and more in putting together the plan. Having managed projects should give you confidence for the implementation. One of the obstacles is financing. Keep in mind that many businesses, especially web-based businesses, can be started for a small up-front investment.
Buying a Franchise
If you are short on ideas or if you simply want to skip a lot of the startup phase and get right into owning and running a business, becoming a franchisee is a good option.
The biggest benefit is that you will be buying into a proven business model, and won't have to build or discover the business model that works. Note that not all franchises are created equal in terms of support, potential for success, longevity and up-front investment. It will be a project to investigate, but you can realistically get up and running in as little as three months.
Buying a Business
Like franchising, you are buying something with a proven business model. However, you need to recognize the evolutionary forces that are at work for the particular business.
For example, is this business poised for growth or decline? The greatest value will be if you can bring something to the table that will add value to the business, whether that is insight, market knowledge or certain skills (including project management).
Receive All or Part of a Business
Another way to become a business owner is to be given ownership. It could be that there is a business in your family or that you get into a management position within a business and earn stock as part of your compensation package.
Either way, be open to some unique ways of gaining an ownership position. Many great things happen by being at the right place at the right time, or just by sheer luck. Your ability to take advantage of the opportunities really counts in the end.
Going into a business is an investment. The same questions that you ask as an investor, as described in the third article in this series, apply here. However, as a business owner, you not only own the securities, but you run it one way or another! You are responsible for the outcome.
At this point in your project management career, should business ownership be part of your plans?
This post is part of the series: Leveraging PM Skills for Other Careers
A series of four articles on leveraging project management skills as a foundation for other careers.