PMP Test Questions for Project Communications Management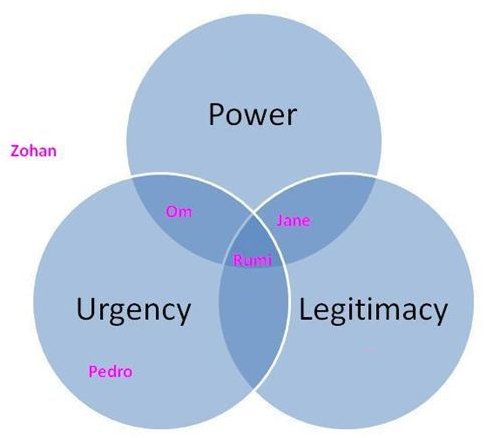 Instructions
There are eight questions in this set of PMP test questions. Try to complete this quiz in 10 minutes. The answer key is provided on the next page of this article. The answer key also contains links to more free PMP test questions and carefully selected reading material available at Bright Hub that'll help you pass the PMP certification.
Note: This quiz is based on the PMBOK 4th edition.
Your aim should be to get seven or eight questions correct. Good Luck!
PMP Quiz for Project Communications Management
Let's get started with some questions that focus on stakeholder analysis.
Looking at the Salience Model below (Click to enlarge), which description best fits Jane?
A) This person has power, expects immediate action on his queries and has significant involvement in the project.
B) Expectations of this person need to be managed, but do not require immediate attention.
C) Someone you spend thirty minutes every day with from another department unrelated to the project.
D) None of the above
A) Pull Communication
B) E-mail
C) Face-to-Face Communication
D) Push Communication
The next few questions show you how the Project Communications Management interplays with other knowledge areas in the PMBOK 4th edition.
Your in a bi-weekly meeting with project stakeholders. In this meeting, you present EAC and ETC computations. Which Project Communications Management process are you implementing as per the PMBOK 4th edition?
A) Report Performance
B) Distribute Information
C) Manage Stakeholders
D) Plan Communications
Your status meetings have project stakeholders from various parts of the globe. Which of the following is best to avoid communication errors during the meeting?
A) Use teleconferencing and send the meeting notes.
B) Ask the stakeholders in your geography to stay on the call and tell the others that the meetings notes will be distributed to them via email.
C) Create the communication plan.
D) Exercise active listening and use video conferencing.
You're employing several techniques, including setting expectations and goals, to motivate a slacker in your team. Which communication model would you use to deal with this slacker?
A) Interactive Communication
B) Push Communication
C) Pull Communication
D) None of the above
The following couple of questions focus on your ability to ask the right questions to help you manage stakeholders more effectively.
You are conducting Stakeholder Analysis. Which of the following questions can help you draw out stakeholder interests?
A) Are there any conflicting interests that the stakeholder may have with the project?
B) How committed is the stakeholder to the project? Is he/she willing to commit tangible resources?
C) Are there relationship conflicts between stakeholders that can hinder the project?
D) All of the above
Suppose you're the project manager of a software product development project. The sign-off authority on the deliverables is someone who'll falls in the _______________ quadrant in the Power/Influence Grid. (Fill in the blank)
A) Keep Satisfied
B) Manage Closely
C) Keep Informed
D) Monitor
The last question in this PMP quiz focuses on whether you know the general best practices while managing stakeholders.
Which of the following will you do to manage internal and external stakeholders?
A) Ensure you have correctly identified the internal/external stakeholders
B) Determine and agree on the responsibilities of internal/external stakeholders
C) Use the Influence/Impact Matrix
D) All of the above
Answer Key
Mentioned below is the answer key for the PMP quiz on Project Communications Management. In addition, there are some links that'll help you understand the answers. All material is in line with the PMBOK 4th edition.
B. Refer to the Salience Model article to learn the characteristics shown by each stakeholder. The Salience Model was not part of the PMBOK 3rd edition, but is part of the PMBOK 4th edition.
C. Face-to-Face communication is most effective.

A. This is one of the simpler free PMP test questions in this set. You should know each process in the Project Communication Management knowledge area. There are several articles on Bright Hub that contain knowledge on each process. Alternatively, you can refer to the PMBOK 4th edition.

D. This is one of the more trickier PMP test questions in this quiz. Options B and C are obviously wrong as project stakeholders cannot simply be left out of a meeting just because they reside in another geography. Option A is not optimal because tele-conferencing is less effective than video conferencing. Also, you send meeting notes after a meeting and not during it.

A. Refer to the Effective Communication Methods in Project Communications Management article.

D. All questions are relevant in gauging the interest and possible influence of stakeholders in a project. You can read more relevant questions from Power/Interest Grid and Influence/Impact Grid articles. This grids are critical in Stakeholder Analysis as per the PMBOK 4th edition. This was not the case in the 3rd edition.
B. The quadrants in the Power/Influence grid are Keep Satisfied, Manage Closely, Monitor and Keep Informed. You classify project stakeholders in each of the quadrant as per their role and influence on the project. In this case, a person that has a sign-off authority needs to be closely managed. If you only monitor or keep the person informed, you may not be able exercise your influence on the stakeholder.

D. There are certain tips on managing stakeholders. Option A is correct because without accurate stakeholder identification, you would probably get nothing done and would satisfy the wrong set of people. Similarly, Option B is correct because each stakeholder has a set of responsibility. As you define a set of responsibilities for you team members, you would do the same for project stakeholders.
Free PMP Quizzes
For more PMP test questions, refer to:
References
Image Credit: Rupen Sharma
The quiz was created by referencing the PMBOK 4th edition.