Change Management: Is It Necessary? Objectives & Benefits of Change Management for ITSM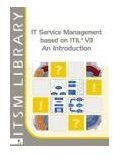 Objectives and Benefits of Change Management
IT Service Management (ITSM) is a discipline within the Information Technology Infrastructure Library (ITIL) framework that is used for managing small-, medium- and large-scale technology systems. ITSM is geared toward customers, putting the customer relationship
first as opposed to focusing on the IT philosophy.
The objective of IT change management is to manage the change process such that introduction of errors and incidents related to change are minimized. It ensures that standard methods and procedures are used so that changes can be addressed expediently and with the lowest impact on service quality. It is essential that all changes are traceable so that what changed can always and easily be determined.
There are many benefits to effective Change Management, including:
· Reduced time to implement changes;
·Better cost estimates for proposed changes;
·Enhanced management information regarding changes;
·Improved ability to smoothly regress to a previous state in the event of change failure or unanticipated results; and
·Minimized disruptions to ongoing service provision.
Distinguishing Between Change Management and Change Control
Change management includes the processes required for managing requests to effect changes to the IT Infrastructure or IT services in a controlled manner and usually within a pre-defined framework. This promotes business benefits while minimizing the risk of disruption to services. It allows for approval or rejection of each Request For Change (RFC) and strives for a balance between flexibility and stability.
Change control is a change management process that pertains to the consistency within the change management process.
Meet the Change Manager
The change manager facilitates the change management process and is responsible for filtering, accepting and classifying RFCs as well as obtaining any required authorizations. This may be especially relevant in approaching IT Management for some changes.The change manager is also responsible for planning and coordinating implementation of the changes. Communication is key to the change management process.
What Is a Change Advisory Board?
The Change Advisory Board (CAB) is the body that meets regularly to assess, prioritize and plan changes, usually addressing the more significant changes. The CAB has members from various parts of the organization, including representatives from each major IT section, customers and suppliers.
For more about ITSM Change Management, read my subsequent article, An IT Service Management Perspective on Change, which presents information regarding the process, process control and activities, related costs and potential problems.