Don't Miss These Important Business Books That Will Help You Improve Your Business Game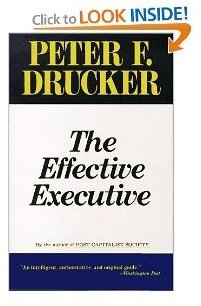 Experience can only take you so far. At some point, you're going to want to expand your horizons, stretch your arms, and learn new tricks to put in your project management tool box. Turning to books is a great way to learn new techniques for dealing with different situations. Not all books are created equal, however. There are some books, you'll find, that aren't worth the pages they are printed on. On the other hand, you'll find the following books to be among the most used in your collection. I've tried to select books that you'll want to keep around for later reference.
1. The Effective Executive
It's not enough to get things done, you have to get the right things done. In Peter F. Drucker's Effective Executive: The Definitive Guide to Getting the Right Things Done, the author discusses habits that we must form if we want to be able to get those priority projects done and out of the way. This book poses the argument that we need to be more effective in our manual work habits. It's not enough, for Drucker, to simply cross things off on a list. No, we need to track how we spend our time in order to see whether we are spending time on what we think we spend time on - and whether the time we devote to things is time well-spent. While you may read this one through the first time, you will find yourself referring back to pages later.
2. Execution: The Discipline of Getting Things Done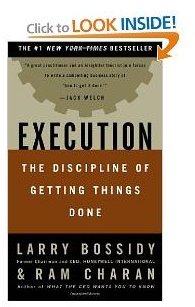 Look, you can't just sit around planning out your projects. There are tasks that need to be executed. It is so important for you to understand proper techniques for acting on those plans. One of the best books available is Execution: The Discipline of Getting Things Done by Larry Bossidy and Ram Charan. This book takes executives and project managers through the art of getting things going - and keeping them going. Whether you're trying to better learn how to get your employees or team members to jump when you say "jump" or you're trying to figure out how to motivate everyone, this book will help you move from plan to completion.
3. The 48 Laws of Power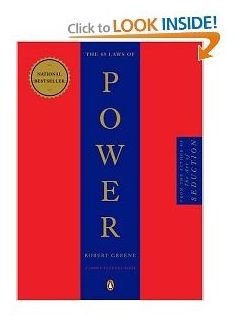 Here's a nice classic that's been around for a little while. If you need help beyond what Win Friends and Influence People can do for you, you might want to look at this book. In Robert Greene's The 48 Laws of Power, you'll learn how to move from manager to leader. Naturally, this comes with a caveat - you might not like what Greene has to tell you. However, if you find yourself in a position where you feel as though your authority is waning, you might want to look up the situation in this book. From dealing with superiors to saying "no," you'll find a solution in this book.
4. Good to Great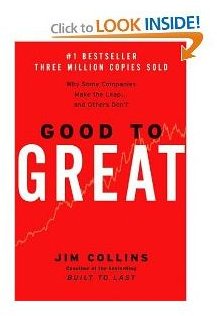 Have you ever asked for feedback about your business and received an "eh, it's okay" kind of response? If so, you might want to take a look at Jim Collins' book Good to Great: Why Some Companies Make the Leap…and Others Don't. This book starts out by saying that "good" is great's enemy. How so? Well, imagine that someone asks you how a movie was. You respond "good." What does that response entail? How is that different from responding "Great!" Collins will tell you why you should worry - really worry - if you find yourself saying that you think your business is good - and how you can get on track to greatness.
5. Indispensable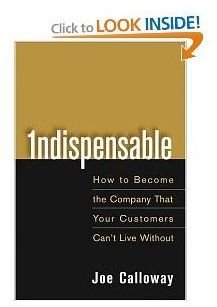 What do you think Bill Gates aimed for back when he was starting Microsoft? Was it to be a program that you could use - if you wanted to? No, of course not. He wanted his program to be something people would find indispensible, something that they couldn't live without. Joe Calloway, in his book Indispensable: How to Become the Company That Your Customers Can't Live Without has researched a variety of companies and determined five factors that drive companies toward this kind of success. Not only will you learn what these five points are, you'll also learn how different companies have put them into play.
6. Lean Thinking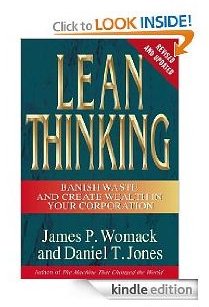 Even if your company does not use lean project management or Six Sigma, you might benefit from reading Lean Thinking by James P. Womack and Daniel T. Jones. This book talks about ways that companies can cut down on waste in their companies. The authors begin their discussion by talking about value. "Value?" you may be asking yourself, but in order to determine what is not necessary in your projects, you first must determine what is valuable. Only then can you determine what is waste by way of eliminating anything that does not add value to your project. You'll find tips like this and more in this handy little guide.
7. Bargaining for Advantage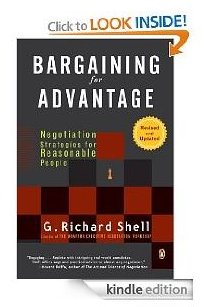 When you're working hard to come to a middle ground, it's hard not to get emotional or overly frustrated with the other side. However, in business, it's absolutely vital that you learn the proper way to approach negotiating. In G. Richard Shell's Bargaining for Advantage: Negotiation Strategies for Reasonable People, you'll learn techniques for how to bring your point of view to the table - and avoid making a Faustian deal. The author starts you off on your journey by helping you to determine your current bargaining and negotiating style, and then working with you from there to help you to develop your skills - without having to sign a contract in blood.
8. Growing Great Employees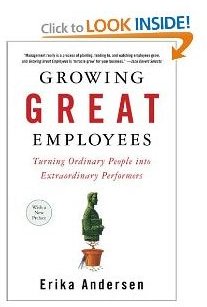 Mentoring employees is one of the important responsibilities of a project manager. The difference between simply doing your job and making an impact on others lies in the area of mentorship. If you're looking for ways to build your team effectively and produce amazing employees, you might want to look at Erika Anderson's Growing Great Employees: Turning Ordinary People into Extraordinary Performers. Anderson starts this book by talking about how you have to prepare to work with your employees - you can't just jump in. She then works with readers to develop listening skills - a very important part of being a good leader. This is a great read for new and seasoned leaders alike.
9. Making Things Happen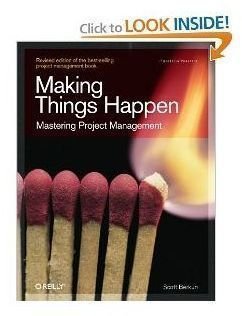 How do you figure out what to do in your project? How do you get things back on track? How do you close your project? Whether you've been planning projects for days or decades, you'll find Scott Berkun's Making Things Happen: Mastering Project Management a helpful resource to have on hand. For those who are new to project management, this book can help guide them through the steps and phases of decomposing and scheduling projects. For individuals who have been at it for years, it can help to refresh the memory, but it can also be used as a great training tool for new team members to get them on the same page. However you use this book, you'll find yourself referring to it repeatedly.
10. The Project Management Answer Book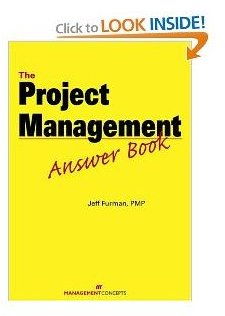 How can I memorize the processes in project management? What happens when I have an ongoing project? What qualities should I look for in team members? What do I do if there's a conflict on my team? No matter what questions you come up with, chances are, you'll find it - and the answer - in Jeff Furman's The Project Management Answer Book. This handy reference (that I myself have on my shelf and have found invaluable when it comes to finding answers to technical questions) is a great reference. You'll find yourself pulling it off your shelf again and again. It includes answers to everything from taking certification exams to the stages of project management to dealing with social networking as a project manager.
No matter what stage in your career you find yourself at, these business books can help you be more productive, more efficient, more cooperative, more knowledgeable, and more approachable. It's important to have in place a solid professional development learning plan. Even if you've been at it for a long time, you'll find that there's some great new research out there that will help you to improve your skills as a project manager.
References
Berkun, S. (2008) _Making Things Happen: Mastering Project Management (Theory in Practice)._Sebastopol, CA: O'Reilly Media, Inc.
Anderson, E. (2006) Growing Great Employees: Turning Ordinary People into Extraordinary Performers. NY: Penguin.
Calloway, J. (2005) Indispensible: How to Become the Company That Your Customers Can't Live Without. Hoboken, NJ: John Wiley & Sons, Inc.
Druker, P.F. (2002) The Effective Executive. NY: HarperCollins
Furman, J. (2011) The Project Management Answer Book. Vienna, VA: Management Concepts. 
Bossidy, L. & Charan, R. (2002) Execution: The Discipline of Getting Things Done. NY: Crown Business. 
Greene, R. (2000) The 48 Laws of Power. NY: Penguin Books.
Womack, J. P. & Jones, D. T. (2003) Lean Thinking. NY: Free Press. 
Collins, J. (2001) Good to Great. NY: Harper Collins.
Shell, G. R. (2006) Bargaining for Advantage: Negotiation Strategies for Reasonable People. 2nd ed. NY: Penguin Books.