Using the Pareto Principal to Find Work-Life Balance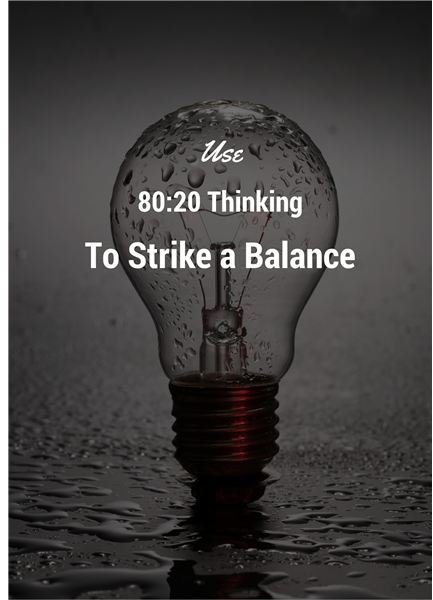 What Does It Mean?
It's not just about the Pareto Principle, cutting out waste and driving to maximum efficiency. While these things are noble pursuits, so is life balance and satisfaction.
I got the idea about this approach to 80:20 thinking from the accomplished copywriter Bob Bly (www.bly.com) where he offering his observation that there are two kinds of copywriters: those that go for heavy duty commercial clients and make good money – but experience minimum satisfaction from their work; and those that take an 'artistic' approach and write books and articles in pursuit of their personal interests – but make very little income. Bob's proposed solution to this dilemma for both groups is to try to strike a balance – spending maybe 80 percent of your time in pursuit of commercial, money making work, and 20 percent of pure satisfaction-generating work, with no concern for how much money you make.
I got to thinking that this is a great approach to just about anything. Here are a few examples of how this might work in real situations – and how it does work for many people I know.
There's the computer programmer that's passionate about music – but works intensely coding on the computer. So, it's computer programming all week during working hours…but what about carving out some time during the week or weekends to squeeze in some music, whether with advanced lessons, playing with a group, or something else that satisfies that desire?
There's the project manager that's passionate about golf – but works under significant pressure to meet deadlines and lead teams during the week. We know that the important things will get done – but is the golf considered important? Could the golf provide the refreshing antidote to a pressure-filled week and actually improve work performance?
There's the user interface designer that is passionate about gardening – and works intently throughout the week in meetings, on the computer, thinking about…user interfaces to applications. Is there not an opportunity, among other responsibilities, to do some gardening some evenings and weekends to strike a balance, and add some personal satisfaction and balance?
I know of many people that strike a balance – and I try to do so myself. However, many people don't – and pay a price.
Moreover, it's not that work does not provide satisfaction. Ideally, it does. Nevertheless, it is unlikely to provide 100 percent satisfaction in all areas that you are passionate about…and striking that balance can help you to be a better professional and happier person.
What are your passions, both professional and personal? Are you striking a balance between your work and personal passions? How could you apply a different brand of 80:20 thinking to achieve a better, more satisfying balance?
This post is part of the series: 80:20 Rule in Project Management
This series on the practice of leveraging 80:20 thinking for tremendous benefits looks at how you can apply 80:20 thinking to virtually any and every human situation or experience and using it to become a more effective project manager.