Introducing the Logical Framework Approach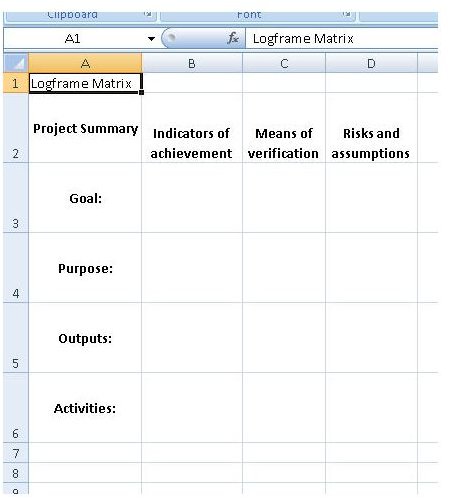 Overview of the Logical Framework
The logical framework approach seeks to evaluate the situation that is at hand and create a prioritized list of the ways that desired
outcomes will be achieved. This logical approach will then identify possible risks to the outcomes that are sought and establish ways to monitor processes to see if they are producing desirable results. LFA usually works best if it is implemented during the early planning stages of a project because LFA is hard to adapt to projects that were designed without LFA in mind.
Image Credits: Screen shot taken by Bruce Tyson
The Logical Framework Matrix
LFA is possibly most recognizable by the famous LFA matrix that is used in project planning and can be helpful when working with project planning software. It consists of a chart having four data rows and three data columns. The summary rows are as follows:
Goal - The objectives of the project are defined by themselves and by the logical column identifiers.
Purpose - Here you specify why the project is needed and what benefits it will create. The columns will define how the outcomes of the project are measured and what means will be used to measure them.
Outputs - What tangible products and other deliverables will result from the project, as well as how they will be measured.
Activities - components and intermediate results of the project that will be linked to components of a larger endeavor.
The logic is in the columns and are listed as follows:
Indicators of achievement -This column will summarize how stakeholders will know if goals, purposes, intermediate achievements, or outputs are realized.
Means of verification - This column will explain the procedures used to recognize the achievements.
Important risks and assumptions. What risk factors threaten the project at each stage and what aspects of the project are based on potentially insufficient data.
Through the use of the LFA matrix, team members and other stakeholders can get a good overview of the project from a visual representation that might occupy just a single page.
More about the Framework
Although the LFA matrix makes LFA planning seem simple, it really is complex. The framework is intended to force a logical approach to any project so that no stone is left unturned. In other words, LFA is intended to be a thorough process that results in high quality outcomes.
LFA planning is used in a broad range of environments including development and donor projects, but can be adapted to almost any situation. Processes are viewed as causal events, so if you have a logically thought out process with minimal risk and assumptions that prove to be valid, you will always reach the intended outcome.
Here are just a few ways LFA can contribute to a well-managed organization:
It aids in the establishment of objective.
It forces logical thinking and to evaluate the logic of assumptions.
It encourages the articulation of project expectations.
It summarizes key project factors for stakeholders.
It categorizes project data into 7 key areas.
Now that you know a little bit about the logical framework approach learn more about it if you think it could be an asset to your team.
References
"Logical Framework Approach /ZOPP /OOPP", https://www.lgausa.com/logframe_approach.htm