Earned Value Management and Project Tracking: Tools You Can Use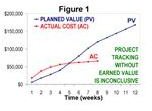 Where Should You Start?
Begin by quantifying accomplishments through predefined methods at a preset time. Internally review the project and identify detailed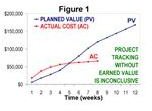 elements that have been completed. A common formula for defining the Earned Value (EV) is calculated as the percent of a project completed times the budget at completion.
EV = % complete * BAC
Compare the Planned Value (PV) to the EV on a chart for a quick snapshot on the progress of the project. The PV is your baseline and variances from that figure will be instantly noticeable. Add in the Actual Cost (AC) at specific time intervals and your graph now encapsulates the planned versus actual project flow. The charts to the right provide visuals of these values as you track them.
Setting this up prior to the beginning of a project gives you an additional tool to track progress and compare preset conditions to actual results. Read more about Earned Value Analysis with Rupen Sharma's excellent article. You can also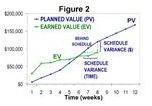 download a template created by the Microsoft people.
The Simple Picture
EVM tells a significant story. One you understand the basic jargon and concepts EVM will give you a visually simple picture at different
intervals of your project tracking. EVM can flag potential problems and give you the opportunity to address them before the project veers off track.
By weighting specific intervals of your project you can easily compare your PV to your EV. If you find a schedule or cost variance with this tool, take advantage of the opportunity to get back on track. Remember that EVM does nothing to establish or track the quality of your project; you must have different measures in place to gauge this.
Project Tracking
The intervals should come directly from your Work Breakdown Structure so that your reports coordinate with each other.

As indicated in the graphs to the right, EVM is a useful tool in project tracking. Without the benefit of EV you run the risk of being completely unaware of longer projects getting off track before it's too late and rework will become necessary.