The Many Hats of a Project Manager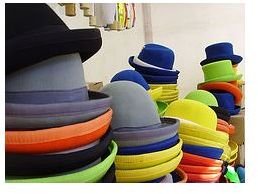 The Project Manager Doesn't Live By One Hat Alone
As the owner of a small auto dealership, some of my managers wear more than one hat. My service director is also my parts director and my finance manager is also my sales manager. In the business office, my controller has an added responsibility of obtaining registrations for the vehicles we sell.
With less people and more jobs to complete, what are the best ways to pull together a project, especially if you're depended upon to wear multiple hats and tackle key roles?
You Gotta Have a Plan
The multiple-hat manager won't be effective if he doesn't have a plan and a schedule. Along with planning and scheduling, you must also learn to prioritize your time and the project at hand. As the leader, being responsible for elements in the project beyond leadership can be tricky if you keep your manager hat on all the time.
Along with certain tasks you'll be completing, you still must be able to monitor and control the project and its phases. Juggling hats requires skill and discipline. Team members that work with you on a portion of the project must feel you are part of the team and are not there to be a critical manager. Input, not judgment, is key when changing hats.
Juggling Effectively
Juggling your multiple hats can be done effectively if you follow these tips:
Planning Phase – Be clear about project roles and define responsibilities. Let your team know upfront which area of the project you will be assisting them with.

Allow for Input – Allow your team members to ask questions regarding how you plan to work within the team and how your efforts will complement, not direct, the project.

Get Rid of the Manager Hat – At times, it may be necessary for you to get rid of the manager hat, so be aware of this. For example, the service manager at my dealership is also a master ASE-certified technician. If one of her technicians is having difficulty diagnosing a problem, she finds it easier to take off her manager hat and work with the technician on his level in a team effort.

Don't Judge – When it's time to work outside the manager box, don't openly judge another team member's effort. At the point you are working within the team, you are part of the team.

Prioritize Your Schedule – Along with tasks and elements in the project that are your responsibility to produce, you still need to be able to lead. Pick a time, whether it is daily or a few times a week to be the project manager. Use a good scheduling software tool or choose one from Bright Hub PM's list of the top 5 project scheduling software tools to help you manage your time and schedule meetings with your staff to discuss project concerns.

Putting the Hat Back On – You must also learn when it's time to put your manager hat back on. Do this in project and stakeholder meetings as well as individual and project assessment times.

Determine a Style – Consider your personality as a manager when your hat is off and when it's on. What is your working style? What is your management style? Find a center between the two to determine your multiple hat roles. This doesn't mean you shouldn't interject if the project is off track. As the manager, it's your duty to keep the project in-line, but do this with the style you create for yourself.

Be Prepared to Change – Sometime in your project manager life, you will have to wear multiple hats. Be prepared to accept this and adapt to it. There is nothing worse for team spirit than a manager who doesn't change within the team environment. This can cause team conflict and lack of motivation within the team.
Seek Some Help
If your management style is full force ahead and you like being "in charge all the time," consider getting some help. A mentor or fellow manager who multi-tasks is a good place to start. A good guide for hands-on management is The Laws of Management Physics: A Handbook for Hands-On Managers by Richard Dadamo.
Wearing multiple hats and developing the ability to do it correctly and efficiently as a manager is a must to be part of your team. If you've never worn more than one hat, give it a try–this is how it's done in order to bring your project to a successful completion.