The Effect of Communication on Project Success: Keeping Everybody on the Same Page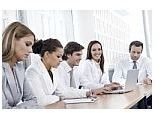 It's Important From the Get-Go
The effect of communication on project success becomes obvious through the various communication forums utilized by a project manager for dispersal of vital information. A proper communication plan needs to be in place from the very start of a project.
Project plans represent the detailed thinking and distilled experience of the various stakeholders. But unless plans are communicated to all concerned people they remain something that would be just on paper. Solid communication and collaboration methods ensure that all project staff work toward common laid-down goals with this collective effort ensuring success for the project.
With everybody on the same page, responses from the team members at various stages will be based on the same set of references. This in turn ensures that there are no misunderstandings or assumptions that could derail the progress on the project. Any changes made to the project plan have also to be properly communicated to the same people so that this cooperation continues.
Status reports are another aspect of project communication that brings all concerned personnel to a common level of awareness of a project's progress. This facilitates collective thinking that can ensure the success on a project. Status reports also help to focus on problem areas by making everyone aware of them. The resulting collective thinking will ultimately lead to a consensus on solutions for the problem areas.
Memos and Meetings as Communication Tools
Internal memos among project staff are another very important communication tool that can help the outcome of a project. Such memos can raise pertinent issues and red-flag developments that may be causing concern to some of the project's constituents. This then brings to the fore the concerns that may be taken lightly or areas that are not being given enough importance. It's the project manager's job to monitor these communications from various staff so that memos or comments are based on fact and not on innuendo or personal bias. The project manager can also coordinate the responses received from various stakeholders and enture that the issues raised are successfully tackled.
No project goes forward without a series of meetings. With today's busy schedules, the project manager must coordinate meetings and be prepared to facilitate a good flow of communication with a proper meeting agenda sent to everybody ahead of time. During the meeting, the manager must help participants to stay focused on the matters at hand. Afterward, preparing and distributing minutes of the meeting or some other documentation of the matters discussed allows participants to have a record of the discussions carried out as a reminder for action to be taken, if any.
All aspects of project communication have always to project a professional approach that indicates the seriousness which the concerned communication is dealing with project matters. This in itself could help further keep personal issues under control and further help success of the project.