Effective Meetings with Agendas - Using Agendas and Minutes to Create Effective Business Meetings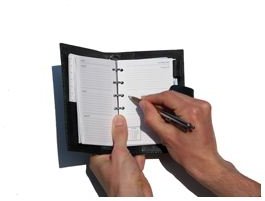 Overview
Agendas and minutes are bookends to any effective meeting. They provide the context in which each meeting takes place, and serve as a guide to participants. There are several key elements to agendas and meetings. Let's consider them in turn.
Agendas
Every meeting should have an agenda. An agenda provides purpose, structure and an easily accessible roadmap of the meeting. For regular meetings, a standing agenda makes perfect sense. You only have to establish the standing agenda once, usually at the first meeting, and then your colleagues will know what to expect from week to week. From a facilitator's point of view, this frees up valuable preparation time.
Standing agendas should follow a structure as follows:
Attendees – a list of those present at the meeting
Apologies – a list of people who were invited to the meeting, but were unable to attend and notified the facilitator in advance
Minutes of previous meeting – where attendees approve the minutes of the previous meeting, and/or make any last-minute amendments
Follow-up from previous minutes – where attendees discuss the outcomes from the tasks assigned during the previous meeting. For more information, see the article Tasks and Outcomes earlier in this series.
The other items on the list should form the "meat" of your meeting. Exactly what these are depends on what type of meeting you are facilitating. Personally speaking, I find it simplest to assign each attendee his or her own agenda item, for example:
Sales Manager report
Operations Manager report
General Manager report
Not only does this method take the guesswork out of preparing your agenda, but it allows you to give the floor to one person at a time, reducing some of the back and forth chatter that can result from inviting input from the meeting as a whole. The place for this is later in the meeting, as will be illustrated shortly.
Once the middle part of the meeting is over with, the final few items of the agenda should provide a natural end to the meeting, making it easier for you as a facilitator to bring proceedings to an orderly close. For example:
Date/time/venue of next meeting – self-explanatory
AOB (Any Other Business) – this gives all attendees an opportunity to raise anything that was not included on the agenda.
If you would like more information on creating effective agendas, feel free to leave a comment below. Complimenting any agenda is comprehensive minutes; indeed, a successful meeting is nigh-on impossible without them. Let's look at minutes now.
Image credit: sxc.hu/jan-willem
Minutes
The purpose of business meeting minutes is, in essence, to create a permanent record that anyone can look back on and know what transpired without having been there in person. There are many elements that go into creating successful minutes, but this article will only examine some of the most important.
Minutes should follow the agenda. Each item in the minutes should correspond to an item in the agenda. Items 1, 2 and 3 above are easy enough to minute, as they are purely factual. Items four onwards pose more of a challenge for the person recording the minutes, but following a numerical system makes this somewhat easier. For example, if several items arise under item 4, follow-up from previous minutes, they can be listed as follows:
4.1. Bob reported that sales for Q2 are up 5%.
4.2. Alice noted that the shrinkage levels item recorded in item 5.3 from last week's meeting are actually 1.3%, rather than 1.4%.
As you can see, not only does this method allow for easy reference, but it also provides a fool-proof method for dividing up important minutes into their own distinct sections.
As a facilitator, you will usually delegate the minutes to someone else at the meeting, perhaps a personal assistant. This frees you up to concentrate on ensuring proceedings go smoothly, something to be discussed in a future article in this series.
This post is part of the series: A Facilitator's Guide to Effective Meetings
This multi-part series, A Facilitator's Guide to Effective Meetings, offers advice on how to conduct an effective meeting that can be utilized by managers from all backgrounds and disciplines. It's particularly useful for project managers who need to keep their team productive and on track.