The Major Components of a PRINCE2 Software Project Plan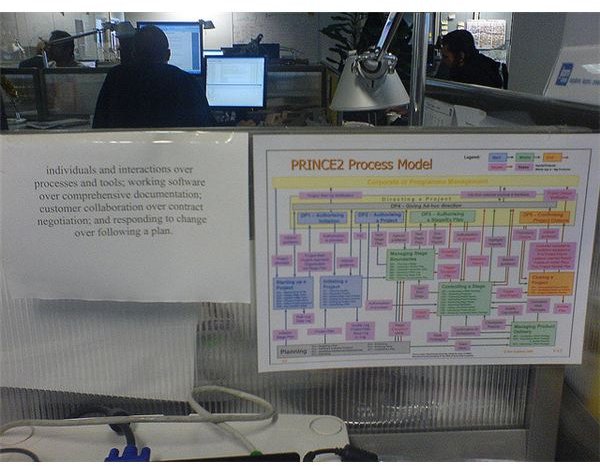 Business Case
The first component in the PRINCE2 software project plan is preparing and justifying the business case, or what the project plans to achieve, and for what purpose. The business case also defines the overall approach toward quality and control parameters, besides setting up project files and assembling a Project Initiation Document.
Image Cerdit: flickr.com/Matt Hutchinson
Organization
The organization component specifies roles and responsibilities of project members and establishes communication systems.
The four layers of organization include:
Corporate or program management
Project board responsible for direction of the project
Project manager responsible for day-to-day management of the project
Team managers responsible for product delivery
Plan
PRINCE2 does not recommend a "one size fits all" plan and rather allows for different plan designs for different projects to suit the different stakeholders. This becomes especially useful in immature organizations relatively new to project management, where the stakeholders recommend different planning styles based on strong personal preferences. For instance, the customer may require a Gantt chart-type of plan design based on milestones and tied to the contract, whereas the employees would prefer a plan design focused on scheduling of detailed tasks.
The key consideration is to align such plan ideas against the PRINCE2 guidelines on planning, estimation methods, providing allowances such as change budget and a contingency plan, and incorporating a plan narrative that brings out the key points and acts as a guide.
Control
The control component allows the project management team to monitor progress, compare achievement with the plan, review plans and options, detect problems, initiate corrective action, and authorize work. It also lays down guidelines on what to escalate to the project board.
The control component enables 'management by exception' and does away with the need for 'progress meetings.'
Risk Management
The risk management component of PRINCE2 software project plan ensures identification and review of risks on a periodic basis based on the impact of risk on time, cost, quality, scope, benefit, and resources. The Project board and project manager determine the risk tolerance levels by effecting a trade-off between risk and the costs of limiting risk
Risk management aims to control and contain risks at acceptable levels by identifying suitable ways to prevent, reduce, transfer, or mitigate risk to the software development process.
Quality in Project Environment
Quality is the set of characteristics that ensure that the project's products and or services satisfy stated needs.
The quality component ensures
establishment of a quality approach and quality system that provide a structure, procedure, and processes to implement quality management
monitoring the application of quality in the work process
plan activities to ensure application of the quality
control quality by examining products to determine fulfillment requirements are met
Quality review meetings between product stakeholders and project team members help identify errors and quality issues in the product.
Configuration Management
Configuration management aims at controlling multiple versions of the product, an inevitable part of changes.
A configuration librarian, administrator, or an internal service group tracks changes and controls multiple versions of the products or deliverables. The scope of the configuration library extends to maintaining a database of all items produced or purchased, with information on who, what, when, where, and why of such items, and tracking changes made. The library also serves as a repository of master copies of multiple baseline versions of products.
Change Control
Change control is a part of configuration management, providing a method of change to specifications or scope of the project. This provides a method to assess impact of potential changes, their importance, and cost, and updates schedule and budget changes to reflect approved changes.
Documentation
PRINCE2 requires extensive documentation. The PRINCE2 manual defines 36 document templates, used many times in the delivery of a project.
One example of a free PRINCE2 document management system is Project in a Box Community Edition (resource #3 below).
Conclusion
The PRINCE2 project management methodology provides a comprehensive list of what to include, leaving it up to the organization to make informed choices. It moves the emphasis of planning away from conventional tasks and toward products or deliverables.
References
"Prince2 Components." https://p2weasel.xtreemhost.com/html/components/components.html. Retrieved 20 December 2010.
"PRINCE2 Software." https://it.toolbox.com/wiki/index.php/PRINCE2_Software. Retrieved 20 December 2010.
Holford, Guy. "PRINCE2 Plans - Levels, Types and Scope." https://www.projectinabox.org.uk/article7.asp. Retrieved 20 December 2010