The Top 5 Fishbone Diagram Software Options to Help You in Your Project Planning Process.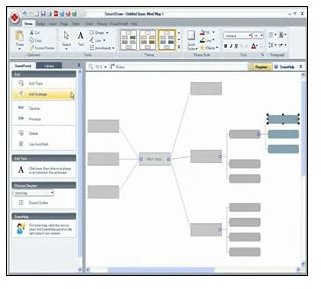 It is possible to draw fishbone diagrams, also known as Ishikawa Diagram or Cause and Effect Diagram using common applications such as MS-Word or MS-Excel, but the process is cumbersome. For instance, in MS-Word users have to reposition and redraw boxes to insert additional causes or sub-causes, and face limitations of space. Applications such as SmartDraw, EDraw Max, RCA XPress, Blue Print, and XMind allow users to create a host of diagrams including fishbones. Such applications overcome most limitations of using MS-Word or MS-Excel, and make drawing such diagrams a hassle-free experience.
SmartDraw
SmartDraw, a popular application used to draw 2D diagrams primarily is useful for drawing decision trees and other project diagramming purposes. Its drag and drop functionality and the facility to create flowcharts including shapes and lines automatically by inputing simple commands allow users to create fishbone diagrams with ease as well.
SmartDraw scores high in the ranking system primarily due to its versatility, vibrant appearance with an unmatched themes of colors and styles, integration with PowerPoint and SharePoint, ability to Import or export MS Project files, share data with Autocad, and export diagrams to PDF, Visio, Word, Excel or PowerPoint. A major turn off is the auto-pop-up 'assistant' that obtrudes serious and advanced users while helping new users learn the ropes.
SmartDraw comes in three versions:
A free trial version, valid for 30 days and including preview libraries that allows the user to view the full range of offerings;
The Professional Edition, costing $99 that includes all standard features; and
The Professional Plus Edition, costing $198 and providing about 33,000 symbols and example files.
EDraw Max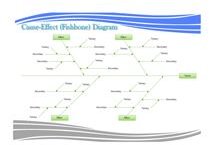 EDraw Max is a vector-based diagramming software program that comes with pre-drawn libraries and over 500 vector symbols, simplifying creation of cause and effect diagrams.
The program installs and works similar to the MS-Office 2007 programs. Once a template is open, you may select a ready-made template, and just fill in the labels and the text. Alternatively, open the drawing area by clicking on "New diagram," select the required shape for the effect, each cause and sub causes, and add text to these shapes. Next, draw the connecting lines between shapes.
EDraw Max is paid software, costing $29.95 for a single user license that allows installation in two computers. The product comes with lifetime upgrades guaranteed.
Feature-wise EDraw Max offers nothing much than what MS-Word or MS-Excel provides, but users would find using this application much simpler and easier. SmarDraw beats EDraw easily in functionality, features, themes, and even ease of use, but EDraw is lighter and faster. If creating fishbone diagrams and undertaking a root cause analysis is the main goal, SmartDraw throws up too much clutter and unneeded options compared to E-Draw Max.
RCA XPress Fishbone Diagram Builder 4.3.2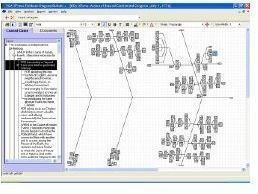 RCA's Fishbone Diagram Software uses a windows compatible WYSIWYG editor and features a build-in update capability that accesses RCAs website and installs updates automatically.
Functionality-wise, this application scores with a intuitive and fully integrated diagram design interface, a simple and easy to use user console, and customizable menus. It allows export of the diagram in Abode Acrobat format and also in Enhanced Metafile format for inclusion in reports. A unique feature is the provision to assign documents to each probable cause node and launch the document file automatically.
The trial version is available for free download and the full application costs $249.95.
RCA has a simple user friendly interface, and some unique features compared to both SmartDraw and EDraw Max, but SmartDraw beats RCA in both the range of functionality offered and power
XMind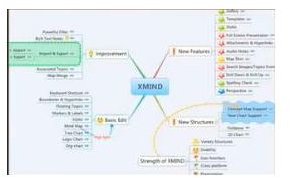 XMind is an user-friendly mind-mapping tool based on the Eclipse software development framework. The biggest advantage of XMind over other applications review is its open-source nature.
Using the application is easy. The default map appears on start-up. Select the properties tab, click on structure, and select the fishbone option from the drop down menu. Click on the fishbone head to create a new cause category in the skeleton. Click on the category and select insert to add causes to a category.
Other plus points include the ability to move and re-categorize nodes easily, and export files as HTML documents. The negative side include the rather limited offerings in the free version, and a slightly drab interface compared to competotors.
The basic package is available for free download. The pro version costs $49USD per year, and offers additional features such as integration with Microsoft Office and many project management features
Nevron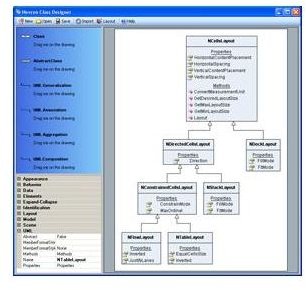 The Nevron Diagram Designer 2011.1 is another freeware application to draw fishbone diagrams. This simple and straightforward software comes with the functionality to make algorithmic changes to layouts. The diagram commands are user-interface independent. Search actions executable from menu, toolbar, or context menu also finds representation as diagram command.
The download comes bundled with Nevron Pipeline Editor, Nevron Ticket Reservation, and Nevron Map Navigation that provides additional options to the project. Overall, Nevron is simple but does not come up top in a clean and neat design, or any out-of-the-box functionality.
Most diagram applications allows drawing fishbone diagrams with ease. Since these applications exist for the very purpose of drawing such diagrams, this activity takes centerstage. All the applications reviewed remain fast and powerful in their own right, and comes loaded with many ready to use templates, detailed instructions, and powerful features, to the extent that even laymen can conjure up fairly decent fishbones.
Reference
EDraw Soft. Products Center.https://www.edrawsoft.com/Cause-Effect-Diagrams.php. Retrieved June 11, 2011.
SmartDraw. https://www.smartdraw.com/downloads/. Retrieved June 11, 2011.
CADInfo.net "Smart Draw."https://www.cadinfo.net/software/smartdraw. Retrieved June 11, 2011.
XMind. https://www.xmind.net/. Retrieved June 11, 2011
Nevron. "Diagram Designer Overview." Retrieved June 11, 2011
Image Credit: Screenshots