Creating a Project Charter in Smart Draw

Why a Project Charter?
With SmartDraw's Business Graphic software you can use their project charter template or use their table feature to draw your own. A project charter should include the name of the project, who is in charge, the stakeholders, the team members, and the scope and goals of the project.
If you are lost on what a project charter is all about, Natasha Baker explains the purpose of a project charter from beginning to end in her article What is a Project Charter. Increase your knowledge by reading Natasha's article Project Charter Example For Every Project Manager where she includes helpful tips on a project's overview, approach, and approval sections.
Visit Bright Hub's Project Management Media Gallery and download Natasha's project charter template to guide you through creating your own in SmartDraw.
Working With SmartDraw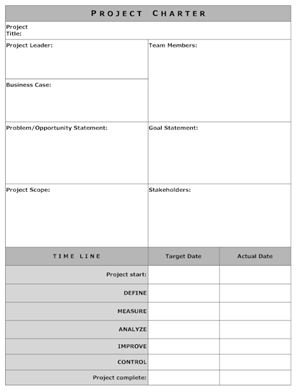 When you open SmartDraw you begin on their home screen where a toolbar to the left offers various templates. They offer hundreds of templates for all business uses that include Gantt charts to strategic planning forms and everything in between.
Their project charter template, shown here, is located in the BPM & Six Sigma toolbar. Simply click on the template to open and customize the chart to your needs. This is a great template that is easy to change. By clicking on section titles, you can rename them and it's easy to add text to the blank areas. Beyond text, you can shade each section and even use their special effects tool to insert items such as gloss, glow and a great perspective tool for optimal viewing purposes.
SmartDraw allows you to add color, bold, italics, change fonts, and even features subscript and superscript options as well as a drawing tool. The smart panel tool to the left (if opened) offers unique suggestions on creating your project charter. Their blank template features sections for project title, team leader, team members, business case, problem and opportunity statement, goals, and stakeholders. The quick style block allows you to change or insert bubbles onto your chart and offers up the choice of bullet points or numbered to do lists.
The gray shaded area of their template is a great way to identify landmarks where you can insert target dates and actual dates of aspects completed. In between the project start and end sections there are steps on defining, measuring, analyzing, improving, and controlling your project. SmartDraw gives you the option of using their form as is, totally redesigning the form, or creating your own from scratch. Because the template is so easy to redesign, for beginners, it's your best bet.
When you are satisfied with your project charter, you can save and print it and even use their PowerPoint tool to convert it to a .pdf file. The navigation tools are extremely helpful and if you get lost you can always save your template and hit the home button to begin again.
SmartDraw Pricing

SmartDraw is an effective way to create numerous project management documents and you can download a 7 day trial to play with and if you wish to purchase SmartDraw, the entire program is also down-loadable or if you prefer, you can have the software shipped to you.
Pricing for SmartDraw is based on users and begins at $197 for one user; $895 for up to five users; $1695 for up to ten users; and, $3995 for 20 or more users. If you purchase SmartDraw's 20 or more user option, it comes with a freedom license that allows you to install or view the program on any PC, even at the client's office. Upgrades for all user options are free.
This post is part of the series: Project Charter Resources & Tips
Whether your project is large or small, it needs a solid project charter. Find tips on how to construct this important PM document as well as sample templates, guidelines, information on different format styles, and more.