Free, Downloadable Focus Group Release Form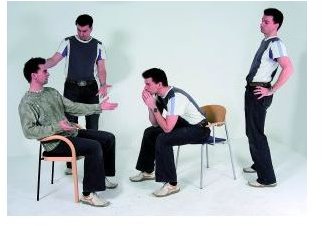 Why Do You Need a Release Form?
As you organize your focus group, it's important to draft a release form that will be signed by your focus group participants. It serves three
purposes:
It helps your participants to understand what they have been invited to participate in and why they are among the group chosen.
It identifies what the participants can expect to receive in return (if anything).
It captures your participants' signed consent to utilize their opinions as necessary for your research.
Free, Downloadable Word Template
A free, downloadable Focus Group Consent Form is available in Bright Hub's Project Management Media Gallery. It's a Word document you can save as a template; you will then have access to it for this current project and also for any future focus group sessions that you organize.
The form itself is protected, but not with a password. You can easily stop protection at any time if you want to modify the form. There is a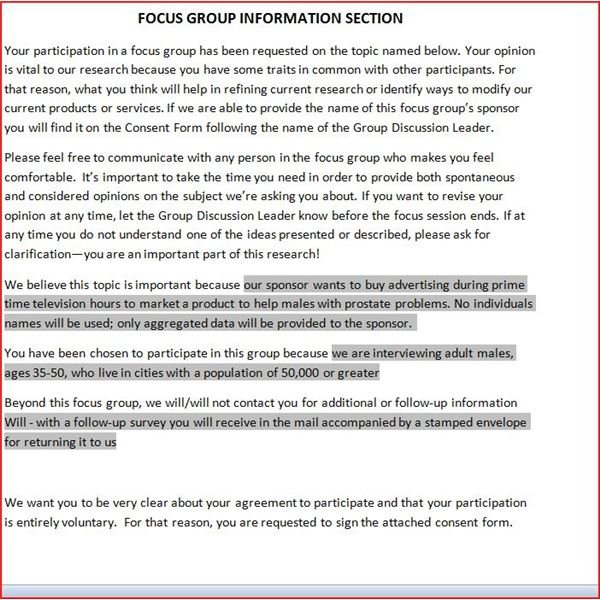 generous margin at the top of the page so that you can print it on your corporate letterhead. Don't forget to reactivate the protection so all form fields are activated.
You will see that page 1 of the form is actually an information page for the focus group participant. Before you ask a participant to sign, you want to provide him with as much information as possible. Even if the nature of your research is secret, there are still some particulars you can share. Your effort to inform each person serves to validate his or her signature on page 2, which is the actual consent form. You do not want a person to deny that he was informed at a later date for any reason, so do provide as much information as possible.
The first paragraph of the Information Section lets the participant know that he has been chosen because he shares a commonality with other group participants. It also reassures him that you really do need his opinion. You'll see a sentence telling him where to find the name of the focus group's sponsor, if you are willing and able to provide it. (This applies only if you are conducting the focus group for a company separate from your own.)
The next part assures the participant that you want him or her to be comfortable. He needs to know how and with whom he can communicate and that he can change his mind at any time. Your research is invalid, after all, if you don't capture your subjects' true opinions. This paragraph will also reduce the chance that your participants are "feeding" you words they think you want to hear.
You should tell your participants exactly why your research is important. Just a sentence or two suffices here. If your questions fall into a sensitive area—if you're asking about body functions, sexuality, or relationships, for example—tell your participants up front. You don't want someone to participate if he feels too worried or ashamed to give an honest answer. In my example, I am letting participants know their names will not be used because the data gathered will be presented only in the aggregate.
In the next sentence, tell your participant why he fits into the focus group.
You should also advise your participant if there will be any kind of follow-up or additional focus sessions.
Remind him that his participation is voluntary and state that you are asking him to sign a release form for the focus group's work.
Each Aspect of the Form Is Important
On the next page, you will find the Consent Form, again with a large margin at the top for printing on letterhead. In the form fields provided,
you will type in the name of your focus group and also identify the focus group leader. If you have a sponsor, you can type in that company's name, or just type in None.
You will next fill in the date and time of the focus group. If your group has multiple sessions, ask the participants to sign a form for each session.
In the subsequent paragraphs, the participant agrees that he understands the information provided and that he waives his rights to confidentiality. You need to make it clear that you are securing the rights to use his information whether it's a spoken sentence, a written word, an idea, or a drawing. You want to wrap up your rights to whatever he says, even if it doesn't seem to apply to the topic at hand.
In the next section, you specifically spell out that your rights include anything taped, filmed, photographed, or written by the participant. It's a good idea to gloss over details of filming so that your participants are not self-conscious. Do not, for example, say that a camera is hidden behind a tree in the left corner; only briefly mention that "these proceedings will be filmed" and then move on.
Identify the incentives, if any, that the participant receives; doing so avoids any argument about payment at a later date. You can choose something from the dropdown box—no compensation; expenses only; or an incentive as described (and then use the next form field to describe it).
You will note the statements on the consent form are written in the first person—because when you ask the participant to sign and date the form and also to print his name, he is attesting to the stated information. When you sign as a witness, you should do so in front of him so that he has no doubt that everything is solidly documented.
If anybody balks at signing the consent form, you cannot make more than desultory efforts to convince him to sign. If someone has reservations about participating, you're better off replacing him or doing without him, because his responses could invalidate your research.
Resources
What Should You Ask Your Focus Group? by Ginny Edwards
Additional Resource:
Krotz, Joanna L. Microsoft Business: Dos and Don'ts for Using Marketing Focus Groups, at https://www.microsoft.com/business/en-us/resources/marketing/market-research/dos-and-donts-for-using-marketing-focus-groups.aspx?fbid=ZtyPlLVs409#Dosanddontsforusingmarketingfocusgroups
This work is also based on the writer's experience with informed consents used in the social work field.
Image credits:
Screenshots supplied by the writer.